Without most of us even realizing it, Tourism contributes to the heart and soul of our community- capturing our region's iconic attractions and uniqueness and telling our story in a way that inspires pride of place. From our favorite local restaurants to the hotel your family stays at when they come to town, these businesses are essential in spurring economic development across Thurston County. They are destinations that improve our quality of life and the experiences had by visitors and residents alike. Experience Olympia & Beyond and the Thurston Economic Development Council (EDC) work together to market Thurston County as a destination, and to support local businesses and the hospitality industry within the region to build a stronger economy for everyone.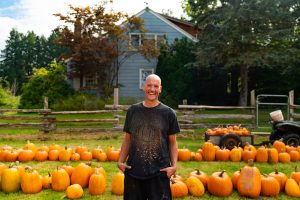 Experience Olympia & Beyond CEO Annette Pitts and Thurston EDC Executive Director Michael Cade are both exceptionally passionate about helping our local businesses thrive, and an essential part of this mission is to create great destinations where people can have meaningful and memorable experiences. "Economic development and tourism are so interwoven in Thurston County," Annette says. Michael expresses a similar sentiment and sees how essential it is for the two organizations to work together. "It is such a valuable industry.  Economic development and tourism are really one in the same," he shares.
With greater revenue generated across Thurston County through visitor spending, our communities benefit and become fiscally stronger. "Tourism is a form of wealth creation.  It brings resources from outside of our region and invests it here.  That infusion of capital becomes a part of city and county budgets for schools, libraries, and other municipal services," explains Michael. "The infusion of new capital into the region provides for resources that support the quality of life we all enjoy here."
Annette and her team have worked diligently to ensure that the tourism industry can continue to thrive under even the toughest of circumstances, such as the shutdowns and restrictions brought about by the COVID-19 pandemic.
The hospitality industry was perhaps hit the hardest by the pandemic, with restaurants closed for months on end and hotels struggling to fill their rooms due to travel bans. Across Washington State, the tourism revenue from lodging, food and beverage, retail, recreation, and transportation dropped 40% across the board. In Thurston County, however, this impact was a smaller hit of 24.9% thanks to the Thurston Strong coalition. Together, with other key economic development partners, and the full support of all the municipal jurisdictions in Thurston County.  The coalition was able to respond quickly and decisively with emergency funding and new programmatic business technical support services.
"Our team really focused on leveraging our partnerships with folks like Michael and his team," shares Annette. "It is really an opportunity for innovation in the community." Together, they have been able to support local businesses by placing emphasis on keeping the tourism industry alive even through the toughest of times. "We want a strong, quality community, and tourism is important in driving economic recovery and resiliency," Michael says. Additionally, the tourism industry represents a large sector of our local economy, and their dedicated efforts have helped maintain many jobs here in Thurston County.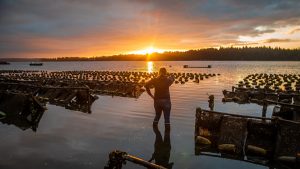 In addition to creating greater revenue from visitors, the tourism industry also helps attract new residents and businesses to the community to stay long-term. "The strongest recruitment tool we have in Thurston County is a strong destination marketing program," says Michael. Luckily for Michael and Annette, once people have come to visit, they quickly see how wonderful life is in this vibrant and diverse community. "We don't have to sell or build how nice of an environment it is here," Michael shares, "that is attributable to the work of Experience Olympia & Beyond."
Workforce has become a number one concern for most local businesses. Branding Thurston County as a great place to visit, work and live, helps us attract top talent to the region. It can also lead to new businesses wanting to locate their operations here. "We want to look at the full scope of the county so show the wealth of things this community can offer," Annette says. "It can lead to new partnerships and development of new businesses that are not here right now."
Michael and the Thurston Economic Development Council are always looking for new ways to further expand industries operating in Thurston County. Our local businesses are the lifeblood of our community, and the tourism industry can be part of the glue that helps them stick.
Annette and Michael are both fortunate to have such a mutually supportive partnership in making Thurston County a better place to live and work. With the Thurston EDC, the businesses in our community can get the help and tools they need in order to be successful and profitable. Through the efforts of Experience Olympia & Beyond, the people working for those businesses have exceptional ways to engage in the community and feel at home. To keep this mission alive, both Michael and Annette encourage people to shop locally wherever possible. "They need our support," says Annette. "Spend your dollars in your own backyard."
Sponsored