The first time a member of the Gregory family walked through the doors of Olympia Federal Savings, then known as Olympia Building & Loan, was nearly a 100 years ago. In 1928, the immediate need was for financing to purchase a hardware store. In the years since, the relationship evolved as the family grew and their business expanded to include more than 30 investment properties and a coffee house. Meanwhile, that hardware store is recognized as the oldest in Washington State.
Larry and Jo Gregory are members of the family's fourth generation who have maintained a strong connection with their local branch. "We've always counted on OlyFed," says Larry. "They're easy to work with and they bend over backward for every customer."
As OlyFed celebrates its 115th anniversary this year, it's an opportunity to reflect on what has changed, and what hasn't. Through two world wars, the Great Depression and natural disasters like the 2001 Nisqually earthquake, the organization has held to its mission of providing access to affordable homeownership and a secure place for customers to plan their financial futures.
"We have a neighbor-helping-neighbor business model," says OlyFed Vice President of Marketing and Public Relations Manager Ryan Betz. "That's how we were founded and that's how we continue to operate, 115 years later."
Affordable Mortgages
Two new programs are great examples of the model in action. Several years ago, OlyFed began working as a lending partner with Habitat for Humanity, serving families who qualified for a Habitat home. However, some families who fell into the low-to-moderate income category didn't quite qualify. With the housing market so tight, their odds of purchasing a home were low.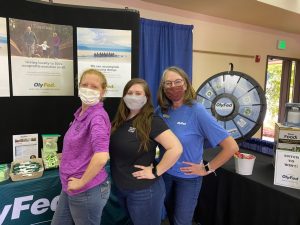 Recognizing the need, OlyFed developed the Affordable Home Buyer program to improve access to ownership. Just recently, they added both affordable construction and refinance option to this program.
The construction program made sense, given the current real estate market. "A big part of our business is helping people build homes," Betz explains. "We thought about the low inventory of homes available for someone in this position and decided to add a construction component. We reached out to some of our builder partners and manufacturer home providers and looked at the possibilities."
Each program works through a combination of reduced interest rates, reduced loan origination fees and a reduced Private Mortgage Insurance (PMI) premium for qualifying borrowers to help further lower their monthly payment. For example, through the Affordable Home Buyer program, applicants can borrow up to 97% of the purchase price of a home (95% in the construction program) and all but $1,000 of the down payment may come in the form of a family gift or down payment assistance program. Those in the refinance program are exempt from paying an origination fee and have the option to reduce the term of their loan, potentially reducing the overall interest paid over the life of the loan.
OlyFed's mutual business model is what makes these programs possible, Betz notes. "We're set up to be accountable to our depositors and borrowers versus stockholders or shareholders. That means we're able to use our profits to do good in the community. We saw this as a need and wanted to help." The programs are designed for people with gross earnings of 80% or less of the median income in Thurston and Mason Counties.
Community Checking
Another OlyFed program is the Community Checking Account, developed to serve the unbanked or underbanked, as Betz puts it. A Thurston Asset Building Coalition study found that approximately 14,000 within Thurston County are using check-cashing outlets or pawn shops to manage their money. "This program is designed for someone who hasn't worked with a traditional financial institution," he says, "or who may have had challenges with credit or finances in the past."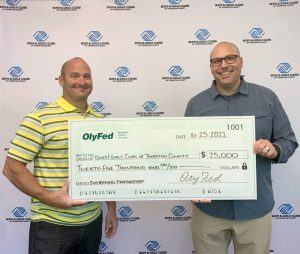 The accounts provide easy access to money, have no fees, and come with a slew of financial education resources. OlyFed has bankers trained to support customers in understanding budgets, credit and account security. "The whole purpose of this program is to expand our resources and support for our local community. We will work with a number of our nonprofit partners to have them refer people that could benefit from the tools, resources and support this account offers."
Aside from its programs, OlyFed donates close to 15% of total profits to community groups each year, and staff members donate more than 1,000 hours to local organizations. "Our founding mission is still in action," Betz observes. "We're working on how to have a meaningful impact on improving the quality of life for all people who call Thurston County home."
Learn more by visiting the Olympia Federal Savings website.
Sponsored