International Talk Like a Pirate Day isn't until September 19, but if you want to practice your ''AARGHs!" and hone your swashbuckling technique, the 4th Annual Real Pirates Wear Pink is a great opportunity. The fundraiser for the American Cancer Society (ACS) will run from 6 p.m. to 9 p.m. on September 10 at the Rutledge Corn Maze and will feature costume contests, a raffle, food and drink vendors and an early peek at the corn maze before it's open to the general public.
The event is a local spin on the ACS's annual Real Men Wear Pink campaign, which runs throughout October. In 2017, Michael Jameson, a Lacey South Sound Chamber of Commerce board member and a senior loan officer with U.S. Bank, was inspired to develop the program during an ACS fundraiser. "I listened to an impassioned plea to join the fight," he explains. "As I sat there thinking of all the ways cancer has affected me and the people I care about, both family and friends, I decided it was time to quit talking about it and do something."
Many donors and sponsors come together to support the cause. Rutledge Corn Maze provides the venue at no charge, Ricardo's Restaurant and Linnea's Unique Boutique are supplying prizes for the costume contests and Lacey-based band Slainte is donating their time. "Rutledge has a big field with a gazebo and a fire pit, and that's where we have food and drink vendors," says Cheryl Sparkuhl, event co-chair and co-owner of Sparkuhl Stump Grinding. "The fact that we can go through the maze before it's open to the public is a special treat."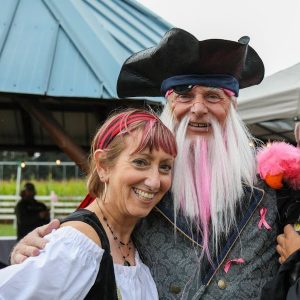 Each year the costume contests are a highlight, with separate categories for men, women and couples. Co-chairs Jameson and Sparkuhl go all out. "Michael spends around three hours in the chair doing hair and make-up," Sparkuhl laughs. She, meanwhile, will be sporting pink hair along with a pink tulle skirt underneath her pirate garb this year courtesy of Grace Kelley Bridal Shop.
Business vendors can host a booth, and many have also contributed items to raise funds. It's a cause many are eager to support. Dirty Dave's Pizza, for example, had already donated a birthday party for 15, but the owner wanted to ensure that the donation would yield maximum benefits toward cancer research. "He told me, 'I want you to make this so people bid on it and you'll get more money,'" Sparkuhl recalls. That prize will be raffled off along with contributions from other local organizations.
Vert Chiropractic will also be on hand offering adjustments at a suggested donation, with all proceeds going to the campaign. Other vendors will include Puget Sound Taps, Sandstone Distillery and Kombucha Luv. "People can buy food and drinks or other items and then make a donation to the Cancer Society," Sparkuhl explains. Lacey Chamber Board President Christine Forrey, a realtor with the Toth Group at Keller-Williams, is the event's top sponsor.
Cancer research is something members of local organizations can get behind because sadly, so many have had a friend or family member affected by the disease. In Jameson's case, those include many family members whose lives were cut short: sister Maureen at 76, brother Tim at 42, daughter Rachael, daughter's mother Shirley at 62, nephew Casey at 25 and sister-in-law Irene at 68. "So many lives were lost, and families turned upside down by this insidious disease called cancer," he laments. "If I can do anything to help ease the pain and suffering and move the needle to a cure, I'll do it." Sparkuhl has similarly lost a close friend to cancer.
Tickets cost $50 and include a t-shirt plus access to the corn maze and the band's performance. Purchase tickets or visit the Real Pirates Wear Pink Facebook page to learn more about the event.