For 35 years, the staff and leadership team at Forma Construction went to work in separate offices at the company's original Tumwater location, maintaining boundaries between departments and working in relative isolation. "There weren't a lot of collaborative spaces," says Drew Phillips, Vice President and principal.
That was then. In April 2021, Forma moved from Mottman Industrial Park in Tumwater to Columbia Street in downtown Olympia. The new building includes multiple breakout spaces, conference rooms and meeting places as well as smaller rooms for private conversations or Zoom meetings.
The move was inspired by the company's office in Seattle, which opened six years ago in Pioneer Square with an open concept design. The impact of people working in proximity to each other and having access to colleagues, regardless of department, was immediately apparent. "We got a big boost in not only productivity, but employee morale," Phillips recalls. "We've expanded on that for our new Olympia office."
Like several other members of the senior leadership team, Phillips has been with Forma for more than 30 years, and he understood when some employees expressed concerns about the new layout. "It's been a shift for everybody," he says. "Some people were worried about whether they would be able to work so close to others, but it's turned out our staff is far more excited about the space than we expected, and we see a lot more people working well together."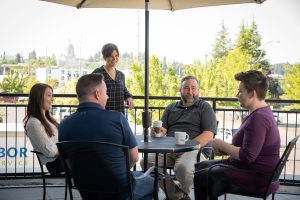 Aside from the building design, the new location promotes socialization through access to food options and places to gather for meals. Previously, most employees would disappear at lunchtime or have a sandwich delivered to their desks. Now, they can take advantage of a large lounge with a full kitchen and outdoor deck. "From day one, people have been socializing and eating together, going to restaurants or heading to the farmers market," Phillips observes. "It's been a lot of fun."
After consolidating ownership and rebranding in 2012, Forma fueled their growth by investing in staff and changing the focus of the business from a low overhead model to one that is far more service-oriented. "We're now seeing the majority of our revenue coming from work where we get to collaborate with our design partners and clients to lend a builder's perspective to the processes, even on public projects." This focus has paid off with 2020 revenues topping $265M, making Forma one of the larger construction companies in the region.
As the only contractor in Washington servicing all three public alternative delivery methods – design-build, GC/CM and Job Order Contracting, Forma's team has a strong perspective on what makes a project successful. "Each contract type is like a different tool in the toolbox, you want to pick the one that scales to the job. But at the end of the day if we're able to help our clients be more confident in their budgets, think about lifecycle costs, and create subcontracting opportunities for diverse businesses, we're on the right track regardless of the project delivery."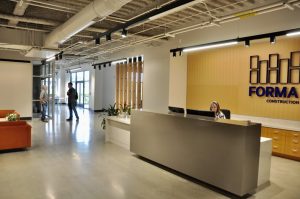 Collaboration on such projects will be even easier with the new space available. Forma now has the option of hosting events for clients or partners; a large conference center allows for training sessions, lunch presentations or mix and mingles with other companies. The central location also puts the business in a prime position to play a role in determining how Olympia develops over the next few decades. "We'd like to be more involved in the shaping of downtown," he says. "We're looking forward to that."
Forma will be opening their new doors to clients, industry partners, and friends from the community at a hosted open house beginning at 2 p.m. on Friday, September 10.
To learn more, visit the Forma Construction website or call 360.754.5788.
Sponsored