It's a tragic truth that almost everyone has been affected by cancer. Themselves. A family member. A dear friend. A coworker. Getting the diagnosis is scary and it changes everything. Lives get turned upside down. Relay For Life of Thurston County works tirelessly to help all those who have been affected by cancer. Donations go to groundbreaking cancer research and patient care programs, including local programs. They provide support and hope during what, for many, is a dark time. Join their ranks for the 2021 Relay for Life and Night of Hope August 14 from 6 p.m. to 11 p.m. at North Thurston High School. Together, we can bring hope.

This year, the Relay for Life has two ways of participating, in-person and virtually. Both events will be celebrating survivors and caregivers. At North Thurston High School, attendees will be walking the track to music. DJ Andy G will provide motivating tunes and there will be a special survivor's lap. Visit the relay store while there to get your items of support. Lap beads will be handed out whether you chose to walk, run or even skip your race! Need a rest? You can bring lawn chairs or sit in the bleachers. Visit the Luminaria tent to create a light for a loved one for the Night of Hope Ceremony, which includes a time of reflection.
Relay Where You Are is the fun virtual event going on at the same time! "Relay Where you Are is our 'cooler' way of saying virtual relay," Shares Nichole Woolsey, senior development manager for Relay for Life of Thurston County. "We will post on our Facebook over the 24 hours. We will share live from the track, have some fun themes to participate in at home, encourage folks to walk (around house, park, trails, mall) and share pictures via our text line. We will create a Relay Where you Are photo album following the event, and we will share our Luminaria Slideshow online and a survivor slideshow so relayers can watch from the comfort of home."
Both in-person and Relay Where You Are attendees can register on the Relay for Life website. "We highly encourage people to register ahead as we are doing contactless registration, but if they come and need to register, we will get them registered," explains Nichole. "Registering ahead also helps us plan." Not able to attend either event? You can still donate to help via the website as well.
The 2021 Relay for Life season continues past the August 14 event, so don't worry if you miss it! You can sign up anytime before September 3.
Get Screened
1 in 3 people will be diagnosed with cancer in their lifetime. Yet, many wait until they have symptoms to visit a doctor.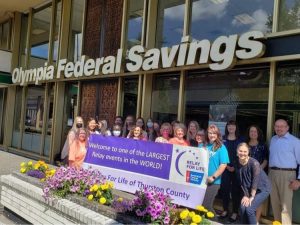 Relay for Life of Thurston County and the American Cancer Society (ACS) are urging people to not wait. "Screening tests are for people without any symptoms," shares Nichole. "They check certain parts of your body at regular intervals to help find changes that may develop into cancer, and can catch some cancers early when they may be easier to treat. Common cancers like breast, colorectal, cervical and lung can be screened for regularly. Cancer screening is safe, effective, and should be a regular part of your life."
Early detection of cancer can save your life. It's vital, which is why Olympia Federal Savings (OlyFed) has been the Get Screened sponsors for Relay For Life of Thurston County for years. "Unfortunately, we all probably have someone in our life who has faced the challenges of cancer head on as its effects are far-reaching," Lori Drummond, president & CEO at Olympia Federal Savings shares. "One of the key strategies we've learned from our partnership with the American Cancer Society is that screenings are the best way of catching cancer early and therefore making it easier to treat. Detecting cancer before symptoms occur is the tactic behind screenings and ACS has so many resources to support positive health outcomes for our family, friends and community, which is why OlyFed has been supporting them for decades."
Nichole echoes this sentiment, saying screening will continue to be a top priority for ACS and Relay for Life. ACS urges everyone to talk to their doctor about what screenings are right for them based on their age and family history. Generally, those over 25 should have cervical cancer screening, 45 years and up should be screened for colorectal and breast cancer, and those over 50 should discuss lung cancer screening with their doctor.
Don't let lack of funds or insurance stop you either. "There are resources available for people who don't have a primary care doctor, who are uninsured or underinsured, or who have never been screened," shares Nichole. "Many states have free or low-cost cancer screening programs." You can learn more on the ACS Get Screened webpage.
"The COVID-19 pandemic resulted in many elective procedures being put on hold, including cancer screenings," Nichole explains. "Delays in screening for breast, cervical, colorectal, prostate, and lung cancers could lead to cancers that are undiagnosed, untreated, and advanced, which makes them harder to treat."
Talk to your doctor. Get Screened. And sign up for the Relay for Life of Thurston County's Night of Hope. Together, we can end cancer.