Now that the weather beckons and dining restrictions are loosening, it's time to get out and enjoy spending time with family, friends, community or just a quick solo escape. Whether dining indoors, outside, to-go or for delivery, The Park Side Cafe has amazing plant-based treats available with more options popping up for summer fun.
On July 26, The Park Side Cafe will be reopening their indoor dining room with masks optional for their returning guests. Their rooftop terrace is also open to diners every day from 9 a.m. to 4 p.m. and sidewalk al fresco seating is still available as well. Reservations are never required, even for special events or live music.
One such event takes place the following Saturday. "On July 31 at 10 a.m. the Cooper Shlegel Trio will be performing on our rooftop for a smooth, jazzy Saturday brunch," says owner Alicia Elliott. "The performance is free of charge to our customers and the music will be piped into our dining room. We hope to be hosting more such weekend music brunches throughout the rest of the 2021 summer!"
Beyond that, "Each Sunday and third Thursdays the West Central Park hosts music for the community," says Elliott. "The Cafe is looking at being able to stay open a couple extra hours on those music Sundays too."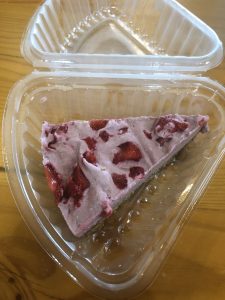 However you're spending the long summer days, be sure to grab some of the Cafe's amazing specialties on your way. Cafe Manager Victoria Kantargis is excited to introduce a "Vanilla Lavender Apple Hand Pie and new seasonal fruit specials as they become in season. We're going to be starting a raspberry cashew cheesecake very soon and looking forward to the wide selection of veggies that farms have coming up! Lots of seasonal salads in rotation."
But they'll bring back a few tried-and-true delights as well. "A popular favorite, summer squash lasagna will be back on the menu by early August as a take and bake option or a mix plate serving," says Elliott. "We also have our take and bake hand pies always."
Summertime meals for the 21 and over crowd aren't forgotten either. "Organic and vegan beers and wines are available and can be consumed in the Cafe, on the roof, and at our sidewalk tables," explains Elliott. "No alcohol from the cafe can be legally consumed in the Park and we will not re-up our sidewalk table liquor license, however, on August 1 due to more stringent barrier laws."
Whatever you pick for brunch, lunch, dinner, dessert or mid-afternoon snack, The Park Side Cafe has something for everyone. "Cafe diners can still order via phone or website for curbside pick-up or delivery but will now have also have the option of coming inside and sitting down to enjoy a meal too."
Follow the latest on live music, menu additions and updates on Facebook or Instagram. To date, specific hours that echo concerts in the neighboring park haven't been determined but Elliott and the team will update social media as soon as they're decided. And as a reminder, pets are not allowed inside the building or at the rooftop deck due to health codes. Service animals only are allowed in those locations.
While visiting to eat, relax or pick up a treat for later, pop upstairs to The Rolling Pin Wednesday through Sunday from 10 a.m. until 4 p.m. They offer everything you could possibly need for your kitchen and home chef inspiration and aspirations. Whether cutlery, cookbooks, appliances, bakeware or tools for spices, coffee, tea, beer, wine, sprits and cleaning supplies they've got you covered.
Stumped about a gift for your favorite culinary mastermind? Look around via their virtual tour or give staffers a call at 360.754.3955 and they'll walk you through suggestions for any taste, ability, price range or occasion. You can also email questions to hello@therollingpin.com and someone will get back to you. Like The Park Side Cafe, online or phone orders can be arranged for in-person or curbside pick-up or local delivery.
So far, summer 2021 is doing a perfect job of making up for the long, indoor months of COVID-19. With a near record stretch of warm, dry weather and relaxed restrictions on shopping and in-person activities, Olympians are taking—and making—time to be outdoors and mingle together again. Wherever your day takes you, grab a bite for now, later or both at the Park Side Cafe. Their fresh, plant-based ingredients are truly a taste of summer and some of the region's best.
Sponsored