Olympia has a new poet laureate. Supporting the arts is a characteristic of Olympia, so an ambassador to promote the art of writing is fitting. As Olympia's poet laureate, Ashly McBunch will encourage poetry as a form of expression, help support access to literary art and invite the community to share its voice through poetry. McBunch plans to serve the public by engaging Olympia in a variety of opportunities and in an array of platforms. Having a city poet laureate is not new for Olympia. Its two previous poets laureate, Sady Sparks and Amy Solomon Minarchi each served a two-year term. The City of Olympia upholds the role as more than honorary and promotes it as one of service to the community.
McBunch, the third poet laureate of Olympia, is originally from Missouri. Art and creativity surfaced early for them in drawing and poetry. Even writing as a grade schooler, they recall their first poem that they wrote at age 10, which was about Martin Luther King Jr. Later in life, McBunch wrote while in the U.S. Army and used poetry writing as a means of coping with the distance from family during deployment. Visual creativity is also a forte for McBunch, whose personal Instagram is a collection of multicolored graphics to accompany their inlaid poems.  
For McBunch, inspiration for writing is rooted in different aspects and ideas of love. They find the way and the how of love a writing motivation and that the concepts are connected to one's identity. "I feel poetry is a way of healing and a way of connecting to our own truths within ourselves," explains McBunch. "It is also a way of allowing others to heal through our words. I believe we are all connected in some way, and all art has a way of impacting others' inner truths and providing a space for healing in a creative way. The level that poetry or art touches someone is personal to the individual, but it doesn't deny the occurrence or impact, big or small." Many writers have those they admire in talent and possibly find inspiration. McBunch has their own favorite poets, such as Silvia Plath, Maya Angelou and Shel Silverstein. Bridgett Grey, a spoken word poet, is one McBunch listened to while on deployment.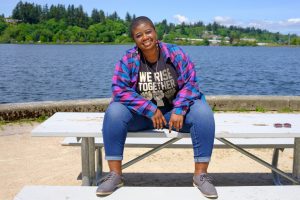 The idea of applying with the city for the poet laureate position came at the suggestion of another poet who encouraged others to apply. The effort was to give the city a group from which to select. McBunch submitted a video, some of their works and a proposal of activities surrounding healing and inclusion. During the next phase of the application process, McBunch answered more in-depth interview questions about what exactly they would do if selected for the role. They proposed a hybrid approach, both online and in person activities, that would make the art form more accessible to people.
In their role as poet laureate, McBunch shares their passion for teaching others about poetry, to write poetry and to utilize the healing aspects of this art. Their role with the city is one that facilitates just that kind of channeling. "I would like to provide a different way of thinking about poetry as it relates to everyday life," shares McBunch. "I want people to be able to observe the poetry around them and be inspired to create poetic art in any form they wish. I want to provide ideas to help create inspiration in these areas and to be inspired myself through the art others create and share with me."
McBunch's objective is to engage with the public through fun and reflection. The Hands On Children's Museum yearly Summer Splash! Festival incorporates a visit from McBunch leading a poetry scavenger hunt. Arts Walk is another important art venue on the calendar. McBunch also suggested to the city the use of its Engage Olympia website, which is an online format that provides information on proposed city projects and provides a space in which the public can share its voice. In a platform where the community is already seeking a place to share their views, they may also prefer an artistic outlet for it, one that is perhaps led with videos or writing prompts. Another idea is to combine a local artist's craft into a workshop format and have attendees create poetry based on the artist's piece, an artistic expression through words to a visual representation. Similarly, McBunch proposed the idea of working with an Arbutus Folk School ceramic artist for a combined ceramics and poetry workshop. In that instance, participants could submit their creations via video or post imagery in the online forum.
Between McBunch's wish list of artistic activities and the city's scheduled engagements, the two-year term packs a in a lot of poetry. McBunch hopes that people will be inspired to look into poetry further, to try it themselves and perhaps find joy in expression. To find out more, visit the City of Olympia poet laureate webpage, or visit McBunch's Instagram page to see personal poetry creations.