Submitted by The Evergreen State College
Freedom and flexibility for students have long been hallmarks of The Evergreen State College. Whether you just graduated high school or are looking to transfer, there are many routes to earning your degree at Evergreen. And if you're looking to learn through a combined western and Indigenous lens, the Native Pathways Program (NPP) is one of the best options in the state for earning your bachelor's degree.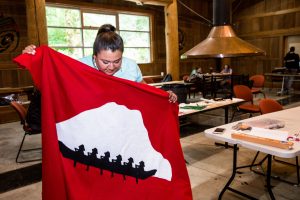 NPP promotes lifelong Indigenous scholarship at four place-based locations across western Washington, as well as the NPP Salish Sea hybrid/online option. They host classes at Evergreen's campuses in Olympia and Tacoma, at Peninsula Community College in Port Angeles and on the Quinault Indian Nation. The program is a school within a school. Most NPP programs and classes take place in the evenings or on weekends, so it's a great option to earn your degree while you work.
"Our students become leaders, community builders and change-makers," says Dawn Barron, faculty member and director of NPP. Graduates of the program go on to careers within their tribal communities, public and social services and into graduate school.
Recent success stories, among too many to list, include a graduate who was appointed to Washington's LGBTQ Commission by Governor Jay Inslee; another graduate who is a college admissions counselor; and a recent graduate who is a community college's Longhouse Coordinator. NPP graduates often pursue social work and law degrees or continue their studies in Evergreen's Master of Public Administration program, which has a tribal governance concentration option. Many others enter into Evergreen's Master in Teaching program.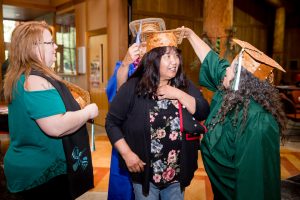 Strong relationships with local tribes and tribal and Indigenous organizations also means one-of-a-kind opportunities for students. Conferences such as the Affiliated Tribes of Northwest Indians and other events with Indigenous nations happen throughout the year and NPP students are encouraged and supported to build lifelong networks and connections. NPP students also have their own governing body that provides learning and skill building in governance, budgeting, effective communication, problem-solving and event planning.
NPP programs and courses span the Evergreen curriculum. They include writing, storytelling, research methodologies and methods, environmental history, critical Indigenous studies, political science, creative writing, history and more, but always through a lens that honors Indigenous knowledge and culture. As with other Evergreen programs, you'll often learn more than one subject at a time. And with narrative evaluations instead of grades, you can focus on learning however works best for you. As a NPP student, you'll find lots of opportunities to get into the community to help others and build your skills and knowledge at the same time.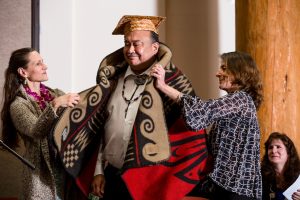 Each quarter, NPP hosts intensive weekends at Evergreen's s'gʷi gʷi ʔ altxʷ: House of Welcome Longhouse Education and Cultural Center in Olympia for all their students. It's a full-blown educational, cultural and community experience where everyone learns together. The bonds that are built in this learning community are strengthened by everyone's mutual interest in honoring Indigenous knowledge and culture.
At the core of the program is a belief in positive mentorship, academic rigor, community service and Indigenous empowerment.
To learn more about Native Pathways Program, visit their page at Evergreen's website.
Sponsored