Over the past year, frontline workers have faced many uncertainties. Through social distancing measures and closures to in-person learning, many parents and caregivers have faced limited options for childcare during working hours. In collaboration with the South Sound YMCA, Mason Health is aiming to combat this childcare shortage by developing more accessible childcare options for hospital district employees. Through the childcare and learning support program, local school-age children have a safe environment to learn and play while their parents are at work.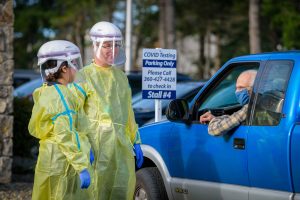 During the COVID-19 pandemic, many healthcare workers and support staff at Mason Health have continued to provide patient care and maintain critical hospital operations. With many positions unable to work from home, employees have been forced to balance work, family life and virtual learning schedules.
Jennifer Capps, the chief development and communications officer at Mason Health, says that hospital leadership noticed the toll of the pandemic on employees, particularly the struggle to find reliable childcare. "We recognized that there was a need for us to support our staff in a meaningful way," she explains. "And it quickly became apparent that our families, our Mason Health staff members, were really struggling on the home front. The pandemic was consuming a lot of their time and energy."
As a result, Mason Health started the childcare and learning support program in March 2020. Initially a collaboration with local school districts, Mason Health has now teamed up with the South Sound YMCA to provide a more consistent program for Mason Health employees and families. At the outset, program fees were initially split, with Mason Health and its employees each paying a portion for childcare services. As the pandemic continued, though, Mason Health made the decision to cover all program costs for employees.
"Our District's childcare and learning support program has helped us to support our staff members in a meaningful way throughout these unprecedented times during the pandemic," says Eric Moll, CEO for Mason Health. "At Mason Health we highly value our community partnerships. Our relationship with the YMCA is truly a collaborative effort and reflects our mission of United Community, Empowered People, Exceptional Health."
Intended for school age children in grades kindergarten through sixth grade, this program offers a diverse schedule throughout the day, including mealtimes, extra support for young learners in virtual classes, craft projects and outdoor play.
Patrick Costelo, the executive director for youth and community development at the South Sound YMCA says that during the pandemic, the YMCA has been operating similar programs across the South Sound region. As the childcare and learning support program grows in popularity for Mason Health employees, there is potential to expand the program into a wider range of hours for employees that work a schedule outside of regular business hours.
"We've expanded our hours of operation, a couple of times and want to continue to adapt," explains Costelo. "Knowing that Mason Health has some challenging shifts, I think there's probably even more opportunity to expand. And that's just one way that that we're seeing the need for this to grow. I think that there continues to be a challenge in finding childcare for 12-hour shifts, something that the healthcare field really demands. And that wasn't really something that we have been exposed to prior to this."
In addition to the frontline workers employed through Mason Health, the greater Mason County community has been sustained by a wide range of essential workers, including first responders, educators and those who work at grocery stores and pharmacies. As an additional resource to these community members, Costelo says the childcare and learning support program is available for families who cannot work from home.
"This program is open to any essential worker," says Costelo. "If anybody was needing to enroll, we would never say no. We want people to jump in and do this program, but where we've seen the need are the people that can't work remotely from home. You know all of the employees that help our society operate and didn't have the option to work from home."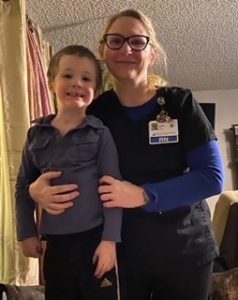 As the childcare and learning support program continues to operate in the community, Mason Health leadership is exploring ways to further meet the needs of working famlies through the rest of the pandemic and beyond. There is also hope that this program can serve as an outline for other local employers as a way to support workers in the community.
"I'm really proud of this partnership," says Costelo. "And I would like to hope and imagine that this could be a model for other large employers that want to offer a really valuable benefit to their employees. To prevent them from leaving the workforce, or just allowing them to accept the promotion, or take the next leap in their career, which as we know, is just a big barrier right now with the cost of childcare. Even during normal times, it is challenging for people to pay. But during a pandemic when most people only pay for after school care, is just even highlighted and exacerbated, so I'm just feeling really proud and grateful for all of Mason Health's work on this."
To learn more about Mason Health's support of employees through the pandemic, visit the Mason Health website. For more information about the childcare and learning support program, visit the South Sound YMCA website.
Sponsored