Our community is filled with exceptional organizations seeking to make a difference. The Thurston Economic Development Council (EDC) strives to improve our local economy by providing support to businesses in the area through coaching and development opportunities as well as by attracting more companies to our region. The Board of Directors for the Thurston EDC is an integral part of making all of these things happen, and Olympian Heather Burgess of Phillips Burgess PLLC has loved being a part of the board's efforts.
Heather has been practicing as an attorney in Olympia since 2006. She started her private firm with Richard "Mick" Phillips, Jr., who retired as of January 2019. "I was confident we had what we needed to be successful," Heather recalls. "At the point we started, the state was growing, South Sound was growing, and I think it is going to continue to grow." Today, the firm continues to do real estate, environmental law, and litigation as a boutique practice. "Our work is usually in the context of development," she says. "From critical areas and growth management to clean water and endangered species, we make sure everything is done in compliance with those rules."
Heather has been involved in the Thurston EDC for 10 years now. Her private law firm Phillips Burgess has been an active investor and participant for the Thurston EDC since 2011. "I was approached about joining and agreed," she recalls. "My practice is a land use practice, so there is a natural tie with land development and property development." The Thurston EDC is the area development official for Thurston County as designated by Washington State, so private sector members in these industries are hugely valuable for the experience and knowledge they bring to the table.  
Five years later, Heather decided to join the Thurston EDC board as a member. The Thurston EDC board is a policy board, which means it manages and governs the organization as a nonprofit. It is made up of 22 to 25 members from both the private and public sector, so it offers a diverse group of individuals with a variety of perspectives. "With the cross-section of public and private, the most fun part has been working with other members and getting to know more about their businesses and organizations," Heather says.
The board is an essential back-end aspect of Thurston EDC that helps ensure all of the funds are being properly allocated so the goals of the EDC can be achieved. "We manage and exercise fiduciary oversight, set goals, create mission statements, and manage funds," Heather shares. This gives the Thurston EDC the time and power to focus on creating a stronger local economy through its training and coaching programs, research and development, and marketing. Without the board, there would be less time dedicated to these efforts as well as a lack of outside perspective to help oversee the financial side of the organization.
Two years ago, Heather was elected to serve as president of the Thurston EDC. On boards like this, the individual elected will serve two years as president-elect, two years as president, and finally two years as past president. During her first year as president, Heather has seen some exceptional efforts from the Thurston EDC and its partners in the community. "My favorite part over the last year has been watching all the good that can come out of the organization," she shares.
This last year was a huge struggle for many businesses, and Heather was honored to be part of helping the Thurston EDC support businesses during the pandemic. "There was a significant amount of money coming into the community to support recovery, and the EDC, along with other partners, is key in managing those programs at the state and local level," Heather explains. The policy board helped behind the scenes to ensure the Thurston EDC was successful in its grant administration effort as well as in supporting the Thurston Strong COVID-19 Economic Recovery Initiative. "Seeing the success of the Thurston Strong program and how we have been able to help has been the more rewarding aspect," Heather shares.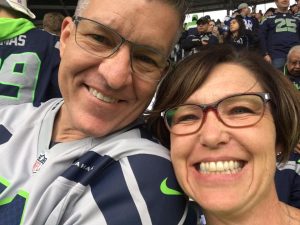 Being a part of the Thurston EDC board has really allowed Heather to connect more with the community and see the amazing work being done to keep our local economy strong. "Our Executive Director Michael Cade is the Energizer bunny of economic development," Heather says. "He is a privilege to work with and we are blessed to have him." Together, the board and the Thurston EDC have been able to spearhead wonderful community efforts to bring us closer together and help our economy thrive.
If you are a local business looking make a difference in the community, the Thurston EDC is the perfect place to spark change and growth for our economy. Contact the Thurston EDC to learn more about ways to get involved to support this exceptional effort.