Once the Yelm High School fastpitch team found out they were going to play this season they immediately set one lofty objective.

"Our goal was to be undefeated this season," Tornados Coach Lindsay Walton said, "and we met our goal."
That they did, and in dominating fashion.
Yelm capped its impressive unblemished season with a convincing 10-0 triumph over River Ridge on May 1. The victory pushed the Tornados record to a spotless 14-0 as they joined fellow perennial powerhouses Bonney Lake and Mount Spokane as the only Class 3A programs in the state to go undefeated in 2021.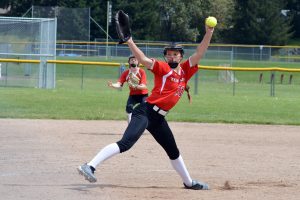 Yelm's season-ending win marked the seventh game this year the Tornados 10-runned a team. It was also the sixth time they held an opposing team to a run or less.
In total, Yelm outscored opponents a combined 187 to 41 this year, scoring seven or more runs in 13 contests and 10 or more in eight games with a season-high 31 runs registered in a win over North Thurston.
"We did have some close games – two against Timberline," said Walton, whose team went 3-0 against the Blazers this year, becoming the only team to knock off Timberline this season. "It was fun to have two games with almost like playoff scenarios. Those come from behind wins against Timberline were like playoff games. The girls will remember those games the most."
The team, which featured three seniors, nine juniors and two freshman in its lineup, went 12-0 in 3A South Sound Conference play and also notched non-conference wins over Peninsula and Spanaway Lake.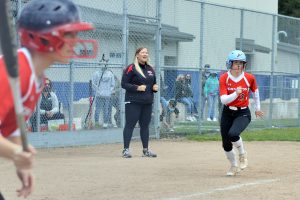 "We had a veteran team, but because we didn't play together last year we were still getting familiar with playing with each other," Walton said about her varsity roster. "So, it was huge getting 14 games in this year. We viewed this as a building season to take into next year."
Graduating from the program is senior catcher Audrey Missildine and senior outfielders Daylene Keyes and Ashlynn Villegas.
"To know we were able to have a season after not having one last year feels good even though we don't have a postseason," Villegas said. "Sadly this is my last game ever, but it was fun getting to build relationships with everyone."
Missildine was the only returning senior starter this year, having started as a sophomore on Yelm's state runner-up squad two years ago. The senior batted .364 with 12 RBI and a home run.
"These seniors were such positive role models for the younger players. Each one of them stepped up and took on that leadership role and we will miss them," Walton said. "It's always hard saying goodbye to the girls. I just love our team. It's been a blessing just to have a season this year."
Talks of next season, where the Tornados will look to extend their 14-game winning streak, was already beginning at the conclusion of Yelm's final win this year.
"I am sad this season is over. It felt like we blinked and it was over. Usually at this time during the year we are just getting ready for districts," Walton said, "but I am also really excited for next season."
As the Tornados should be given they return the bulk of their offensive production and pitching in 2022.
Offensively, the squad batted .401 on the year with four players hitting .500 or higher, including Katelyn Cederburg, who paced the team with a .556 batting average. She was followed by fellow juniors Kailei Thompson (.531 batting average) and Molly Embry (.524) and freshman Elissa Dewes (.500).
Thompson also led the Tornados in runs scored (26) and hits (26), while junior Ashlyn Aven drove in a team-best 20 runs and was the team leader in home runs (4). Embry was second on the team in runs (21), hits (22) and RBI (18), while junior Kendall Lawson finished second to Aven in home runs with three.
Junior pitcher Vivian Watts was a perfect 10-0 with a 1.83 ERA and notched 55 strikeouts in 53 innings of work. She was followed by freshman Madisyn Erickson, who went 4-0 with a 1.07 ERA and 31 strikeouts.
"I am very confident that we are going to be strong again next year," said Walton, who has led the Tornados to two state championship game appearances. "Hopefully, we will be fortunate enough to get back to state. The players have that in their minds. We have that as coaches. That's our goal always. We've been lucky enough to be in the state championship game twice in the last four or five years. We would like to come out on top one time."