If you were to venture behind the football stadium at Rainier High School one of the first things you'd see is a discus ring.

Approximately 200 feet from this concrete circle is a long chain-link fence that separates the school grounds from a nearby neighborhood. It is likely when the circle was first installed decades ago no one anticipated anything on the other side of the fence – houses, trees, backyard décor – being in harm's way as no discus would ever make it that far.
Enter Jeremiah Nubbe, whose Herculean throws have everyone associated with the Mountaineers track and field program re-evaluating their thinking on this.
"He's been one-bouncing plenty of discus into that fence," said Josh Frunz, who coaches the Rainier throwers. "He's on a completely different level."
That he is.
Nubbe, who won the Class 2B state championship in the discus as a freshman, is not just the premiere discus thrower in the state, he's one of nation's elite in the event.
Only four throwers in the nation have hit the 190-foot mark in the discus this year. Nubbe is one of them.
Already the school record holder in the event, which he set two years ago as a freshman, Nubbe posted a throw of 196 feet on April 19 during the Mountaineers' meet against Montesano and Northwest Christian. To put into perspective just how dominating he has been – his next closes competitor that day was 94 feet behind him.
Indeed, the junior's on another level.
"He's just really improved over the last couple of years. It's really been amazing," Frunz said. "His warm-up throws are avenging in the mid-170s. He's really dedicated himself to getting stronger and improving his technique. All the credit goes to him."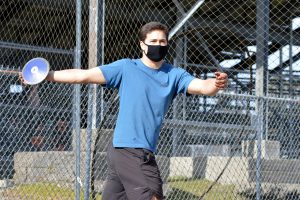 The Rainier track program has never seen anything like Nubbe. In fact, few programs in the state have.
Nubbe's top throw this year places him third nationally, trailing on Bruce Foster of Texas (210' 10") and Utah's Kaden Matua (196' 10.25"). He currently holds the state's top mark among all classifications and it's not even close as second on the list is Kamiakin senior Ryan McCartney at 169' 0.5".
But it doesn't end there. His personal record is the best in the history of Thurston County, bettering the previous mark of 191' 3" set by Capital High School's Adam Midles in 2000, and in all likelihood, by season's end he could be just the second in the nation to hit the 200-foot mark.
"And the great thing about Jeremiah is you're not going to find a more humble kid around," Rainier track coach Rob Henry said. "He's so dedicated and works so hard for everything he's earned."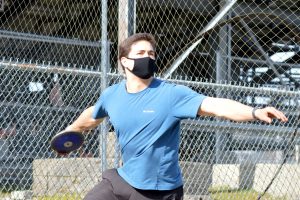 That includes building his own throwing ring in the backyard of his home as a seventh grader.
"I never played sports in elementary school," Nubbe said. "I just wasn't interested in it, but when I started middle school I played basketball and did track. Track really sparked something in me. I didn't start out throwing real well, but I had the mentality that it was something I wanted to work every day at improving. It gives me purpose."
Nubbe has already drawn the interest of several national powerhouse programs, including LSU, which were one of the first high-profile schools to reach out to him during his sophomore year. Stanford, Texas, Oregon State and Washington, among countless others, have also been in contact with the 4.0 student who is definitely a student of the event.
"Brute strength only gets you so far in throwing events," said Frunz, a 1997 Rainier graduate whose school record in the shot out was also broken by Nubbe this year. "You have to have technique and with that you have balance and coordination. And he's worked to solidify all the aspects of being a thrower. He's a special athlete. He studies it. He knows how to train. He dedicates everything to becoming a better thrower. He's going to write his own ticket and I'm glad I'm going to be able to witness it."
It's all about improving every day in the event for Nubbe. This has been his approach since entering the program. "I went to nationals in eighth grade," he says. Current University of Southern California thrower Trey Knight was there. "Trey Knight just blew everyone away. He broke the national record. I remember thinking I wanted to be that guy someday, but only better. It was very humbling. I'm always trying to get better. You always want to stay hungry. I take the wins where I can, but I'm always looking forward to the next event."
Unfortunately, the COVID pandemic eliminated Nubbe's chance at becoming a rare four-time state champion in the discus – something he labels as disappointing, but also serves as motivation to improve.
"I do have a whole other year," said Nubbe.
And despite not having a state championship meet to look forward to this season, Nubbe still has plenty to shoot for with the chain-link fence being fairly high on that list.
"That would be the ultimate accomplishment," Nubbe said. "Clear the fence, maybe hit a tree. That would be amazing."