Washington is known for its luscious landscapes and natural beauty. Many people in the region love escaping the bustle of everyday life by getting out in nature, whether for a day hike or a camping trip. Tumwater resident Richard Sampson has always had a passion for the outdoors and recently discovered the amazing sanctuary that overnight backpacking offers. He shares some of his favorite Pacific Northwest backpacking spots to explore, along with a few great tips.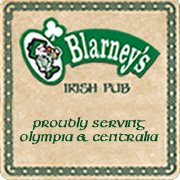 Richard has lived in Washington since 1973 and began hiking as a young adult in the 80s. Seven years ago, Richard took a day hike to Lake Sundown. "I was standing there thinking I would like to spend the night here,'" he recalls. "It took a couple years to get up the courage to stay out." In addition to tackling the fear, at that time he was still raising a family and growing his own business with Farmers Insurance. "I never felt I could be away from home overnight and be out of reach," he shares. A few years ago, with his kids grown and insurance agency established, Richard decided it was time to try overnight trips.
Richard was shopping at REI for some supplies when he was approached by one of the staff, who happened to be an experienced backpacker. "I told her I wanted to start spending the night in the woods and she said she would go with me to show me the ropes," he says. He learned a lot about cutting weight from his pack and staying safe on the trails.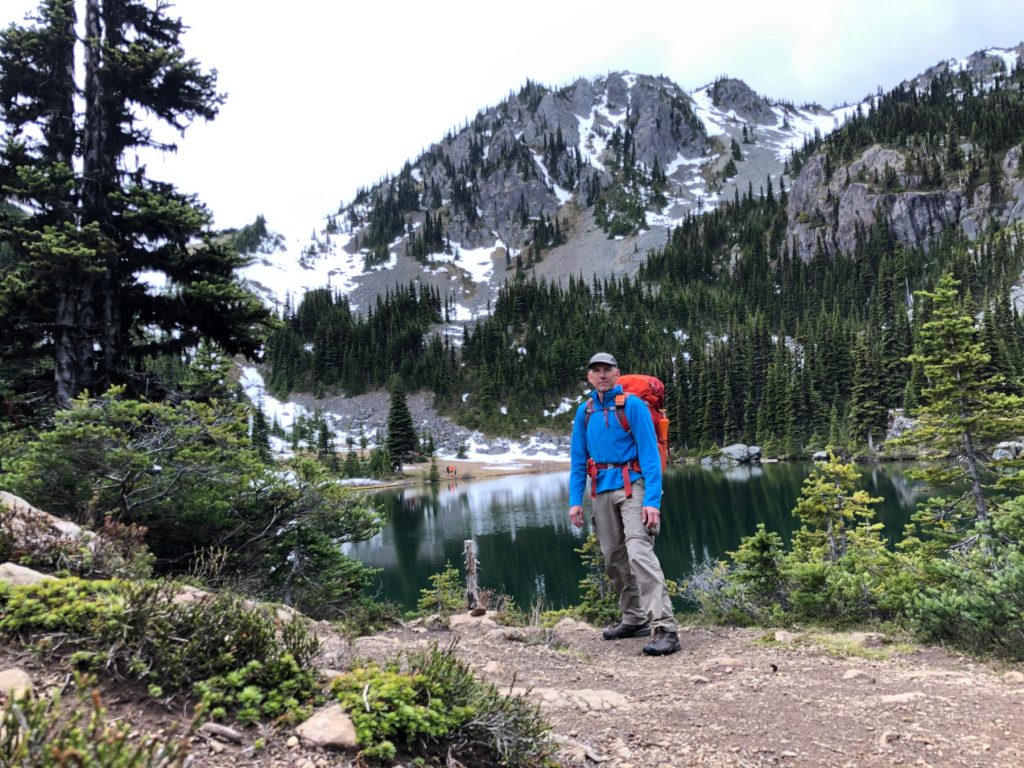 "You only take the essentials," he says. "I try to keep my pack at about 20 pounds." This includes items to stay dry and warm, such as his tent and one-pound blanket. He also saves weight on water by bringing a water filtration system and collecting filtered water from freshwater sources out on the trail. "It's about five pounds that I can add during the last two to three miles up the mountain, so I don't have to carry it the whole way." As for food, it's good to bring snacks for the hike and a light dinner. "I usually pack trail mix and a peanut butter sandwich for dinner," he says.
After learning how to properly prepare for an overnight trip, he and his friend went to Mount Townsend for his first overnight. This beautiful spot is located along the Olympic Peninsula and boasts four unique routes. The trails have a great deal to offer, from gorgeous waterfalls to open meadows with a view of the North Cascades. Even with such sights, it is quite daunting to decide to venture out in the forest and sleep outside. Going with someone experienced made the trip much less scary, and encouraged Richard to continue venturing out into the wilderness on his own.
His first solo overnight trip was on Cub Peak, which is also located in the Olympic Peninsula in Hoodsport. Richard hiked up to Wagonwheel Lake and then another half mile straight up the mountain. After experiencing the breathtaking beauty atop the mountain, Richard has sought out mountaintops as tent sites for his trips. "I love camping on ridges and mountaintops," he says. "There is nothing like sitting there, drinking a cup of coffee, and watching the sun come up. It's spectacular."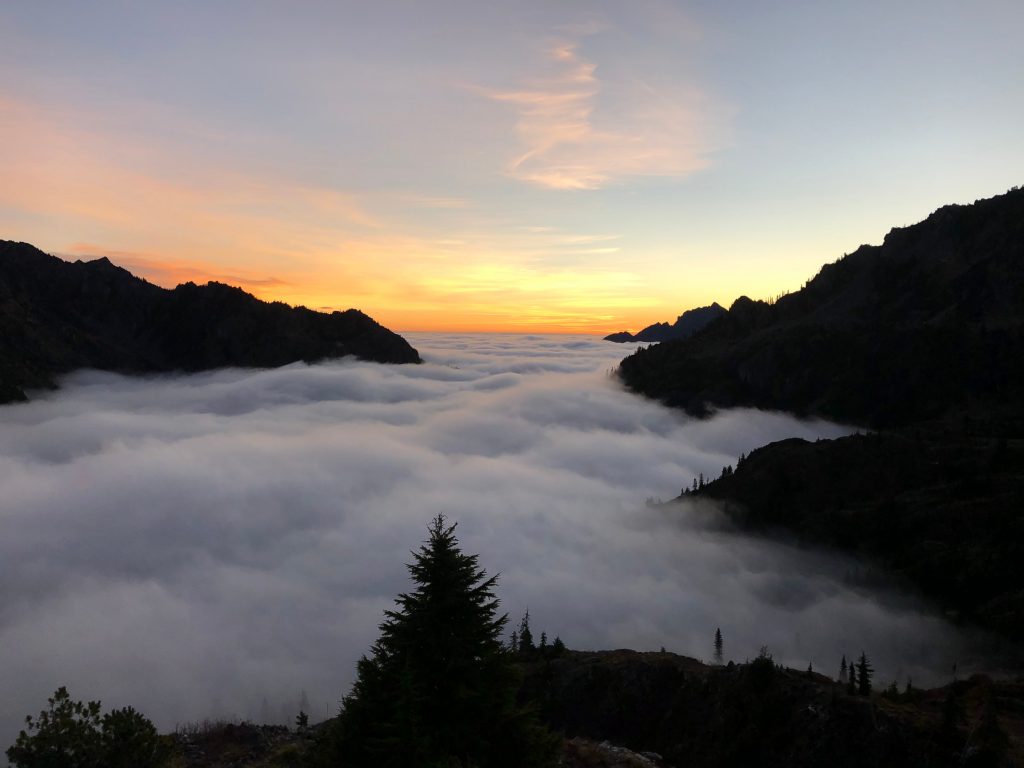 Since then, Richard has made overnight backpacking a routine hobby. His favorite place to go is the Olympic Mountains. "There is a rugged beauty to them," he says. "Plus, they are right in my backyard, so I don't have to drive three or four hours to get there." The Olympic National Park boasts many trails to see the wondrous peaks, ridges and glaciers of the Olympic Range.
One of the most popular mountains there is Mount Anderson. Richard is planning to go this year and spend two nights at the top. "It's about 19 miles one way in, so the second day I'd like to just be able to do some exploring," Richard says. Hikers and campers can use the Dosewallips trail to get to the mountain, which is accessible off of Lake Quinault South Shore Road. From here, follow the trail through Anderson Pass and soak in the amazing glaciers and surrounding peaks.
He also wants to visit Mount Hopper and Mount Steel, both of which are accessible out of the Staircase Region of the Olympics. This part of the Olympic National Forest is about an hour away from Olympia, so it is a relatively quick drive. These are more challenging hikes due to the craggy nature of the rugged peaks, but the view is absolutely worth it. With the mountains being six miles apart, this trip is best split across two days as well. All along the way, there are expansive rivers and forests to experience, so more time is better than less to really take it all in.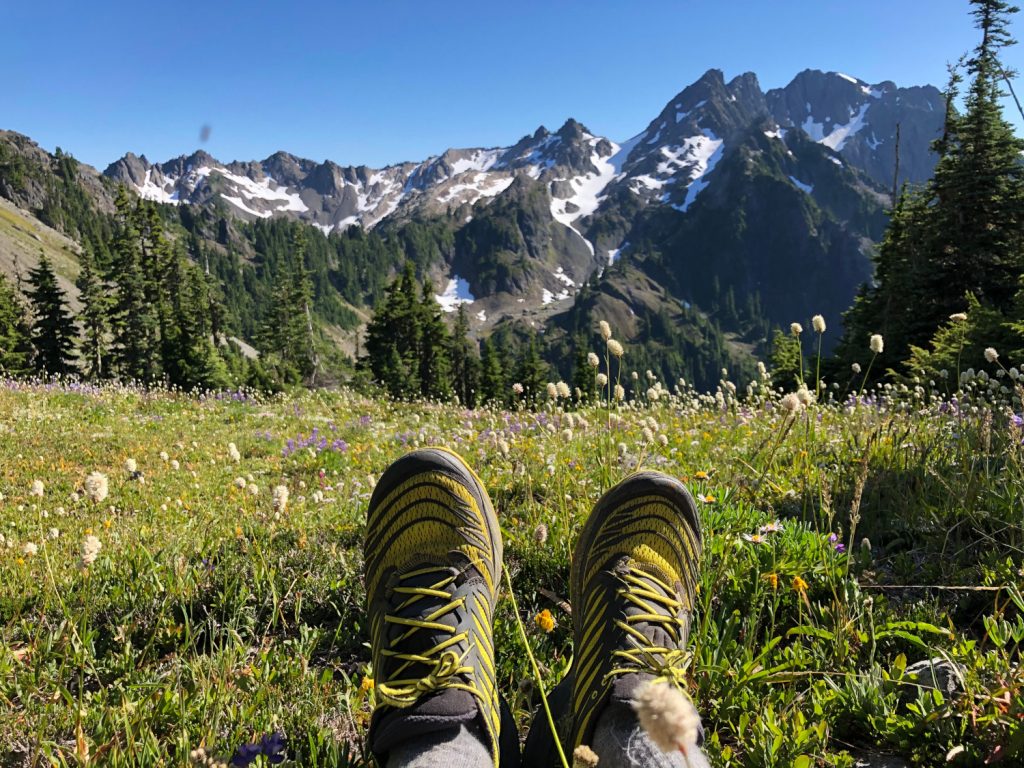 Regardless of where you go, Richard says to not get too intimidated by overnight backpacking. "I waited too long to do it," he shares. "There is something so awesome about being 10 miles from your car at the base of a mountain and you're the only one there." If you're nervous about venturing into the wilderness, go with someone or start with a short trip if you are going alone. Richard has found that being out in the woods alone is wonderfully freeing and calming, and he encourages others to get away from life now and then to experience it for themselves.
Want more suggestions? Check out these great overnight backpacking destinations courtesy of the Washington Trails Association.