If you are already a fan of Hot Yoga or Pilates, that's great! If the mention of these two activities causes you to head in the opposite direction, please wait! Olympia's good fortune includes being home to two amazing studios where you can indulge in experiences from the sweaty to the sublime. Hot Yoga Olympia and Pilates at Play are both long-running, local businesses, dedicated to living your best life. Owners Trisha Hatfield Graves of Pilates at Play and Daniel Buscher of Hot Yoga Olympia have survived the restrictions of the pandemic (no in-person classes) and are now opening their wings again to welcome new and returning students.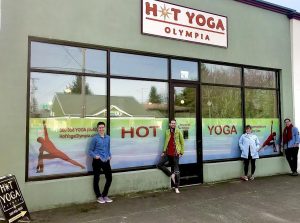 Hot Yoga Energizes the Body and Mind
I practice Yoga daily, however, I had never done a Hot Yoga session until Daniel invited me to his studio. Years ago, I had a Bikram Yoga teacher whose classes were led without the extra heat. Already knowing the series of postures was helpful for me. As far as the heat, there's no way to prepare except to do it, unless you are accustomed to living in Bali.
As requested, I brought my mat, a towel and a bottle of water. The heat of the room enveloped me as I entered the studio. My fellow participants were lying on their backs on the floor before class, so I joined the small, appropriately spaced group. So far so good.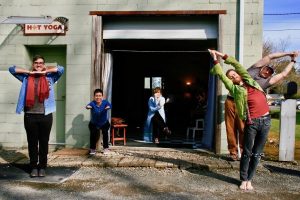 Everything about the class is intense. It is a full body/mind workout. That's a reason to go rather than shy away from it. There's no need to be an expert or experienced yogi. The class works for all levels of practitioners, and you proceed at your own level. Your participation will stimulate and balance your endocrine, nervous, immune and cardiovascular systems. Hot Yoga invigorates your strength, stamina and flexibility. You will be flushed with satisfaction when you reach the end.
For me, the heat was challenging when my heart rate got high during certain poses. The steadiness and direction of Alison Bailey, the instructor, helped keep me calm. Daniel teaches, too, but was taking the class that afternoon. The class ends with Savasana or corpse pose, where you lie on the floor for total relaxation and soak in all the benefits. It's a reward. My body was tingling and exhilarated.
Practicing Pilates Makes for a Strong Core and Mind
Pilates produces remarkable results as does Hot Yoga, but the experience is absolutely different. Pilates is a low-impact activity that strengthens muscles as it improves postural alignment and flexibility. There is focus on your core. A strengthened core improves balance and coordination.
It's all about control rather than endless reps you might be doing at the gym. Your teacher can modify the range of difficulty for all levels of practice.
I was enchanted with my class taught by Trisha. She's a dragonfly – long, lean and vibrating with color and energy. In splashy leggings and a neon sweater, Trisha moved among the three students, talking, coaching, adjusting, and directing with a light touch. Every ounce of her being expresses the beauty, balance and strength of Pilates. She studied Pilates in New York with the program originally created by Joseph Pilates, a German who believed mental and physical health were connected. In 2000, the word "Pilates" was ruled a generic term by U.S courts, to the disappointment of those already trained, like Trisha, in the Pilates method.
Pilates at Play has been an Olympia downtown favorite for years. Trisha infuses the spirit of fun into all her classes, whether on the mat or with a reformer. The reformer is a Pilates specific apparatus that looks a bit like a rowing machine, but with many more options. It originates from Pilates earliest days of attaching springs to hospital beds so that people could regain health and strength during their stay. Movements with the reformer are precise and often small. You'll be impressed the following day by the messages from your muscles that were happy you paid them attention. Classes are also taught on mats.
Classes at Pilates at Play and Hot Yoga Olympia are remarkably different. Hot yoga includes 26 postures with two breathing exercises, in the same sequence every time. This repetition gives students an opportunity to evolve with a familiar tool. In contrast, Pilates classes are improvisational though each class contains the components of Pilates including spinal extension, flexion, and rotation. It rolls out in an inspired, organic fashion.
When COVID hit, Trisha offered YouTube and Zoom classes, which have been greatly appreciated, even loved by her seniors at Panorama. You can check out schedules for both the studios at Pilates at Play and Hot Yoga Olympia. Daniel and Trisha are happy to chat about coming in for a class. Hot Yoga Olympia has a scholarship program available, which requires a commitment to practice three classes when you sign up.
Pilates at Play is moving May 1 to a new downtown location at 219 Legion Way, Suite 202 (across from Capitol Lake). The expanded space will be excellent for aerial and pole dancing classes.
Get in on the fun!
Hot Yoga Olympia
1963 4th Avenue E
360.956.9642
Pilates at Play
515 State Avenue NE until 4/30
219 Legion Way, Suite 202 after 5/1
360.352.3444
Sponsored