Few relationships are as powerful as caregiver and patient. We share some of life's highest highs and lowest lows with the doctors and nurses who pass through our life. They provide care, treatment, education, information and guidance for every age and need. At Olympia Obstetrics & Gynecology (OOG), caring Women's Health nurses and Certified Nurse-Midwives make it a special place for patients of all ages.
Advanced Registered Nurse Practitioners (ARNP) with a focus on women's care are tirelessly focused on their patients. The American Association of Nurse Practitioners explains that women's health specialists focus on how to "assess, diagnose and treat the health care needs of women throughout their lifespan…they provide preventive care such as well-woman exams, breast cancer screenings, Papanicolaou (Pap) tests or contraceptive care. [They] may also provide adolescent health care, pregnancy testing, fertility evaluation, prenatal visits, after-pregnancy care and menopausal care."
Certified Nurse-Midwives (CNM) do more than deliver babies. Their education and training mean they specialize "in women's reproductive health and childbirth. In addition to attending births, they perform annual exams, give counseling, and write prescriptions," say nursing educators.
At Olympia Obstetrics & Gynecology, their ARNP and CNM caregivers address preventive and well visits, infertility management, pregnancy and maternity needs, gynecological concerns and menopausal care. Their team works to keep women healthy throughout life's many changes and phases.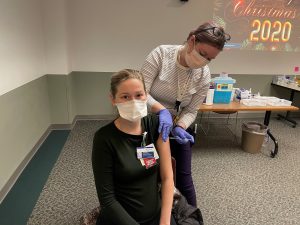 Carie Bussey is both CNM and ARNP and has worked there for nearly 11 years. "It is a privilege to work with this group of providers, nurses, medical assistants and the staff," she says. "I don't know if patients are aware of the incredible amount of experience this group of physicians and nurse practitioners bring to their care. I wish patients could be privy to the collaboration that goes on behind the scenes on their behalf. We are able to use teamwork, experience, evidence and good communication to help provide patients comprehensive women's health care. Because we work well as a group of providers, we can provide patients quality care across the women's health spectrum: from preventative and wellness care to surgical management of specific problems."
Fellow CNM Kim Taylor is newer to the team, having been with OOG for the past two years. Taylor moves between spots as she is "one of the delivering midwives that the patients may encounter at the hospital, and I have several days in clinic. I also see patients at the Yelm location every Wednesday morning."
During her time with OOG, she has found a unique and special home, even with the recent challenges of COVID-19. "I truly feel that a midwifery model of care, blended with the physician care we offer, can significantly improve patients' experiences with gynecology issues and during pregnancy," says Taylor.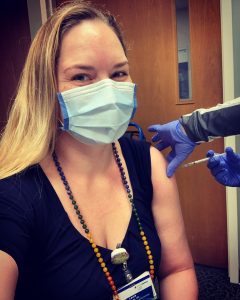 Taylor also has a unique and vital skillset. "I pride myself on being knowledgeable and confident in providing care to members of the LGBTQ community. I am currently finishing a doctorate degree that emphasizes improving healthcare access to patients identifying within the non-binary and transgender spectrum. We strive to provide the best evidence-based care, with an inclusive mindset for all types of people."
She admits that Coronavirus worries are especially difficult for pregnant women and new mothers. "Care for pregnancy has not changed much during the pandemic—although we are offering Telehealth/virtual visits now, which is actually really convenient for patients when they have other children or live far away," says Taylor. "Those can be an excellent fill-in appointment between necessary in-person visits. For those who are nervous about becoming pregnant during COVID, I would encourage to plan life for what's right for you and your family, and not necessarily worry with the unknown because most parts of our lives are unexpected anyway. We are all experiencing this together, and we will work hard to ensure your safety during the pandemic."
"Babies are born when they are ready, not when a pandemic says so," says Deb Cannon, the clinic's practice manager. "This means dedicated medical personnel have, over the past year, tackled coronavirus challenges to deliver babies safely. OOG, as a privately owned practice with lengthy roots in the community, is focused on delivering exceptional care, in a friendly professional environment."
Bussey agrees. "We've discovered a lot of silver linings. Health care workers have been forced to hop on the telemedicine effort. We've been able to quickly adopt what works for us and patients enjoy some benefits while remaining safely distanced. OOG utilizes a telehealth system that ties the visit to the patient's electronic health record. Patients receive a link via email or text and can access us through their mobile phones, iPads, and desktop."
No-one knows what the future may hold but knowing you've got allies on your side makes a world of difference. Wherever you are along the women's health journey, let OOG help. Give them a call at 360.413.8413 with questions or to make an appointment.
Sponsored