Country clubs bring to mind posh foursomes on the green and martini lunches in pearls and sunhats. But at Olympia Country and Golf Club, there are amenities galore from the golf course to the clubhouse. Individuals and families alike can enjoy them all year round, seven days a week. With views of both the water and mountains, visiting can be relaxing or invigorating, competitive or delicious. Better yet, they can be all of the above.
Unlike the hustle and bustle of your local gym or public pool, the Club offers both in a clean, safe environment. With current Coronavirus restrictions, the fitness center is open by reservation only, guaranteeing cleanliness and availability. It has an array of treadmills, ellipticals, bikes, weights and other tools to shed that sourdough belly. Center hours run from 6 a.m. until 8 p.m. and management hopes to add personal training services again once soon.
After a bracing workout, consider a cooling plunge—or extended cardio session—in the on-site pool. Open between Memorial Day and Labor Day, it is one of the few accessible to the public county-wide. Make it a fun summer outing by using a guest pass to bring along a friend or two as weather warms.
2020's quarantine kept us indoors more than usual so spring fever's arrival hits harder than ever. Want to try something new that gets you outdoors and moving? At the Club they've established pickleball courts which, weather-permitting, are ideal for all ages and skill levels.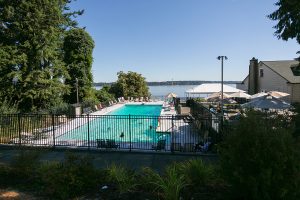 Join the Club
Through June 1, management is running a Club special with zero initiation fee for new members. This can be a savings of anywhere from $500 to $2,000 depending on your chosen membership classification. Or consider a three-month summer trial for only $600 with full access to everything the club has to offer. To learn more about both or to enroll, reach out to General Manager Jason Reehm directly by calling 360.866.7121 or jason@olygolfclub.com. Members can invite friends and family for dinner or golf, there is simply a $70 greens fee to play through the course.
Know someone who had to postpone a wedding, anniversary, or celebration due to the Coronavirus? Invite them along as a guest to explore the Club's stunning indoor and outdoor event venue. Their banquet facility holds up to 250 and knowledgeable staff and party planners will do the hard work for you. To learn more, call event staff at 360.972.9958 or fill out the online information request form.
The Perfect Place for a Quick Snack or a Sit-Down Brunch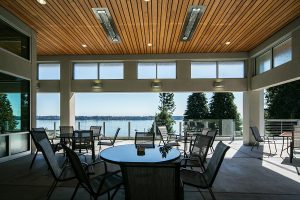 All that activity is sure to leave you hungry so make your way to the Terrace on the Green or pick up a quickie On the Go. On the Go has a walk-up food window or you can call in an order from the golf course's #8 tee box. Their menu includes breakfast items, burgers, sandwiches, and lighter options all able to be enjoyed without missing a beat.
But if slowing down is more your speed, Terrace on the Green is elegant and sumptuous. With winter hours every Tuesday through Saturday from 11 a.m. until 7 p.m., seasonal specials include rack of lamb, veal osso bucco and a surf-and-turf with Dungeness crab cakes.
For those who prefer a smaller, lighter treat, there are also plenty of choices. Order calamari, escargot, or coconut prawns or a savory steak salad with 36-day dry aged prime sirloin. The restaurant is currently open at 50% capacity, with live music will return this spring, COVID guidelines permitting. Patio dining is underway, and reservations are recommended.
Follow updates, new additions and more on the Club's Facebook page or the Olympia Country and Golf Club website. Treat yourself, family and friends to championship golf, fine dining or an afternoon poolside just minutes from home. After the year we've had, a little self-care is in order. At the Club, you'll find it all.