Large dogs tend to stay in shelters longer as many urban homes prefer smaller breeds. They also tend to show more stress in the shelter environment, making them appear less desirable to potential adopters. Add to that a breed that was bred to do a job on a farm, and it can take a miracle to help save them. Thankfully for them, they have humans with hearts as big as the dogs themselves helping to find forever homes through Great Pyrs & Paws Rescue (GPPR) in Thurston County and throughout the Pacific Northwest.

In 2000, Marie Rosa got a fluffy great Pyrenees puppy. "She was my first and one of the best dogs I ever knew," she says. "I was hooked after that." After her first, she rescued several Pyrenees and got involved in volunteering. Along the way she took a break to finish her master's degree and find work.
But her love for the breed and rescue work never left her.
In April of 2020, when a lot of things were shutting down, a group of dog lovers in the Pacific Northwest started the Northwest branch of the Great Pyrs & Paws Rescue. In June, a friend of Marie's asked if she knew about it. "I looked and found GPPR and recognized some names I used to work with at the old rescue so I filled out a volunteer application," she shares. "I was excited to be joining a new organization."
GPPR rescues and fosters great Pyrenees and other livestock guardian breeds, such as Anatolian shepherds. The dogs are rescued out of Texas, where they have a real problem with too many livestock guardian dogs and not enough homes. "Texas is number two in the U.S. with high euthanasia rates in a lot of their shelters," explains Marie. "Pyrenees and other livestock guardian dogs are highly desirable in the Pacific Northwest and Texas rescues have been adopting Pyrs and other LGDs up here for many years.  We reformed our mission and vision to focus on reducing the euthanasia rates in Texas by pulling adoptable dogs in the high kill shelters, providing medical and foster care then adopting them to loving families in the Western states. There are a great deal of rescues, community members, and stakeholders in Texas working hard to reduce these rates, we are just one of many."
Marie explains that having a breed-specific rescue can help potential adopters understand the needs of these breeds. It's also nice for the dogs to be taken into foster homes that understand their instincts and needs as well. "It is beneficial to have rescues specific to the breed as we tend to understand their behaviors and have experience to be able help our adopters identify if the breed is for them," she adds.
Great Pyrenees NOT Searching for a Job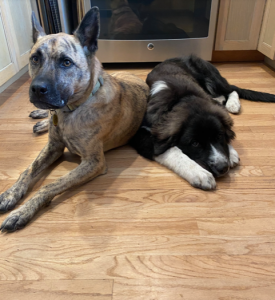 You may be thinking, "Well I live in the city I can't adopt one of these dogs." But actually, you may be just the home the GPPR is looking for. They do not adopt out their rescues to farms for working livestock guardian use. This is because most of the time, these dogs came to be at a shelter or rescue because they were not good at their job. But Marie says this fact can help them settle into home life more easily. In addition, the rescue places all their dogs in foster homes for a bit, where volunteers work with the dogs to assess their temperament and work on basic training to transition them to life as a house dog. "Ideally, we like to have the dogs spend a week or more in a foster home, so the fosters can get to know their personalities as well as get them acclimated to home living if they're used to staying outside," Marie explains. "Fosters focus on the basics to prepare a dog for their forever home. This includes potty training and crate training if needed, walking on a leash and being able to travel in the car, as well as socialization with human children or resident pets."
Marie goes on to say that while dogs are resilient, it does take any rescue animal time to adjust to new people, new environments and new rules. "We talk to adopters about the 'Rule of Three' as it's a great guideline for what timeline to expect a dog to feel comfortable in their new home," she shares. "The Rule of Three is: The first three days is known as a 'detox period' where the dog may still be overwhelmed and amped up at the new surroundings.  At three weeks the dog is getting used to the routine and his true personality is starting to show and at three months the dog finally knows he's home and should be well integrated into the family. It's really important for the adopters to remember to give their dog time to adjust before introducing them to new stimuli in order to set them up for success."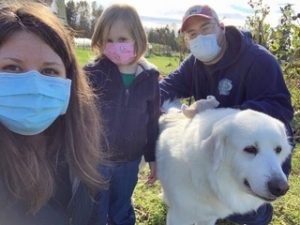 Potential adopters should be aware that these are big dogs, and being guardians, their first line of defense is barking, and some are quite good at alerting you to something! And some, like any rescue dog, may come with behavioral traits that need training or management, such as resource guarding. "Overall, they're extremely intelligent, loyal, protective, sensitive, calm and gentle," Marie says. "Some also make really great therapy dogs as they are very intuitive." Talking with someone at Great Pyrs & Paws Rescue is a great way to find out if one of these gentle giants is for you.
The rescue has volunteers through the Pacific Northwest and is always looking for more to fill a variety of jobs, from fostering to paperwork and aiding in transport. Learn more about their strategic plan for 2021-22 and see dogs currently available for adoption by visiting the Great Pyrs & Paws Rescue website.