With schools, offices and jobsites impacted by the Coronavirus, many Americans are feeling the pinch. Vaccine rollouts provide hope for a return to normalcy, but until then life must go on. Throughout Thurston County, Intercity Transit's dedication to free fares on clean buses helps everyone get where they're going. Because every outing is important, and every traveler's journey and life story is unique.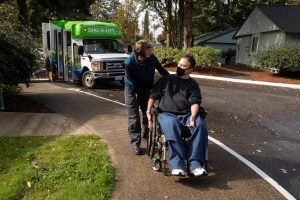 Longtime rider Jeff Peterson moved back to our area after being in an auto accident in 1983. From his wheelchair, he started riding Intercity Transit buses then switched to Dial-A-Lift when it began in the early 1990s. Dial-A-Lift service is for those with disabilities that make riding traditional bus services difficult.
"Before COVID, I rode Dial-A-Lift for everything," says Peterson. "Doctor's appointments, shopping, volunteering at St. Peter's, church, visiting friends, etcetera; now I ride two to three times a month compared to three to four times a week before."
But even with quarantine and restricted travel, the service is a much-valued lifeline. "I definitely depend on Dial-A-Lift for getting around," Peterson shares. "With the ever-changing weather around here, the difficult sidewalks and paths for wheelchairs, and being a quadriplegic, I get pretty tired wheeling around so I'm very grateful for Intercity Transit."
Madison Bunten also discovered IT buses when she moved into Thurston County. As with many commuters, both she and her employers have weathered COVID-19's many ups, downs, closures and re-openings.
"I've ridden Intercity Transit since I moved here from out of state almost exactly three years ago," says Bunten. "I've used Advanced Reservation service since the end of April when my place of work opened back up. I used that service until buses resumed service and I could catch the bus home in the afternoon."
"I primarily use the bus to commute between work and home and before the pandemic I would run other errands as well such as grocery shopping or doctor's visits," she explains. "I'm very appreciative of the service that Intercity Transit provides. It's miles better than the bus services back in Montana."
Students, too, both enjoy and rely upon IT's many options. The cost savings are a tremendous benefit and keep both high school and college obtainable.
Maddy Galleon is one such rider. "I started using intercity transit around 2018 when I started high school to get back and forth between school and home," she recalls. "I'd also use it for getting to friends' houses or going grocery shopping sometimes. I definitely used it the most between when bus fare became free in January and when lockdown started—at least twice a day."
But as with so much of life, things slowed down during homebound 2020. "Now I definitely don't use it as much, maybe once every couple of weeks if I have to pick up school stuff or if I need to get around town for appointments and errands," she admits. When she does ride, she feels confident about it. "I think Intercity Transit has good sanitation, and I feel safe riding," Galleon adds.
The last year has been difficult for individuals and organizations alike. Despite impacts to the economy far and wide, many industry experts cite transit's role in strong, long-term recovery. According to an article in TIME: "It reduces the number of private vehicles on the road (generally meaning better air quality and less congestion); it results in fewer fatal car wrecks; and, when done well, makes urban mobility more accessible…Public transit is the backbone of the local economy, and serves a wide swath of residents across socio-economic groups. If cities are to recover post-COVID, a thriving public transit system will surely have to be part of the mix." As Thurston County recovers from the social and economic impacts of the pandemic, Intercity Transit will be there to serve residents, students, employees, getting people to local businesses, schools, and vital services.
To learn about all of Intercity Transit's many options, visit the Intercity Transit website or sign up for real-time updates via email or text. These updates include service and route changes, a monthly newsletter and employment opportunities. Dedicated riders can download the OneBusAway app for real-time arrival information.
Have questions? Send a message to customer service or access the trip planner, current routes and schedules, Park & Ride locations and other options online. Let IT get you where you need to go safely, promptly and at no charge. Wherever and whenever you're on the move, let them help. In 2021, life goes on—one bus trip at a time.
Sponsored