2020 has been tough on everyone, especially the small business owner of "non-essential" businesses. Many had to close their doors multiple times, some got to reopen. For others it marked the end of their enterprise. Gabi's Olympic Cards & Comics, a mecca for anyone who loves comics, gaming, and pop culture collectibles in Lacey, survived the year and is going strong thanks to community support and a grant from the City of Lacey. In true Gabi fashion, Gabrielle Trautmann and her team continue to pay the generosity forward.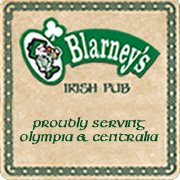 "Honestly, my first thought was, 'If this is what it takes to safeguard this community, I hate it, but it is a necessary evil,'" says Gabrielle Trautmann, owner of Gabi's Olympic Cards & Comics. "We had to close last year because of snow. I have been saving in case that happened again. I thought, 'two weeks, no problem.'"
But as we all know, two weeks turned into month, as orders kept being extended. "When it was extended, I cried," Gabi admits, "because I was not sure what we would do, and how we would handle it. I kept the promise I made and posted to our Facebook page that I was scared and didn't know what we were going to do. I was flooded with people buying gift cards and ordering things and donating money. I could not ever thank this community for what they do to keep the doors 'open.'"
A $10,000 Lacey Small Business COVID-19 Emergency Grant from the City of Lacey also helped keep things afloat.
Paying it Forward During COVID-19
The outpouring of love and support for Gabi's Comics is not a surprise to anyone who has visited her store or follows her Facebook page. The store team is known for their friendly and inviting nature: It's a safe space where anyone can come and feel included. Many people feel ostracized due to their love of comics, so-called "geeky" games like Dungeons & Dragons, or collection of My Little Pony toys. Gabi's is a place where they can feel comfortable talking about their interests and passions.
But it's not just their friendliness that causes such a loyal following. Gabi has a big heart and she cares about her employees and her community. In February 2020 Gabi had the foresight to create a shared work program through the unemployment office, in case they had to close. "We allowed our staff to work from home, and a handful were allowed to work in the store to do inventory, orders and cleaning," she adds. They used the closure to do a deep clean, sanitize, and rearrange the store to allow for social distancing when they could reopen. This meant her employees kept their jobs.
And, they took online and phone orders. It was something new for them, but Gabi was fortunate to have an employee, Jordan, who was tech savvy, and helped her get gifts cards onto her site. "We did shipping, all day, every day," Gabi says. "At our lowest point we were 68% down from last year, but it still was enough to keep staff paid, and to not have to interrupt our shipment orders. We order items three months out, so I wanted to receive items and keep organizing and merchandising so when we opened, we were ready."
In addition, they have always given back to the community through Gabi's Kids and their annual holiday adopt a family program. Gabi's Kids is a charity run inside the store that provides meals for kids. During the pandemic, they expanded to seniors and other vulnerable members of the community. They did this by using resources they already had and being creative. "We had lockers—Thank you Washington State Employees Credit Union—for another project," she explains. "We put those outside and gave people keys and we stocked them Tuesdays and Fridays. If they needed sanitizing stuff, they would leave me a note. Sometimes, they leave something they didn't need for someone else to use. We also had a great community of people who would drop things off. We even had a customer donate his entire stimulus check to a family that was struggling. It made all the difference in her life. We had people donate the stuff they couldn't use for school meals to give out. Trader Joes gave us fresh fruit via the Thurston County Food Bank. Truly, many hands make light work."
This year, their adopt-a-family program has 260 families. Gabi's Comics followers could adopt a whole family, or just bring in individual items or gift cards that Gabi's team would then match with the families. It never even crossed Gabi's mind to not do this this year, even with everything going on. "The need has been greater," she explains. "People are far more stressed. People who never thought they would need help reached out. That can be really tough for someone that has never needed help. I have a lot of respect for parents and siblings that make the choice to prioritize the needs of people they care about over their ego. The need has been much greater, but so has the support. I guess I didn't 'decide' to keep doing it. I never even thought about not doing it. I have made a commitment, and to not stick with it in the hardest of times is not my style.
Gabi's Comics was able to re-open during Phase III, and customers flooded back. "People came back, immediately," she says. "Through the shut down, I kept open communication through Facebook. People knew we were taking safety very seriously. Some who were wary did curbside or delivery." While Gabi's still cannot have game nights and tables for people to play games and hang out, the community is happy to be able to visit the beloved store.
So much so, that in November, the store actually surpassed their 2019 sales figures. "Instead of doing our annual customer appreciation sale weekend, we chose to have a sale a day to spread it out," she explains. "We had some really good days, and I think people really appreciated all the extra effort that went into doing it that way."
People can donate to the adopt-a-family program by donating money through Paypal Olympic789@aol.com and notating it for Gabi's Kids or they can donate cash or credit card at the shop. They still need items dropped off as well, including toys, underwear, socks, make up, diapers, wipes, food. "Literally everything helps," she says. "On December 20th from 6:30 p.m. to 9:00 p.m. we will have tables set up so anyone that didn't get assistance can come get something for their kids. No kid is going without on my watch." People need to Facebook Gabi's ahead of time so they get timeslot. She needs their name and how many kids.
Through it all, what Gabi has learned is inspiring and gives us all hope as we head into 2021. "I have learned just how supportive this community is to me, the shop, the shop family and Gabi's Kids."