Got somebody on your gift list? Women's shops and boutiques in Olympia and around Thurston county have a little bit of everything from hats and earrings, to blouses and jackets. Perhaps you are looking to add a sweater to complement a dress, a scarf for any occasion, or you are looking for a combination of a few items. Here are some ideas on where to shop local in Thurston County for women's gifts.
Lark
113 Fifth Avenue, Olympia
360-878-8806
You can start your gift finding journey at Lark, a shop in Olympia that caters to women's clothing and jewelry. The clothing collection of tops, pants and jumpsuits is comfortable, casual and professional. The shop has jewelry too, some of which are crafted by Pacific Northwest artist Calliope.
Lily's What to Where
202 Fourth Avenue West, Olympia
360-943-7004
Just a few blocks over, Lily's What to Where Boutique has a range of fashion gifts where shoppers will discover styles for women of all ages. Lily's dresses and wraps are laden with joyful colors and fun prints like unicorns, sloths and bicycles, as well as polka dots and roses.  The head-to-toe outfit is completed with the array of unique hats along the wall, hosiery choices and trendy shoes. Little bags, purses and funny socks are great gift choices here as well.
Hot Toddy
410 Capitol Way South, Olympia
360-292-9177
Over at Hot Toddy, a real treat awaits your eyes and feeds your shopping zeal. Open the tall, pink front doors to an eclectic wardrobe. Inside the store feels like a personal dressing room, with a backstage dressing table and a delightful dressing room with a crystal chandelier and Victorian loveseat. Hot Toddy has cardigans, blouses and skirts that have a classic style mixed with fun and playful fabric designs and rich colors. Check the counter racks for shiny bracelets, long beaded necklaces and eye-catching hair pins.
Belleza Ropa
101 Capitol Way North, Olympia
360-352-7672
Belleza Ropa is a women's clothing store and boutique in downtown Olympia. They carry shoes and boots, gloves and decorative umbrellas, which are all nice presents for completing an outfit. Earrings, necklaces and scarves make good gifts to pair with a new sweater or blouse. Pajamas with lighthearted prints of pastel zebras on a black background, dog sketches on pink or cats with hats on a baby blue background make great loungewear gifts. For current promotions, check out the Belleza Ropa Facebook page.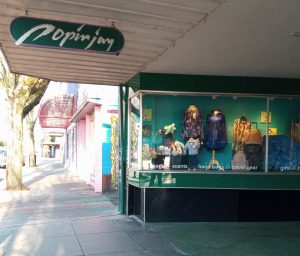 Popinjay
414 Capitol Way South, Olympia
360-352-9841
Since 1977, Popinjay in downtown Olympia has been a place to shop for personal gifts. It has a wide variety such as bags and purses for travel and leisure. You can find a hat, a pair of earrings or a necklace. Other feel-good items such as soft sweaters and fragrant candles make a nice pairing as well. Fine chocolates, boxed candy and greeting cards are also welcome additions to a gift such as a scarf or jewelry from this longtime Olympia shop.
Iron Works Boutique
224 Sussex Avenue West, Tenino
360-264-5288
Take a drive through the countryside to Iron Works Boutique in Tenino that abounds with wardrobe treasures and more. This quaint shop on Tenino's main drag in southern Thurston county is full of tops and bottoms, fancy and casual. Scarves for gifts are popular here as well as some very trendy purses and bags made from repurposed materials. You could create an entire outfit here for a whole-package type of gift, or you could build a nice gift box collage of things. Half of the store houses antiques and artistic décor. Any gift choice can be finished off with an added pair of earrings, artisan soap or coy hat.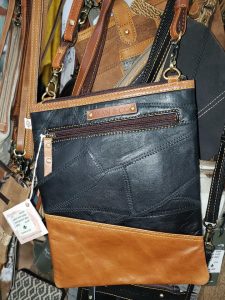 "2,000 square feet of shopping bliss," says shop owner Joyce Worrell, who opened the shop 10 years ago. "Anything your heart desires, we have for you." Don't miss the open yard area outback full of metal garden art and perhaps pick up a gift for the person who loves to decorate outside. Iron Works Boutique is full of great eye-catching gifts that keep you wanting to come back.
Between Sisters
404 First Street South, Yelm
360-960-8648
Follow Highway 507 to eastern Thurston county to Between Sisters in Yelm, another independently owned shop for women's attire. Cute and comfy is the vibe coming from their clothing collection with fluffy fleece jackets, denim and sweaters. From t-shirts to long flowery dresses, a loungewear gift or something for a special event is here on the rack. Between Sisters hosts weekend trunk shows that feature local vendors.
Tim's Pharmacy Gift Shop
106 First Street South, Yelm
360-458-3973
The gift shop at Tim's Pharmacy in Yelm is huge! A visit here turns a trip to the pharmacy into a gold mine for gifts. You might find adorable plates or a deviled egg platter for the cook on your list. For those who love to decorate, you can choose the gift of a stuffed animal cow or ceramic roosters. Perhaps the perfect, endearing wall hanging that quotes the answer to happiness, a pair of earrings, a baseball cap or chocolate is just the right thing. Two glass front displays showcase candies, fudge and chocolates.
Fantastic, independent shops await in Thurston county. Have fun shopping!