Buying locally adds to the fabric of goodwill in our community. The diverse businesses we have provide a multitude of possibilities for your gift giving needs. You can fulfill your lists with toys, games, bicycles, and experiences with the added bonus of meeting the helpful owners and their employees. Here are a few fabulous ideas to shop local Thurson County businesses for kids' gifts this holiday season.

Shipwreck Beads
8560 Commerce Place NE, Lacey
360-754-2323
Explore the universe of colors, textures and beauty of Shipwreck Beads. Their website makes browsing fun. Find beading and ornament projects for the kids. For more advanced crafters and artists there are supplies for jewelry and art projects. Be simple or get complicated.
Olympic Cards and Comics
4230 Pacific Avenue, Lacey
360-459-7721
"Pokémon cards, books and comics and Star Wars are still popular," says Gabi Trautman, beloved owner of  Olympic Cards and Comics, which speaks to all of their impressive longevity. And of course, The Child is sure to bring a smile. Gabi was welcoming customers into her well supplied store with a smile and a squirt of hand sanitizer. Olympic Cards and Comics has over 1,000 board games that the whole family can play. Sales happen throughout the day. If you are overwhelmed by choices, you can opt for a gift card and let the kid on your list pick out their own treats.
Local Book Stores
Browsers Bookshop
107 Capitol Way N, Olympia
360-357-7462
Orca Book Co-op
315 5th Avenue SE, Olympia
360-352-0123
We might be limited on how far and wide we can travel these days, but books from Browsers and Orca Books Co-op can take you anywhere from the comfort of your own home. Books can be read quietly or out loud, and there are so many styles and kinds, you can certainly find some that satisfy the particular tastes of the kid(s) you are shopping for. (J.K Rowling's new book, perhaps?) Plus, browsing books downtown is another tradition for anyone in the mood to read.
Joy Ride Bicycles
1225 Ruddell Road SE, Lacey
360-491-9551
Joy Ride Bicycles knows the interest in riding has increased, especially with limited access to gyms. People like the freedom it provides. Hearty cycle-cross riders don't fear the weather, but they dress for the occasion. With darker, cooler and wetter days, here's a few things to remember. "Fenders and lighting are important," says Joyride's Will Trogden, a long-time bike enthusiast who can answer all your cycling questions knowledgably. Joyride can even tune-up their current bike and find gloves to keep their hands warmer. You can shop for accessories, clothes and parts.
Encore Chocolates and Teas
116 5th Avenue SE, Olympia
360-350-8033
Consider making a pot of tea for yourself and a family member with warming, flavorful leaves from Encore Chocolates and Teas. The gift of time is priceless. Encore's assortment might require you ask a few questions, but they are happy to assist you. Pick up a few to sample and savor. Remember, a little chocolate (or a lot) is a festive idea any time of year. You can shop on Encore's website or visit the downtown location.
Jeff Evans, Magician
877-412-5064
For kids with just too much stuff, how about an experience? Remote entertainment has opened up a whole new level of entertainment for Jeff Evans, Olympia's own magician. "My goal is to have an experience – a sense of wonder and awe," says Jeff, who can bring a show into your home through the internet. Jeff is a master for school motivational assemblies and always a hit at parties for all ages. You can arrange a holiday-themed event that your whole family can enjoy and participate – even if you aren't all in the same place at the same time.
Captain Little
121 5th Avenue SE, Olympia
360-352-5441
Set your sails for fantastical adventures at Captain Little in downtown Olympia,  a legacy toy store on the corner of 5th and Washington. Captain Little is packed with unique, fun, high quality toys, games and activities for kids of any age. Santa's helpers will love the roto-bins filled with stocking stuffers galore. Find the book section with picture to chapter books including local author/artist Nickki McClure. Visit the Maileg doll house, find toys for bath time and meet a few Squishables. I like the science area with kits for chemistry, growing crystals and assembling machines. It's a joyful experience to wander around. You can call ahead for a curb side delivery or even get help remotely from a personal shopper. Gift wrapping is included.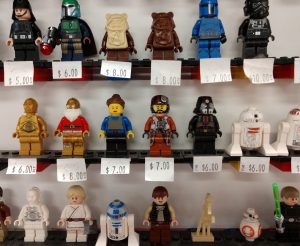 The Brickhouse
2747 Pacific Avenue SE A-7, Olympia
360-628-8568
Legos have lasted the test of time. The Brickhouse owned by father-son team Jeff and Bryan Turner, have bins full of lightly used bricks so you can get exactly what you want. Buy them by the sacksful. "The mini-figs (figures) are most popular," says James Parker (who goes by Parker). "You are only limited by your imagination. A little engineering is good." I have fond memories of the Logo advent calendars our son loved to open. I saw a few on the shelves.