It's been almost two years since the South Puget Sound Community College (SPSCC) volleyball and basketball teams have played a home game, but when they finally do take to the court, the Clippers' home will be one of the best in the Northwest Athletic Conference (NWAC).
According to SPSCC Athletic Director Vernell Willingham, construction of the school's new Health and Wellness Center, which will house SPSCC's athletics program among other amenities, is nearly finished with the structure of the physical building completed, while maintenance is still ongoing.
"We are very excited to open and showcase our renovated Health and Wellness Center, however with the pandemic, we are taking it slow to ensure we're following all safety and health precautions and requirements," Willingham said. "We anticipate a soft-opening soon with small groups and will continue to evaluate our environment. Once we are ready to open, notification will be sent out to our campus community about re-entry protocols that are in place."
SPSCC's new Health and Wellness Center will feature a renovated gymnasium and a new auxiliary gymnasium, expanded weight room and cardio room options, a wellness cafe, additional study spaces, enhanced variety of physical education course options and the ability to expand study activities, recreational sports programs, intramurals, and future club sports programs.
"The construction of the Health and Wellness Center was set back a little due to the pandemic, however, we understand even without the pandemic, timelines of construction projects are always fluid," Willingham said. "We are extremely excited about the structural completion of the project and are grateful for all the work the construction crew, company, and college did to ensure the campus community has an amazing facility to use and compete in."
The Health and Wellness Center was approved through a SPSCC student vote in 2017 and is funded by student fees. The project was designed by KMB Architects with construction by Pease Construction.
"We can't express enough how beautiful and excited we are about the new Health and Wellness Center," Willingham said. "We are grateful to the student senate and all the students that voted and everybody who continues to support us throughout this project. With their vision and the wonderful leadership, this building is a testament to what our campus community can do. We can't wait to showcase the work that helped make this building come to fruition."
SPSCC Clipper Athletics is now waiting on the green light from the Northwest Athletic Conference to resume play. The NWAC has a tentative plan to begin all sports during the winter and spring quarter.
"The current state of the pandemic and state mandates have the NWAC constantly looking at doing what is best for our student-athletes, as we want them to be and remain healthy," Willingham said. "Even though we would like to move forward with sports as soon as possible, we need to be flexible to ensure that we're meeting all health and safety requirements. For all sports, we are still surveying what would be best for all student-athletes."
One of the features that Willingham stated SPSCC is excited to showcase in the new Health and Wellness Center gymnasium is the upgraded live-streaming system for Clipper sport competitions.
Should sports resume soon, Willingham believes there is a possibility SPSCC fans who cannot attend games will be able to utilize this new feature to virtually support Clippers Athletics. "Although we'll be missing our fans in the stands," Willingham said, "any support helps our student-athletes, and we are always grateful for The Clipper Nation."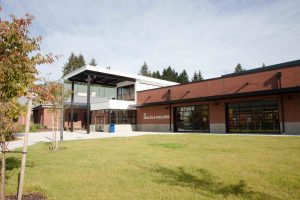 The completion of the new Health and Wellness Center was not the only thing the pandemic has slowed down among SPSCC athletics as recruiting has also been affected. "Recruiting, like everything right now, has been difficult but we are doing the best we can to sign talented student-athletes. We are excited for all of our student-athletes to come in and compete in their sport at a high-level as soon as possible," Willingham said. "I believe our coaches are using every resource available to them, inclusive of virtual resources, and doing the best with what is available to them to recruit talented student-athletes."
Should a student be interested in participating in SPSCC athletics, they are encouraged to contact the respective coaching staffs. "We want to make sure our students-athletes are successful both in their sport and academics, but academics is our first priority, so the student should be prepared to let the staff know how academically successful they have been at the high school level, previous college if transferring, or if returning after taking time off, how important education is to their future," Willingham said. "If the students don't hear anything after some time has passed, please don't hesitate to follow-up with the athletics department."
For more information, visit the South Puget Sound Community College Athletics website.
Sponsored