Submitted by Dr. Jennifer Penrose for Penrose & Associates Physical Therapy
I'm seeing too many patients that are sitting too much. Sitting is the new smoking. We are staying home too much due to the restrictions of COVID. This is how it is going to be for a while, so we are helping many people develop new routines in the midst of this. We don't want people to become weaker, stiffer, achier due to all the sitting. If you want the secret to ant-aging then stay moving and keep eating more veggies! We are happy to help you on the path to wellness and feeling confident with balance, strength, flexibility so you can live life on your terms.  If you need help figuring out where to start and how to set up a home workout routine that addresses your concerns then reach out to us.
In fact, the research is solid that in order to live longer you need to be exercising! In fact, lifting weights cuts your early death by 46%!
Did you know that 1 in 2 women over 50 have soft bone and 1 in 4 men? The best thing you can do is to do strength training that is hard enough to stimulate bone density. How do you do this?  When you lift weights, you want to feel like you are working hard. So, on a scale of 0-10 you should feel like it is a 6-7. You should not be able to do 10 repetitions+ in a row. If you do 10+ repetitions then you are doing endurance training, which is good but is not "strength" training. If you have not been lifting weights it is wise to start with good form, instruction, low weights and work up to the idea of working at 6-7 intensity of 5-6 reps 3 sets. As always, start gradual and work up to it to avoid injuries.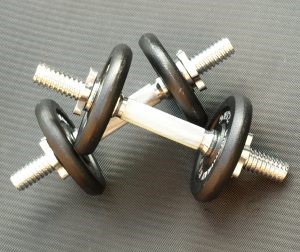 Strength training often intimidates people and many people unintentionally get injured.  We can help you set up a routine safely.  Please call us about a fitness screening or if you are unsure if you should start with physical therapy and then transition to working with our ATC.  We will help you find the best fit to based on what you need.  We offer one on one training opportunities in person and group classes via google hangouts virtually at this time.
We are offering 2 virtual classes. In fact here are the descriptions of the small group training classes we offer to help you stay out of doctors' offices and prevent falls:
Penrose Power (formerly Stronger Bones) is small group training designed to improve bone density and full body strength. This small group training will also use unstable surfaces to challenge your balance and core! If you need more strength to get up and off the floor, or return to hiking, kayaking, or what you LOVE this is for you! We are able to modify things for arthritis so don't let that hinder you.
Penrose Posture and Flexibility (formerly Yoga for Osteoporosis) is a modified version of yoga using a chair. This small group training is great for those who are stiff, lack flexibility and need to improve posture and balance. All yoga positions are modified to protect those who have been diagnosed with osteoporosis, arthritis & spine issues. These poses aim to increase bone density. If you want better posture, ability to golf better, put socks and shoes on, feel less ache in your joints; this class is for you!
You can attend the first class for free if you have never attended one of our classes. Classes are via google hangouts at this time. We also offer one on one training sessions for those who want in person. We keep you socially distanced at this time from others and wear masks.
Call us at 360-456-1444 or visit the Penrose & Associates Physical Therapy website for more information. Be sure to listen to our newest podcast, "How to Stay Out of the Doctor's Office After 50." We are located on the 3rd floor of the Harborstone Credit Union building. 1445 Galaxy Dr. NE Suite 30,  Lacey.