Seeking medical care can feel overwhelming, especially in times like these. We worry about postponing treatment, or wonder if we're making too big a deal about something insignificant. All too often, lack of information and support makes people worry before any trip to the doctor. But at Olympia Obstetrics and Gynecology, their skilled team treats all manner of women's gynecological needs from pregnancy through menopause, even during a pandemic.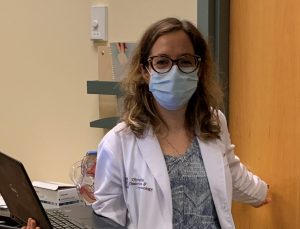 With offices in Olympia, Elma, and Yelm, Olympia Ob Gyn has been around for nearly 20 years…after a fashion. "Olympia Ob Gyn was opened in September 2005 but had its genesis out of a group that formed when Memorial Clinic closed in 2001," explains Practice Administrator Deb Cannon. "Long-time Olympian, Laurie Sorenson, MD, is the senior member of a group of physicians including Darrel Bell, Sarah Calvert, Anita Chin, Puneet Bhullar, and Laura Hanks. Our midwives migrated from Womancare which merged into Olympia Ob Gyn in January 2016. Alumni Karen Swift, Sharon Hinz, and Carie Bussey are joined by Amanda Clauson and Kim Taylor."
They are currently accepting all types of new patients and accept both insurance programs and self-pay clients. Their care philosophy is simple: "The professionals at Olympia Obstetrics and Gynecology take pride in providing you with exceptional, individualized, patient-centered care. We believe every woman has unique needs and concerns, and we work to provide a comprehensive range of obstetrical and gynecological healthcare to service those varied needs."
The team works out of, and takes calls from, Olympia's Providence St. Peter Hospital and the Family Birth Center located on-site. They receive referrals from "a wide range of PCPs, Naturopaths, Midwives, other type specialists, especially if there is a potential surgical issue," says Cannon. "All of our physicians perform gynecological surgeries, assisting each other in the process."
Whatever your needs—even during quarantine—the staff are ready to help. "Babies don't stop because of COVID-19 so we have been in an essential business mode since early March," says Cannon. "We implemented telehealth and used it for a larger portion of our obstetrical visits in Phase 1. While more patients are coming in now for gynecological visits, some which must be in person, we continue to utilize telehealth with a segment of patients and hope to do so long term."
Unlike the old fashioned image of an anonymous doctor swooping in to deliver babies one after the other, Olympia Ob Gyn's team "is replaced by a hybrid approach that allows safe patient care and providers to have lives outside work," explains Cannon. "We operate as a group practice for shared patient obstetrical care and individual providers for gynecological care."
The process is simple (for patients!) but requires careful schedule-juggling for staff. "We encourage our pregnant patients to pick an MD, a midwife, and one other provider for their antepartum care, which is provided over six to eight months at the office," continues Cannon. "The provider continuity is helpful. A different team is on call each day at the Family Birth Center. The physicians work 24/7, with a rotating day call doctor, as well as night call doctor. Our midwives with hospital privileges manage laboring patients on 16-hour shifts from 7:00 a.m. to 11:00 p.m. and are available most days. They also manage much of the patient discharge and education activities as new moms are leaving the hospital."
More than just prenatal care, Olympia Ob Gyn helps with other needs as well. "We offer women's health ultrasounds, non-stress tests, and lab services within our office setting, so it is convenient for our patients," she says. "Our high risk pregnancy patients are reviewed at monthly meetings so everyone is aware of those patients and the plans in the works as they move toward delivery. We also provide access to lactation consultation as well as Childbirth Education and robotic assisted surgery for gynecological problems."
If you or a loved one needs care, especially during the incredible experience that is pregnancy and childbirth, give the Olympia Obstetrics and Gynecology team a call at 360-413-8413 so they can talk you through your needs and treatment options. They serve individuals throughout Thurston and Lewis counties and all the way to the coast. This initial phone consultation helps walk through childbirth resources like a birth plan as well as discussing your preferences.
Find forms, patient testimonials, financial information, and informative articles on the Olympia Obstetrics and Gynecology website. Follow them on Facebook for news, articles, and community information.
Sponsored