On the cusp of the fourth anniversary in their location on Division Street, Phoebe Martinson of Phoebe's Pastry Cafe could not be more excited to introduce a new lunch and breakfast menu created in collaboration with her fellow owner and husband, Dan Martinson, and her son, Jake Martinson.

Jake had been living and cooking in Hawaii for a number of years before he returned to Olympia to help his family open a second location for their wildly popular pastry and baked goods shop on Cooper Point Road. Jake has always been keen to try out new specials, like a Philly cheesesteak or omelets to order, but this is the first time Phoebe's Pastry Cafe will offer a hot-off-the-grill, made-to-order menu.
"He nailed it," Phoebe says. The new menu is both classic and inventive, spiked with flavors inspired by Jake's time in Hawaii, with just a whiff of a Latin flare. Jake makes both his guacamole and buttermilk ranch from scratch. You'll find both of them on the Milanesa Club, a dish Phoebe is particularly excited about. Jake's wife is from Argentina, and this dish hails from her home land.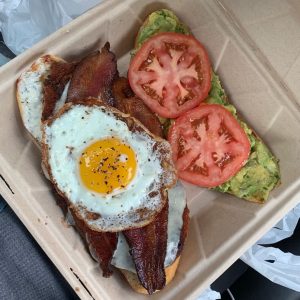 While made most often with beef, Jake's Milanesa Club boasts a juicy pounded chicken breast, breaded, pan-fried and lovingly laid on a huge slice of sourdough toast. He tops it with Havarti cheese, two thick slices of bacon, and an egg sunny side up. The other slice of toasted sourdough is slathered with guacamole and comes perched with two slices of tomato. The scratch ranch is in there too. Bring a friend and a few wet naps for this one.
Another item they are eager for you to try is the Bacon Benny. Rather than ham or strips of bacon, the protein in this refreshing take on Eggs Benedict is a bacon cake. Imagine a crab cake that, instead of crab, was made with bits of smoked bacon ends. Jake slides one of those between half of an English muffin and a poached egg and douses it in hollandaise sauce. He serves you both sides of the muffin, two cakes and two eggs.
Phoebe and her family designed their new menu with today's circumstances in mind. "You can't cut through a slice of bacon very easily with a plastic fork," Phoebe says. Their cafes only closed for about four weeks during the pandemic. They complied with all state regulations and managed to hang on to jobs for any employee who wanted to return. They've even added a 12th position to meet all the take-out demand.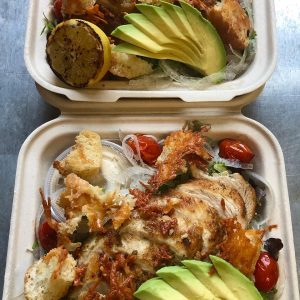 Most importantly, Phoebe keeps her customers happy and curious about what they'll offer next. "We have the best customers in town," Phoebe says. "They have been so adamant about keeping us open. They buy more than they need, and they come more often. We want to encourage that and keep them coming in for new reasons."
This was a big impetus for the expanded menu. They unveiled the new menu in early September, but they got creative with their offerings early on in the pandemic. Phoebe prepped batch after batch of cookie dough in a variety of flavors for folks to pick up and bake at home. She also made hand pies and scones that could be baked at home. They ran a curbside pick-up for several months. Their savory dinner pies doubled in popularity. "People buy four a time and freeze them," Phoebe explains. Dan also developed two take-and-bake pasta dinners that are still available and extremely popular, a Meaty Italian Pasta Bake and Smokey Bacon Mac & Cheese.
They are anticipating a huge number of orders for their Thanksgiving dinner offering. Their premade dinners serve six to eight people. They've received a number of inquiries about small, two to four person dinners, and this year they plan to make that an option for couples or small families who might need to dine on their own.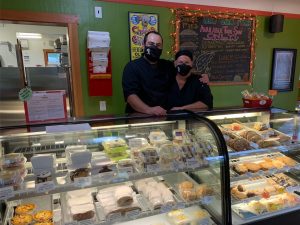 No word yet on when they'll start taking orders, but follow Phoebe's Pastry Cafe on Facebook so you're in the know the moment they announce it. This year's spread sounds incredible. Each dinner comes with a brined and roasted turkey breast; an herbaceous roulade made of butterflied dark meat; stuffing, mashed potatoes, and roasted winter veggies; scratch sauces including cranberry, gravy, and sage dressing; rolls; and a pumpkin pie. It sounds like it may even come with mini cheese balls for an hor d'oeuvre. Sign me up!
If your mouth is watering all of a sudden, don't delay. The new menu is available exclusively at the Division Street location from Thursday to Sunday. Breakfast is available from 8:00 a.m. to 11:45 a.m. and lunch items are available from 12:00 p.m. to 4:00 p.m., when they close. Visit them at 106 Division Street Northwest. Call 360-539-7566 to order ahead and pick up. There are also a number of tables outside to enjoy your meal on site.