Bill Carter just checked something off his bucket list. The long time Olympia resident, veteran and aviation hobbyist has a few things he would like to do in life and taking another flight in a single engine propeller plane is one of them.

Originally from Maine, and now living in Olympia Washington, Bill's life experiences have quite nearly circled the globe. Back in Maine, Bill had enlisted in the United States Army and completed basic training at Fort Dix just to the south in New Jersey. From there, he went on to a whole host of places, experiences and adventures. He has stories that tell memories of good laughs and some daring escapades. Bill's Army career went 9 years, after which he enlisted in the Air Force for the next 11.
In the military, Bill was a flight engineer, a role in which he performed pre-flight and post-flight inspections as well as overseeing in-flight engine and system operations. At Dow Air Force Base, near Bangor, Maine, he flew on test flights after aircraft repairs. At Kelly Field in San Antonio, Texas, he trained on the KC-97 Stratofreighter, an aerial refueling tanker. Bill has stories for each. One event he shares is about a landing approach in Hawaii in which the yaw damper failed causing a fishtailing, wallowing movement. Quick thinking and manual flying on the part of his pilot were what saved the landing. Bill's military career took him north, south and crisscrossing the continental U.S. as well as to Korea in 1952. After 20 years and 20 days, he retired from the military with the rank of tech sergeant.
Aside from working closely with aircraft in the military, Bill was an aviation hobbyist. He earned his private pilot license in the Air Force's Aero Club. While living in Alaska, he would rent a plane for the day and fly out to a good fishing spot.
Flying Again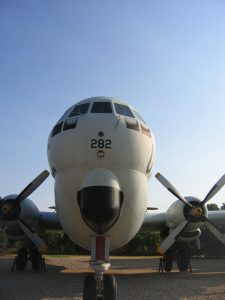 Little did Bill know, Glacier Aviation at the Olympia Regional Airport had a Cessna 173 waiting on the tarmac with the copilot seat reserved for him. Good friend and neighbor Lee Wojnar and family members planned the surprise for Bill's recent 90th birthday. Pilot and copilot flew out of a foggy morning at the Olympia Airport and out to Sanderson Field Airport in Shelton for a quick touch-and-go with Bill at the throttle.
"We made a touch and go at Shelton. It was like a semi-controlled crash," says Bill, known to be a lively jokester, with a chuckle. "A 90-year-old shouldn't be flying a plane." The last plane Bill says he flew was his own plane, a Globe Swift, which he called "a squirrely little airplane." After his first flight in a single engine propeller plane, in over four decades, this former flight engineer was ready with wit and good humor. "I've lost my feeling for the aero plane after 43 years," says Bill about flying again. "They've changed so much inside, instruments in the wrong place, cockpit too narrow. I enjoyed it. Best birthday present I ever had in my life! Absolutely."
In fact, propeller planes have changed quite a bit from having cables that pilots manipulate to hydraulics and all new instrument panels. Imagine the dashboard and cab of a mid to late seventies sedan compared to today's digital car features and one can relate to the contrast.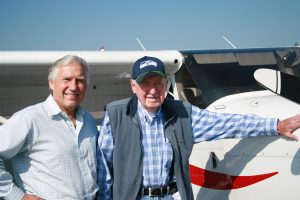 The morning was cloudy and the skies undercast below the plane. After an hour of reliving days in flight, they touched down back in Olympia where the weather had finally parted to a sunny afternoon. Lee was there, waiting to hear all about Bill's flight.
The two have been neighbors for the last 17 years. Bill and his wife June spent time with Lee and his wife Anne. June and Lee exchanged friendly debates while Bill refereed. Lee often assists Bill with yard and home maintenance, the two making the occasional trip to the dump. "He's the funniest 90-year-old I've ever met," says Lee.
"There's no better neighbor in the whole world than Lee and his wife Anne," shares Bill. These two Olympia couples even discovered an East Coast connection they shared. Lee's sister was living in Maine, and she happened to be living in the same town in which Bill grew up.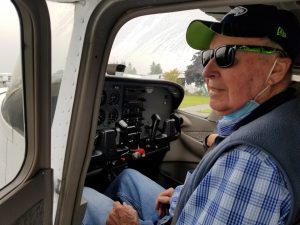 They are each the type of neighbors most wish for: good friends, helpful and there when needed. So, when Bill's milestone birthday arrived, Lee and family wanted to treat him. "Without family nearby, I wanted to do something special for Bill's 90th, so I remember two years ago he told me he wanted to fly, one last time, a single prop plane," shares Lee. "I asked him 'Is this on your bucket list?' He answered 'Yes.' Also on his bucket list is to fly back to Ellsworth, Maine, to visit some of his family.
"It's important to keep stories alive. It's important to take care of those who are older. We have to take care of each other to build a better community."
Bill's wife June recently passed away, the day before his birthday. They were married 41 years. His good neighbors, no doubt, will be there to support him.