It's better to run towards something instead of from something. By joining the Kids' Chance Washington's October Fun Run Fundraiser 5k, you can help youth in Washington sprint towards college. Part of a national organization, Kids' Chance Washington is a nonprofit run locally by leaders in labor, business and government to provide college scholarships to children and spouses of workers who have had a serious work-related injury, condition or death.

"My name is Elly," says one scholarship recipient. "And Kids Chance is one of the only reasons that I can go to college. Both of my parents are disabled. When I was 8, my father suffered a head injury that left him without a job. This was difficult for my family. I am the youngest in my family. I have three siblings. My two older sisters and my twin. When I was 16, however, my mom had a brain aneurysm. She is now on disability and cannot work. My parents now had to help support three kids going into college, while neither of them worked. Kids chance was a big help, and I am so grateful to Kids Chance for helping me and my entire family. I am attending WSU as a freshman this year and will graduate college in 2024."
Thanks to Kids' Chance's scholarships, Elly is able to run towards her dream of graduating from college. The scholarships are 100 percent funded by donation only, which is why their annual gala was pivotal. COVID-19 put a halt to that, but organizers quickly came up with an alternative to ensure those needed help could receive it, especially knowing that need might grow with COVID deaths on the rise. "Without the ability to hold an in-person event we looked for a virtual option," shares Christine Carrey, board member and co-chair of the fundraising committee for Kids' Chance Washington. "This allows us to encourage healthy activity and brings attention to the cause. We do expect there will be more kids who will become eligible for our scholarships as the result of COVID related illnesses and deaths that are accepted by Washington Department of Labor and Industries as occupationally related."
Scholarship applications are due twice a year, in the fall and spring. "Applications were up this year," says Teri Rideout, attorney and chair of Kids' Chance Washington's sponsorship committee. "We were surprised thinking some might take a gap year with virtual learning. The stories we heard were more difficult this year with job losses on top of inability to work. I think it's important to note that many of our recipients are the first in their families to attend college."
Children and spouses of a Washington State worker who suffers a work-related permanent injury or death are eligible. Scholarships can be used at any accredited university, community, technical or vocational college and can be used for any expense related to schooling including tuition, books, room and board, fees and other living expenses.
"I personally will never forget the first Workers' Compensation fatality I handled," Christine shares. "Seeing the surviving spouse struggle, unsure of how her kids were going to pursue their hopes and dreams after they lost his income was heartbreaking. That's when I was introduced to Kids' Chance. Through their state's chapter the surviving son was able to have his trade school tuition paid and is out working in his chosen field now. These donations are impactful. Live changing."
Christine goes on to say that they work with firefighters AWB, WSIA, teamsters, State Labor Council, healthcare service providers, law firms and other vendors who are a part of the worker's compensation industry to provide support to families struck by tragedy. Kathryn Potvin is a partner at the Olympia workers compensation law firm, Putnam Lieb Potvin Dailey.  "This year, some families with a disabled parent have been particularly disadvantaged when then uninjured parent lost work due to COVID," she shares. "We proudly support Kids' Chance Washington and challenge our colleagues and community to support this worthy cause."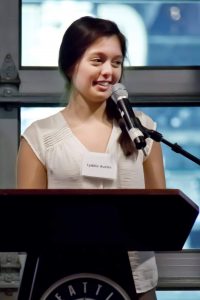 Hearing the stories from the scholarship recipients proves that their work has a positive impact on entire families. Lyddie Austin, who is studying environmental engineering at the University of Washington, was one of the speakers at the 2019 Kids' Chance gala. She shared her story, and the impact Kids' Chance had on her future:
"I was in the fifth grade when my Dad was injured, and my little sisters were in the second grade. I was ecstatic when I received the call back that I had been chosen as a recipient of the award. It guaranteed me a little bit of financial stability in this troubling time. Pursuing my degree has absolutely changed my life, and it is an incredible opportunity I am so thankful for. None of this would be possible without the generous support of Kids' Chance. This financial stability guarantees me the chance to succeed. Without it, I wouldn't be able to focus on academics, and I wouldn't be able to travel the world. Thank you for your contribution to my education and my life. I am so thankful, and it means the world to me."
Have Some Fun, Run and Help Others Sprint Towards Their Dreams
Now through October 31, you can sign up for the Kids' Chance Washington Fun Run Fundraiser 5k. The best part is, you can run anywhere – around your neighborhood, a nearby park – it's up to you! All proceeds go towards their goal of reaching $80,000 in scholarship funds to help lift our neighbors up when the unthinkable happens. "They represent the children of hard-working Americans who were out performing their job duties when tragedy struck," says Christine. "These families that have had major trauma as the result of an industrial accident with real and often severe consequences to their situation and their goals and dreams."
After signing up, don't forget to order your t-shirt! Proceeds from the commemorative t-shirt sales also go towards their scholarship funds.
Not a runner? That's okay! You can donate by visiting the Kids' Chance Washington website. You can even still purchase a t-shirt to show your support for the great cause. Together, we can help others run towards their dreams.
Sponsored