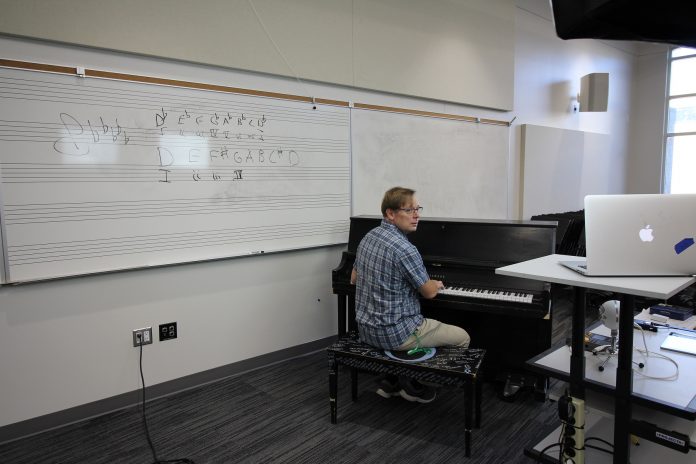 Great news! The music program at Olympia School District (OSD) is alive and well, and there's still time to get involved. Students in high school, middle school and late elementary grades can still make music with their peers even with the advent of pandemic restrictions. "It's true that being in the band or orchestra is not the same as it has been," notes Joe Dyvig, OSD music coordinator. "However, I'm really committing to a positive attitude, finding the silver lining and making the most of it." 

Some school districts across the country have eliminated orchestras and bands, but OSD believes music is within the core of students' educational experience. Rather than abandon programs, OSD has embraced them. "We felt it was important to put extra energy in to be innovative and creative," says Keith Holder, who teaches band at Centennial, Madison, Pioneer and McKenny Elementary Schools and at Washington Middle School. And, that's what they are doing. 
Keith expects people to wonder, "How do you play music or sing in the age of COVID?" That's a good question. "All or nothing doesn't work," explains Keith, who is finding ways to do music on Zoom. "We wanted to keep it as normal as we could for the kids." For example, he will play a piece to the whole class, where all are muted, and then students can play along with him. Afterwards, he will ask for volunteers to play one at a time. "It's not unlike class in some ways," he adds.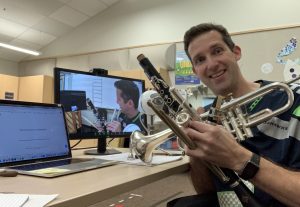 On Fridays the elementary school band members do something that wasn't done before remote learning. Each section from several schools – the flutes, clarinets, trumpets and trombones – meets with a separate teacher. This more concentrated and focused time helps beginning students with techniques, handling their instruments, and other aspects of playing. No one waits around while other sections receive coaching.
So far, attendance is good. Keith says families are still figuring out connectivity and dealing with band width issues, but that is to be expected. He suggests parents talk to their children about class and ask, "Can you play something for me?" He knows that music can provide a lifetime of enjoyment but often needs encouragement, as there are challenges and frustrations along the way. Keith started playing the trumpet at Olympia's Roosevelt Elementary School. He is quick to say that he still finds some days hard but attributes life-long friends to his involvement with playing music.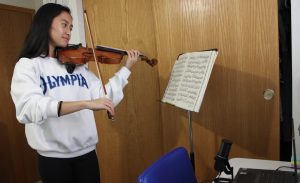 Older students will be diving more deeply into music this year with guided listening and by exploring theory and technique. "Remote learning forces students to be independent learners," says Joe, but that can be a positive element. Some students will feel less pressure because there won't be the performance as before. Students will be learning various apps like Soundtrap, an online, collaborative music and podcasting recording studio with many available instruments, high quality loops and more. Flipgrid is another avenue for creating short videos to communicate.
Maria Aurelio is a 10th grader at Olympia High School (OHS) in the audition symphony. She learned the piano at a young age with the help of her grandmother and then added the violin in 6th grade. The guitar is also one of her instruments. "Being in the comfort of my own home is nice," she says of remote learning, but "it's harder to focus at home." She runs four to six miles in the morning (she used to be on the track team) and plays with the chamber orchestra. Her new hobby is baking for fun and stress relief in her limited spare time. Her recent venture with macarons was a success. Maria has a small group of friends who walk together or go have a cup of coffee. She loves the ability of music to bring friends together and make connections with anyone.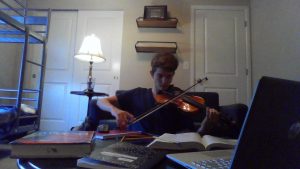 Cole Bennett is another 10th grader at OHS who plays the violin. "It's still fun, but it's not the same," he admits, but he gets to see his music friends. The advent of school has filled his schedule, including driver's education. Cole also has a limited group of friends that he sees face-to-face which helps to normalize life and ease the stress. He has at least one friend in each of his classes who support each other to stay on track. Cole hopes to be running cross country and participating on the track team in the spring.
The Olympia School District is eager to help you and your students get their instruments and begin playing. There are levels for beginning, intermediate and more advanced players. Families with financial needs can receive help to acquire instruments. Consider inviting more music into your lives and connect with the music department at the Olympia School District.