Have you ever heard about the time a tiger escaped in Tenino during a 20-acre fire? It was back in 2014. An event called L.A.M.P. (Lazers, Art & Music Project) was set to take place August 8-10 on Crane Street in Tenino. The location was a relatively undeveloped piece of land near populated areas. According the Facebook event, 24,000 were invited, 1,800 said they were going, and 507 said maybe. The three-day event, characterized as a rave—a dance party synonymous with drugs—was planned for the driest days of the year begs the question, what could possibly go wrong?

It was not long before complaints about the music emanating from the event started to appear on Tenino's community pages.  There were rumors of bonfires and fireworks.
According to the online publication Dance Music Northwest, "This weekend in the state of Washington temperatures were extremely high with expected dry conditions. With such conditions there were several fires throughout the state that DNR (Washington State Department of Natural Resources) Fire crews battled in Tenino, Rochester area and Shelton. Each of these fires started at about 2:00 p.m. Sunday afternoon, one of those fires starting on Crane Street in Tenino."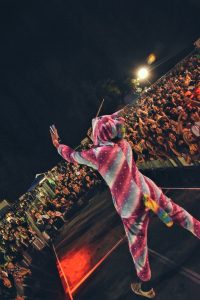 If the Tenino community was unhappy about the rave before, they were livid about the fire which went on to burn 20 acres and set the surrounding community on edge.
In the beginning, the event page posted updates and even a video of the fire.  Soon, all was taken down as the backlash grew.  However, there is still a video montage on YouTube that starts with the chant, "Let's get weird," and features a guy juggling fire.
"I heard it was closer to 2500-3000 people," one member of the community posted. "Way more than they expected and no sanitary bathrooms. There were posts on the website they took down complaining about the lack of sanitation, out of control fights (one with a broken bottle) and the large pit with the campfire…
"And the fireworks! During a burn ban. Between that and the campfire, no wonder we have crews out there fighting this fire, suffering heat exhaustion that required medics and our homes and animals in danger. So stupid! I definitely want to know who issued those permits and wouldn't investigate the complaints from the neighbors….
"Think about the resources it took to fight this fire. Helicopters, bucket crews, medics, tons of fire engines, all the staff in danger, in this heat. I'm just sick this happened and it could easily have been prevented…. I hope they have to pay for it. There should be consequences."
And from the chaos, enter the Tiger.  The headline, "Meth Fueled Tiger Escapes Tenino Rave" hit Facebook from what appeared to be The Chronicle.
"You know," responded one commenter, "I leave town for 8 months and all the cool things happen there. Where in the world did a tiger come from? Seriously!!??? In Tenino!!??"
Others eager to hear more requested to see a link and searched the internet.
Adam Barr, who posted the headline continued to post updates, "I just heard on the scanner that the Tiger was seen in the park by the baseball fields."
One concerned citizen asked "Adam, did you read the article? I can't find it anywhere online. Can you send a link?"
"I read it last night," replied Adam "I'll try to look for it when I get home."
But those who know Adam, who has a reputation for hijinks, weren't buying what Adam was selling and started posted creative updates of their own.
"It ran through my yard," read one such comment, "I tried to pet it but it was more interested in eating the neighbor's cat."
"I just saw it. Suckling on a pacifier," another commented.
Eventually, Adam posted another headline that appeared to be from The Olympian with the caption "Thank God!" The headline read, "Missing Tiger Captured in Tenino but Owner has Disappeared."
Visit Adam Barr Creations and you'll see that he is a talented photographer, artist and graphic designer, who is completely capable of photoshopping convincing newspaper headlines.  But this wasn't the first time Adam had pranked the community.
"I like art. I like music. I like to create and I like mischief," explains Adam. "I enjoy making useful contributions to my community. One of my favorite projects in town has been the Tenino Yellow Bicycle Project. It started out as a joke. A couple bikes, painted yellow with "Town Bike" and "Tenino Department of Transportation" inscribed on them with the simple instruction of "keep in town." They became popular, moving all around town. The city started getting calls. At one point, I believe they even tried to take undeserved credit for it. At the time, we were kind of involving ourselves in the political scene, trying to shake things up a bit as the atmosphere was becoming stagnant. Anyway, it didn't take long for the two bikes to turn into a fleet. The town rallied behind them. We received a grant from the Nisqually tribe to purchase some legit, nice, new yellow bikes. We rallied the town to vote online in a contest where we won a large quality bike rack that was installed outside of the old bank building. Now anyone in town without a bike can check one out for free. It took the community to come together to make that happen and that makes me smile."
Adam couldn't resist when he saw everyone losing their minds about the rave and subsequent fire on Facebook.  He claims that his inspiration most likely sprung out of boredom.  But honestly, when imagining the antics surrounding the rave, why not a tiger?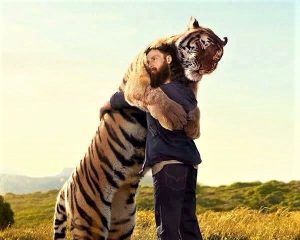 When asked whether he thought anyone would fall for it, Adam replied, "Then, not so much. In today's market I would say absolutely, without a doubt. I was just happy to hear it getting talked about while checking out at the grocery store."
The moral of the story?  "It could have been way worse," says Adam "I'm hoping that people were more vigilant about spotting fires while looking for tigers."
It's important to note that Adam isn't just prankster.  He also believes strongly in supporting his community. Adam has coached youth soccer for years, and serves on the Tenino School Board, and was even once Citizen of the Year. "Adams a real Renaissance man," says Tenino Mayor Wayne Fournier.
So, let us say goodnight to the Tiger Hoax of 2014 with closing words from Adam, "I encourage everyone to create something that puts a smile on someone's face. Even if it's just your own. And remember to wash your hands!"
Incidentally, bids for subsequent forest raves fell surprisingly flat, but we bet you remember where you were in 2014 when you read the headline about a tiger in Tenino.