In the age of advanced technology and digital communication, Olympia Multi-Specialty Clinic (OMC) faced an unusual challenge: how to find an effective phone system that didn't include an automated answering service. "If you call into our office, our phones are answered personally by our nursing staff," says Dr. Marshall McCabe, one of the clinic's founders. "We had to work around it so there was never a voicemail option."
That personal touch has been part of the clinic from its inception, along with a commitment to quality that goes beyond industry standards.  OMC was one of the first small private clinics in Washington State to establish a formal, Department of Health approved, quality assurance plan 15 years ago at McCabe's behest.
"For every ancillary service that we provide, we get accredited or certified by a national organizational, even if it's not mandated," he explains. "We're accredited by national societies for echocardiography, nuclear medicine, ambulatory surgery centers and sleep centers. From a patient standpoint, it creates a greater peace of mind."
McCabe and several colleagues created OMC in 1987, a few years after Capital Medical Center opened. "We were all in the army together, getting ready to end our military careers, and we wanted to stay in the area," he says. "We approached Capital to see if they had a need for specialists, and they did. We started the clinic with a general surgeon and specialists in cardiology, pulmonary and gastroenterology."
In the ensuing decades, the team added more physicians, including a neurologist who specializes in sleep disorders, a pathologist and a dietician. The clinic serves patients from both Capital Medical Center and Providence St. Peter's Hospital as well as those from other counties.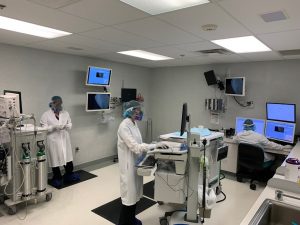 Along the way, they added a Sleep Center to treat issues like sleep apnea, insomnia, restless legs syndrome, and more, as well as an Ambulatory Procedure Center. "One of the pulmonologists was retiring, and he was looking for someone to take over his sleep center," says McCabe. "We brought that in, and then around 25 years ago we formed an Ambulatory Surgery Center where we do endoscopies and colonoscopies."
Having several internal medicine  specialties concentrated in one place is beneficial for both providers and their patients, McCabe notes. "It's the economy of scale; once you reach a certain number of providers, you can get a sophisticated computer system, electronic health records, and those sorts of things," he shares.
Cardiology and gastroenterology are two of the most in-demand specialties in internal medicine, and patients are sometimes seeing multiple physicians within the clinic. "Having both in the same facility allows us to communicate better," McCabe explains. "We co-care for patients and we can provide outpatient services that are usually less expensive than hospital-based procedures."
When the COVID-19 pandemic hit Washington State, OMSC responded quickly, switching from live visits to mostly telemedicine appointments within just 72 hours. "Physicians were spending less time at the hospital because of the restriction on elective procedures, so they immediately transitioned to having more office time," says McCabe. "As a result, in April, we actually had more patient contact, between in-person visits and telemedicine, than we did in April the previous year."
The clinic stayed open, with limitations on some procedures, and was able to retain 90 percent of its staff. The six people who were laid off temporarily were brought back as soon as possible, McCabe notes. "We're very proud of that," he adds.
On May 18 restrictions were eased and OMSC was able to begin offering more elective procedures as long as they adhere to certain criteria. "We've been anticipating that all along, so we were already practicing according to those criteria," McCabe explains. "As soon as the initial proclamation went into effect, we took the approach of treating every patient as if they had COVID-19. By adopting very strict infection control policies, we're able to take care of everybody."
Even once the pandemic is over, the clinic plans to continue using Enhanced Personal Protective Equipment (PPE) Protocols. "We adopted strategies where we're not using the common PPE protocols that are required at the hospital," says McCabe. "We came up with processes that don't compete with the hospitals for resources that are needed for COVID-19 patients. Our main goal was to take care of our patients that needed urgent care, while at the same time, making it as safe as possible for our staff and patients."
Learn more by visiting the Olympia Multi-Specialty Clinic website or calling 360-704-3450.
Sponsored