Most of us are staying close to home this summer, and that's not necessarily a bad thing. There are a few things that South Sounders are serious about, and two of them are the glorious Pacific Northwest summer, and the other is mighty fine coffee. Some might even say that you can't have one without the other. And this summer, you don't have to. In a time that feels like it's full of no's, Olympia's Batdorf and Bronson Coffee Roasters and their Dancing Goats Coffee Bars are serving up some summer sips that are easy to say yes to.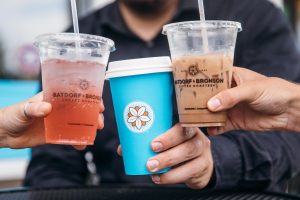 Since 1986, Batdorf & Bronson Coffee Roasters have been perking us up with their blends, single origin, and decaf coffee – and of course, espresso. Their flagship location on Capitol Boulevard downtown is an airy space in an historic building where Olympians have been congregating for generations.
Although there is no congregating anywhere nowadays, Batdorf & Bronson has found a way to keep their customers fully caffeinated through electronic ordering via their Toast Takeout app, grab-and-go options and curbside service.
Krista Bentow, the company's retail operations manager, details that they've removed as much seating as they could to comply with regulations, and the downtown space now looks more like an art gallery. For years the location has showcased a revolving installation of local art from artists native to Olympia, and the art changes monthly. Though we can't gather in their downtown coffee house, or their Farmers Market-adjacent, Dancing Goats Coffee Bar, the company has been finding ways to make lemonade from this year's lemons. And that's not all they are making…
Espresso Dalgona
If you visit social media at all, you are likely already familiar with the Dalgona drink sweeping the Nation right now. The Dalgona coffee already stole the hearts of connoisseurs across the world, as it hails from Korea and was popularized in the '70s and '80s and, according to Bentow, is a major part of the Korean street food culture.
The drink is generally made with instant coffee, but Batdorf & Bronson has put their own spin on it, adapting it to be made with rich espresso. They whip espresso, powdered sugar, and water into stiff, merengue-like peaks. Bentow calls it "an incredible texture, like nothing we've ever done before."
The result is a thick and sweet espresso and sugar foam served over milk and ice. "Visually, it looks really cool!" she says, referring to the two distinct layers of milk with a mountain of textured espresso foam on top. "And then you take your straw or spoon and stir it in yourself, and it turns into this really caramelly, sweet sugary espresso drink."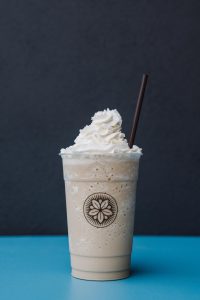 Iced Horchata
Horchata is another global favorite that the Dancing Goats Espresso Bars love to highlight on their seasonal summer menu. A drink that is said to have originated in Spain and then traveled to Central America and Africa, it is traditionally made with rice milk, sugar and cinnamon. Batdorf adds their signature blend, Dancing Goats coffee to it for a delightfully-flavored summer quencher. They make the horchata in huge batches, but Bentow says it's so popular they always run out and end up making the drinks made-to-order. "It's a nice transition into fall too," she says, "in late August it's a nice alternative to pumpkin-spice everything."
Single Origin Cold Brew Coffee
Many of the coffees we drink are a blend from around the world. Not the case with a single origin coffee. Bentow shares that the Dancing Goats Espresso Bars select a different coffee every week to showcase, and ordering it cold brewed is a perfect complement to the different flavors each coffee possesses. One week it's from Kenya, another from Costa Rica, and the next week could be Bolivia or Colombia. Batdorf & Bronson sell some of the finest coffees from some of the world's most attentive farmers, and you can even buy them online and have them shipped to your home.
"Cold brew is lighter in flavor and easier to drink, Bentow explains, "and can be up to 45 percent less acidic" which lends itself well to the want for a refreshing, even chuggable, summer iced coffee.
Super Tonic (Espresso + Tonic Water)
If you are looking for the ultimate, invigorating jolt of energy, Super Tonic is it. "It's an interesting one, Bentow details, "it shocks a lot of people."
It's a basic idea of tonic water and ice with espresso floated on top. "It's a carbonated espresso, and the quinine in the tonic pairs well with our blend. There are some lighter roasts in there, and it plays well off of that. The acidity that comes out of an espresso is highlighted and there's a slight bite to it," she says. "It's so oddly refreshing and amazing."
Goats to Go
If you are familiar with the company's Instagram or have visited them virtually on Facebook then you have seen their brand new product, Goats to Go, a 64-ounce jug of goodness. With three flavors—coffee, latte, and chai—it's now easy to take your favorite drink home in bulk. With less trips out these days, staying in is easy when you've a barista in your fridge. Bentow shares that she recently went camping and took a couple jugs of Goats to Go, and they were – well, the first to go…
And speaking of camping, Batdorf's innovative product, Steeped Dancing Goats Blend sachets come in a nitro-sealed, individual and environmentally-friendly package and brew a fine cuppa anywhere there's hot water.
It seems that even a pandemic can't keep a Pacific Northwesterner from their coffee. Especially good coffee. Order through the Toast Takeout app and your favorite drink will be waiting for you to walk in, grab and go, or will be delivered safely to your car at the curb. The perks of a long summer day punctuated with fine coffee – that's something we can all say yes to.
Dancing Goats Downtown Olympia
111 Market St. NE, Olympia
360-528-8555
Dancing Goats Farmers Market
516 S. Capitol Way, Olympia
360-786-6717
Sponsored