Go ahead. Tear open that package – let the aroma unfurl, and drink it all in. Drop your sachet into your steaming mug of hot water and be on your way…to your next cup of great coffee. No matter your vista, the coffee on your horizon is bound to enrich, just like the aromatics wafting from your cup. Batdorf & Bronson Coffee Roasters has made it easy to take your favorite cup of coffee along on every adventure, and whether it near or far you can be sure that the coffee's on par with their new Batdorf & Bronson Coffee Roasters Steeped Coffee.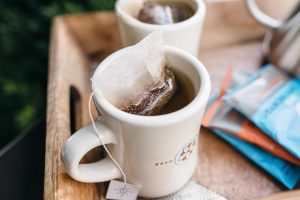 Starting November 4, and just in time for holiday gift-giving and travel, Batdorf & Bronson Coffee Roasters Steeped Coffee sachets in the Dancing Goats Blend and Dancing Goats Decaf will be available at two Dancing Goats Coffee Bar retail locations. These coffee sachets can be found in downtown Olympia at the Capital Way location, and also across from the Olympia Farmers Market.
Batdorf & Bronson worked hard to find an on-the-go solution that was in line with their core values, Coffee-Buyer Bob Benck says. "We source coffee from all over the world," he explains. "Our focus is to source coffee from like-minded producers, with a dedication to sustainability, both environmentally and socially. Often this means buying from small family-owned farms, just Like Batdorf & Bronson, a small, family-owned business."
After months of trials, what the celebrated coffee roasters came up with was a coffee-filled sachet, (think tea bag), that is individually packaged, yet fully biodegradable. Batdorf & Bronson has high sustainability standards so K-cups and coffee pods that create an exorbitant amount of waste, enough to circle the globe an estimated 12 times per year, were not an option. The Steeped coffee sachets are fully compostable, the packages include water-based inks and do not contain toxic VOCs. The ultrasonic sealed edges eliminate the need for glues or staples and nitrogen sealing maximizes freshness.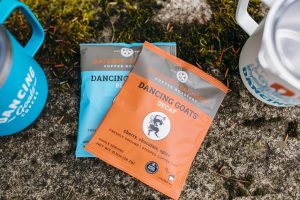 What's in the sachet is the same quality of Dancing Goats Blend coffee you've grown to know and love, and is precision ground with consistent water-cooled grinding to the micron.
In the process of bringing this vision to life, Batdorf & Bronson Coffee Roasters tasted a plethora of products sold as single-serve or instant.
"Our goal with this product," Benck says, "was to have a way to provide customers with a very easy way to brew coffee on-the-go or in an environment where finding good coffee is challenging. All of the instant coffee tasted 'instant' or freeze-dried for a lack of better terms. The steeped product is still 'brewed' with pre-ground coffee and the result is a very good and easy to make cup of coffee."
Making a fine cup of coffee in mere minutes with no fancy equipment is steeped in sustainable ease. With the new single-serve steeped coffee bag, making a cup of coffee feels much like making a cup of tea, or as Benck describes in coffeehouse terms, "very similar in style to a French press method of brewing." He's a firm believer in keeping it simple, "add water, agitate for a couple of minutes, wait a couple more, and drink. I know people spend a lot of time trying to convince other people how complicated making a cup of coffee can be, but, it can be easy." As easy as pour, dunk and steep.
You don't need a plastic pod, an elaborate coffee maker, or a pricey latte to enjoy a single serving of coffee. Adventure seekers, holiday travelers, busy moms, students, business travelers, campers – anyone, everyone, and especially decaf drinkers, will appreciate the ease-of-use, portability, and sustainability, that the Batdorf & Bronson Coffee Roasters Steeped Coffee offers. The sachet fits in a pocket, but more importantly it fits into your on-the-go lifestyle without compromising quality or flavor.
"It was an exciting process to be a part of and created a company-wide enthusiasm for a new product that checked so many boxes for us," says Batdorf & Bronson's Director of Business Strategy, Becci Welsh Ryder,. "And we are finding that for our decaf connoisseurs, it provides them with an option that doesn't require them to brew an entire pot of coffee."
If November 4 can't come soon enough, steeped coffee bags are already available on the Batdorf & Bronson website. The Dancing Goats Blend and Dancing Goats Decaf is the coffee roaster's signature blend and the notes of cherry, chocolate, and spice are sure to warm even on the coldest winter day. Stuff a stocking with them, or as Ryder says, "They make great gifts for the holidays paired with any of our mugs!"
Five-packs are $10 and come in regular, decaf, or a mixed pack of three regular and two decafs. Singles are available at retail locations only for $2.50 each.
Batdorf & Bronson Coffeehouse
516 S. Capitol Way, Olympia
360-786-6717
Dancing Goats Espresso Bar
111 Market St. NE, Olympia
360-528-8555
Sponsored