We pass their signs and drive on them, sometimes daily. We stare up at their names while waiting for the light to change. Do you know the history of how some of Olympia and Lacey Streets got their names? Ruddell, Sleater-Kinney, Meridian and Military Road are all familiar names and were named for either function or sentiment. Sleater-Kinney Road, that runs across Olympia and Lacey, was named for the South Bay families of the Sleaters and Henry and Martha Kinney. Military road is named for its function of being used for military movement and Meridian for its distinction of being on a line of longitude.

A road is defined as "a lengthy irregular or diagonal street over ten grid blocks in length, generally an arterial," by the Olympia Municipal Code. "The designation 'road' shall be used only where the name has long-standing meaning or public sentiment."
Municipal code lays out the rules and guidelines for naming streets, roads, avenues and courts. Choice of suffix depends on cardinal directions, a parallel position or perhaps a pathway that dead ends. Developers usually get the honor of naming what we drive on. Public service departments review the submitted names and can veto any objectionable choices. Emergency services, in particular, may object on the basis of clarity, that a name must be clearly distinguishable from another. Before the days of real estate developers, those naming roads were the settlers who arrived to claim land, and they often named the path to their homestead with their surname. Therefore, we have Ruddell Road, among many others, that bear the name of those who arrived long ago, filed a land claim and made a home.
Ruddell Road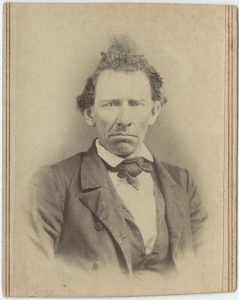 Sentiment they do have, as each road has a story behind it, and Ruddell Road holds the story of a dynamic family who had a long list of pioneer experiences. Stephen Duley Ruddell and Margaret Stewart White Ruddell, for whom the road is named, have a "Yours, Mine and Ours" story that makes them memorable. They both started out in the Midwest, Stephen married to his first wife Keziah and Margaret to her first husband William White. They both had families, and both headed west in 1851 not knowing that their paths would ever cross.
With his wife Keziah, Stephen had three sons, Paul, William and Stephen. Keziah passed away in 1844 in Missouri. A widower with three sons, Stephen married again to Winifred who had four children of her own from a previous marriage. With seven children between them, Stephen and Winifred added another two to the marriage bringing the grand total to nine. Just before their planned trip out of Missouri to Oregon, the family's wagon train waited for one of the Ruddell's sons to have a leg amputated before they could travel. In May of 1851, they commenced westward.
After reaching the Oregon Territory region, the Ruddells and two other families diverged from the main group and headed further north, now on to Puget Sound. They took to water for the remainder of their trip, and this meant the hardships one could expect of moving wagons and people over water. It was their best option. Land travel was not as we know it, and rail lines, other than logging rail, didn't run past Portland. The Ruddells and their fellow travelers continued on by flatboat down the Columbia River to where it meets the Cowlitz River and stayed the winter at Kelso. Eventually, they made their way to the Lacey area, called Chamber's Prairie then, and filed for a 320-acre Donation Land Claim in February of 1852.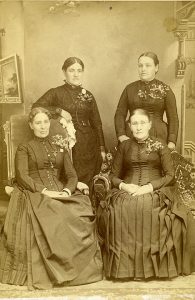 Stephen Ruddell began tending his land claim and became active in the local developments and concerns of a budding community. He was a signer at the Monticello Convention that requested separation from Oregon Territory and was Thurston County's first territorial assessor. He was a member of the legislature in the lower house and served a term in Company E of the Washington Volunteers. Now a lasting monument in Lacey, and evidence of generosity, is the Pioneer Cemetery on Ruddell Road that Stephen donated to the community from his land claim.
The story continues from the civic duties and nine children immigrated to the territories. In January 1856, Winifred Kelly Hicks Crogan Ruddell passed away. She is buried in the Pioneer Cemetery. Stephen, with eight living children, would marry again. Here is where Margaret Stewart White and Stephen Duley Ruddell crossed paths. She, widowed from when her husband was killed in an attack, was the mother of seven children. And, to tie them all together, they welcomed the product of their marriage, Rigdon Ruddell, into the world. "Yours, Mine and Ours" seems to also have been a script for some pioneers' lives.
Military Road
One of the early roads that pioneers traveled was a military road, built in many cases along pre-existing paths by the U.S. Army when they created a system of roads west of the Cascade Mountains. The Hudson's Bay Company's Puget Sound Agricultural Company was the biggest commercial force using the road and therefore participated in its maintenance. The farms along the route benefitted from selling to the company to feed its employees. Ultimately, Military Road stretched through and to the north and south of Thurston County, and it can still be driven on today. In Thurston County, the Military Road is part of Highway 507, Highway 99 and in some places is still called The Old Military Road.
So next time you're driving down one of these roads, remember the history and those that strived to create a life in the western frontier: you are literally driving down the path they created all those years ago.