As the economy gradually reopens under Governor Jay Inslee's "Safe Start Washington" plan, Stone Creek Wood Fired Pizza is continuing to provide quality meals to the community. For Stone Creek owners and employees, wood fired pizza is a passion that they want to share with their customers, especially during this time. With public health at the forefront, Stone Creek will begin to offer multiple options to enjoy wood fired pizza, including through takeout orders and increased outdoor seating.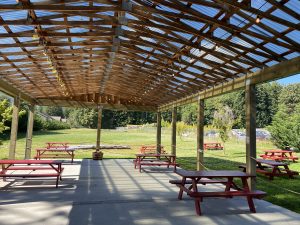 In response to the COVID-19 pandemic, Stone Creek took several proactive steps to protect customers and employees from potential exposure. The Stone Creek dining room was closed and takeout orders were picked up from the restaurant's front door. Restaurant hours and certain menu items, including salads, were temporarily limited. All food was served in takeaway containers and sanitation efforts were increased throughout the food preparation process.
Now, as restaurant dining rooms are opening throughout Thurston County, Stone Creek is also beginning to resume some normal operations, from increased hours, to adding salad back to the menu. For the time being, though, certain precautions will continue. Due to limited space, Stone Creek's indoor dining room will remain closed. Takeout orders will still be available and there is increased outdoor seating for customers who wish to enjoy their pizza at the restaurant. Suzanne Murray, co-owner of Stone Creek, says that although she and her staff would love to invite customers inside, the space constraints would conflict with current social distancing regulations.
"We're tiny inside," explains Murray. "Even though it's allowed to let people dine in again, it just would not be safe. So, we're going to keep it like it is, with takeout and utilize our large, outdoor space for seating."
For Murray and restaurant employees, the transition to takeout has been smooth, because Stone Creek previously operated as a food truck before moving into a permanent restaurant location in 2017.
"So much of our business already was takeout," says Murray. "It was a simple transition. We closed the door, put a takeout window in and it works fine. People can come to the door or call in their order. Now, they can also take their pizza from the door and bring it out back if they want to stay."
Increased sanitation practices will also continue throughout the food preparation process at Stone Creek. That includes reducing potential exposure by serving food in takeaway containers. Murray says that because of environmental concerns, all of the restaurants takeaway containers are biodegradable, or recyclable, including pizza boxes, salad containers, condiment cups, and straws. Murray also hopes that customers will bring home their empty pizza boxes. We could also offer used pizza boxes to community members for composting purposes.
With the summer months approaching, Stone Creek plans to increase their outdoor seating options. In addition to a large covered patio, Stone Creek is also home to a grassy field almost an acre in size. Tables are set out on the patio and in the grass for guests.  For customers who wish to eat their pizza picnic-style, bring a blanket. Customers can also enjoy a selection of beer and wine options, including IPAs, hard cider and single-serve wine.
To accommodate outdoor diners, Stone Creek has sectioned out one of the restaurant's bathrooms for customer use. By separating the bathroom from the kitchen and indoor dining room, customers will still have bathroom access, but will not come into contact with employees inside the restaurant.
"Our hallway by the back door has our two bathrooms," explains Murray. "We have installed a door in the middle of our hallway so that one bathroom is available for the customers."
Murray says that to continue providing food, both customers and employees need to remain healthy. And by providing takeout and outdoor seating options, they can help ensure proper social distancing. Although dining options may look different for the time being, the owners and employees of Stone Creek hope that wood fired pizza and a world-famous wood fired cinnamon roll might provide a few minutes of comfort and enjoyment for customers during this time.
We're just really trying hard and we know how fortunate we are through all of this. We all have to be healthy," says Murray. "So, that's our thing.  For all our workers to keep working and our restaurant to stay open, this is the way we have to do things."
To learn more about Stone Creek and the latest updates on hours, menu and dining options, visit the Stone Creek Wood Fired Pizza Facebook page.
Stone Creek Wood Fired Pizza
4138 Harrison Ave NW, Olympia
360-888-9500
Sponsored