At Stone Creek Wood Fired Pizza, the art of preparing wood-fired meals is about more than just the meals themselves, but also the community that enjoys them. From the onset, the Stone Creek experience has been about a time to connect while savoring a piping hot pizza fresh from the restaurant's wood-fired oven. For Stone Creek owners and employees, a pizza is not just another pizza, but a meal for a worker on their lunch break, for a couple on date night, or a family dinner. And in this time, more than ever, Stone Creek cares about providing quality meals to the community.
Stone Creek roared into life as a pizza truck in 2011, after owner, Randy Murray, outfitted a food truck with a handmade wood fired oven and opened up shop as a licensed business. And since its inception, Stone Creek has consistently remained vigilant about food safety throughout the cooking process.
In the early days of Stone Creek, nothing more than a table separated customers from the pizza preparation. From rolling out the dough, to the last singe of the cheese, customers could chat with the employees and watch their pizza being made for a type of "dinner and a show" experience. Through this transparent food prep operation, it became especially important for employees to maintain high cleanliness and food safety standards.
"When we first opened the pizza truck, we quickly learned how fun it is and just how careful we had to be when the customer is just a few feet away watching every move you make when preparing their meal," explains Stone Creek owner Suzanne Murray.
This connection between the employees, customers and the pizza being prepared became a hallmark of the Stone Creek philosophy. When moving into a permanent restaurant location in April of 2018, Suzanne and Randy wanted to continue to provide a front row seat to the pizza assembly while still providing provisions for proper health and safety, including by adding sneeze guards around the preparation counter, installing additional hand washing stations and by adding designated areas for used dishes to avoid cross contamination.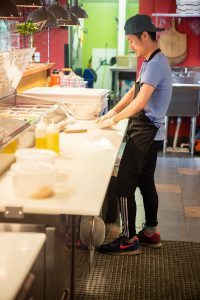 "People were worried that the restaurant wouldn't be the same," says Suzanne. "We really had to assure people. You'll still get to talk to us while we make your food. You'll still get to see your pizza being made. We wanted to still make it that same experience. It would just be a little bit farther away and we will have to need a sneeze guard. We learn, understand and implement all the Washington State Department of Health Department requirements. We have always scored very high on our health inspections. This most recent one was 100 percent."
As new employees join the Stone Creek team, they are met with a rigorous training process not just in how to operate the wood-fired pizza ovens, but also in food safety and sanitation. As each pizza is crafted in front of customers, it is important for employees to maintain food safety principles like proper hand washing, glove changing and surface sanitation protocols.
"That was one thing we had to stress with the new employees," says Suzanne. "We tell everyone to watch out for each other and remind them when they may need to wash their hands or, change their gloves, which means they need to wash their hands first, and put on a new pair of gloves."
As restaurant owners with a family of their own, Suzanne and Randy deeply understand what it means to protect customers and employees in the midst of this novel coronavirus outbreak. Following guidelines issued on state and national levels, the Stone Creek team is taking concrete steps to best serve customers during this time of social distancing.
"We've started being extra careful in cleaning," says Suzanne. "Doing a few extra steps with making sure things are disinfected at night the correct way, including all of the surfaces that people touch. With the diligent work of our amazing manager, and daughter, Jennie, along with our fantastic employees, we will stay open for as long as the government allows and people keep coming.
In light of the statewide emergency proclamation issued by Governor Jay Inslee, Stone Creek will also offer exclusively takeout dining options with all food served in to go boxes. Stone Creek has also put away accessories that were once publicly accessible, like drink cups and lids, to avoid possible contamination.
Especially during these current circumstances, Stone Creek hopes to be a continued source of community, comfort and quality meals that patrons can bring home to their family and loved ones.
"I want people to be reassured that we are doing what we can," says Suzanne. "We're disinfecting, we're putting some things away. You're going to get your food in a box and to go containers so there are less dishes and surfaces for everyone to be touching. We can easily switch to straight to-go as a restaurant. I just want people to feel comfortable coming in and that we are aware of the current situation.
With the diligent work of our amazing manager, and daughter, Jennie, along with our fantastic employees, we will stay open for as long as the government allows and people keep coming in."
To learn more about Stone Creek and the latest updates on hours, visit the Stone Creek Wood Fired Pizza Facebook page.
Stone Creek Wood Fired Pizza
4138 Harrison Ave NW, Olympia
360-888-9500
Sponsored