When you walk into the new Stone Creek Wood Fired Pizza on the westside, it is obvious great care went into the space. However, what many don't see is how much this business has truly been a labor of love for owners Randy and Suzanne Murray. What started as just a dream years ago finally has come to fruition, but it's been more than just a bumpy road. "If it wasn't for family and community people stepping up, we wouldn't have been able to open this place," Randy explains.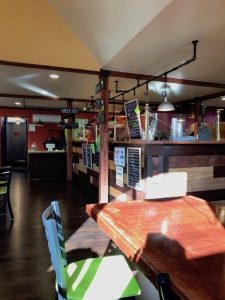 Many know Stone Creek Wood Fired Pizza as the food truck that for many years parked on the side of Mud Bay Road serving up delicious slices of thin crust pizza. But Randy and Suzanne say from day one they always knew they wanted a permanent location for their business. A space where people could gather not only for great food, but also share ideas with each other. Something much more than just a restaurant. So, when an opportunity to renovate an old home in the perfect location came up, they jumped at the chance. But little did they know their whole world was about to change when the unexpected happened.
Randy came down with what he thought was the flu, but it turned out to be way worse than they could have imagined. "The doctor knew something wasn't right, that there was something much more going on because he wasn't acting normal," Suzanne shares. Less than a week later Randy was in a coma with bacterial meningitis and fighting for his life. With a slim chance of survival, dreams of opening Stone Creek Wood Fired Pizza as a restaurant went straight to the back burner. And then things went from bad to worse. Randy also needed heart surgery due to the damage from the bacteria.
Call it a miracle or just having a fighting spirit, Randy managed to pull through. However he was far from a picture of health. Left with hearing and balance issues, getting the restaurant opened seemed an impossibility. Suzanne says she knew she needed to do something. "I figured it just had to happen," she says, "it just had to because there really was no choice.  We had to pay the bills and we had a good business that could do that." With a physically disabled adult daughter at home requiring full time care, Suzanne was already stretched to her limit. So that's when friends, family, and even past customers heeded the call for help. "I got hurt and I got sick and this business is still going because everyone stepped up," Randy shares with tears in his eyes.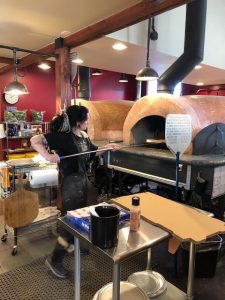 These days the Murray family is still trying to put the finishing touches on their dream, but the doors are open and that's what counts. Although Randy can't be there working in the kitchen every day, he's got a great team helping to lift him up. "This has just got to keep going, it's not just for us," Randy says. "It's my family and we want this to be long term and grow into other things. I just have to get better because there's still so much I want to do. I love watching people enjoy what I make." He still has visions of a learning space at the restaurant where others can share their knowledge and ideas with the community and it's obvious if anyone can make it happen, the Murray family will.
And of course, they're still serving up the delicious, unique pizza their customers can't seem to get enough of. "We do it all," Suzanne says. "We do the ovens all the way to the dough being mixed by hand. We make our pizza the way we like to eat it. We don't try to make it authentically Italian." From the Shady Katie with alfredo sauce, shredded mozzarella, red onions, olives, garlic, feta, parmesan, and cashews to a more traditional meat lovers pizza, Stone Creek Wood Fired Pizza will tempt your taste buds.
Guests can even customize how their pizza will be done from a dirty skirt (pretty crispy with extra char) to a blonde crust (less char). And be sure to finish your meal with one of Suzanne's ooey-gooey homemade cinnamon rolls made completely from scratch, which are impossible to resist and perfect to take to your next group gathering also.
"It's all about making people feel good," she adds. "If they don't feel better when they leave then when they came in then we haven't done our job."
To view their menu, visit the Stone Creek Wood Fired Pizza website.
Stone Creek Wood Fired Pizza
4138 Harrison Ave NW, Olympia
360.888.9500
Tuesday – Saturday: 11:00 a.m. – 9:00 p.m.
Sunday: 11:00 a.m. – 6:00 p.m.
Sponsored