Olympia boasts a thriving and supportive arts scene and is home to over 70 murals. The murals vary, from simple shapes and colors to massive elaborate multimedia works. Quite a few of those murals inspire interaction. This self-guided walking tour of downtown Olympia's most interactive murals will take you on a pleasant walk around town. You can pose for group photos or fun selfies in front of some great backdrops.

This self-guided tour is appropriate for all age levels and most ability levels. It is a little over a half-mile long and is across mostly flat sidewalks with low inclines. However, there is some unlevel terrain with an incline in one alleyway, and to interact with one mural, you must go into a dirt lot. Those in motorized devices may prefer to view from the sidewalk and detour around the alleyway.
Make your way to Water Street, between Fourth and Fifth Avenue. There you will find the New Traditions Café and Fair-Trade Gallery Building, home to several different murals. The mural we begin our tour at faces north and an empty lot.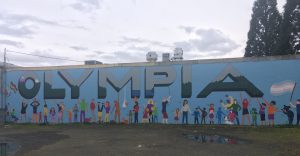 Titled "Holding Up Olympia", the work by artist Chelsea Baker involved many volunteers, some even joined in off the street. The mural features the word "Olympia" in capitalized block lettering above a cross-section of Olympia's diverse population, each painted in their unique style. Most of the people in this collaborative piece painted by the subject themselves. Take a close look at one of the dogs on the wall and you will see creative use of an architectural element of the wall.
Strike a pose with subjects of the mural, or find a spot to hold up one of the Olympia letters. Or try taking a selfie from closer to Fourth Avenue. If you get the angle right you can capture both the mural and the legislative dome of the Capitol Building.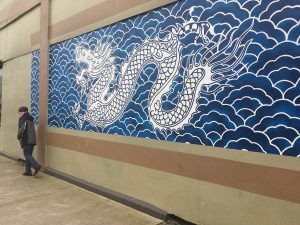 From "Holding up Olympia," make your way south towards Fifth Avenue. Take a left and head east. When you reach Columbia Street, cross it, and cross Fifth Avenue. You should find yourself at the side of Hannah's Bar and face to face with a fearsome (or friendly) dragon mural.
One of Olympia's newest murals, the dragon mural was created by Mymy Nguyen in appreciation of Olympia's early Chinese immigrants. Pose like the dragon, or show it your most fearsome growl and take a snapshot.
Head south on Columbia Street from the dragon mural and stop once you reach the alleyway between the parking lot and the Estate Store. This mural features a silhouette of the capitol rotunda with rainbow wings and silhouettes of individuals. See if you can guess the progression of the silhouetted subjects. Then line up the angle and get a picture with rainbow wings. Follow the alleyway east towards capitol way (if you have mobility issues, consider walking back to Fifth Avenue and walking east and turning south on capitol way to meet up with the alleyway on the other side.)
At this side of the alley, between the Nom Nom Deli and the Capital Lake Grocery, you find "Futuristic City." This piece, like many other murals around downtown benefits from the hard work of Volunteers In Paint. Try to locate all the unique details on the building, or take a selfie in front of the sun, where it shines 365 days a year.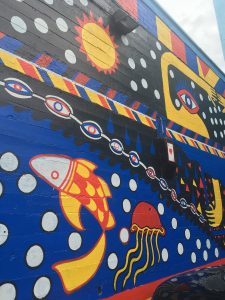 Next head north on Capitol Way and cross the street twice, once at Fifth and once across Capitol Way. Keep walking north. Cross Fourth and continue to a parking lot on your right which features "A Dance With Meaning." The mural was painted by Scott Young and is based on a representation of a Native-American tribal dance. Show off your best dance moves and head back to Capitol Way.
Continue north until you reach State Street. Turn left, facing east, cross Capitol Way, and head back towards Columbia Street. Cross Columbia, turn left and head south. When you reach the corner of Columbia and Fourth, you'll see a mural that is as pretty as a postcard on the side of the building that houses the Cascadia Grill. Commissioned by Cascadia Grill owners Juju Guarino and Jef Dukes, the mural says, "You Are Here" and features a Cascadian Flag, UFO, and resident celebrity sasquatch, and is the work of artist Martin Lee. "We have noticed since it was painted, many people take their photographs in front of it," says Guarino. Snap a picture to mail to your mom, and turn the corner heading west down Fourth avenue.
Once you've reached Childhood's End Gallery, you have also reached the end of our tour. On the west end of the wall, you will find "The Great Wave Off Kanagawa," Katsushika Hokusai's most famous work. This mural was painted by Joe Tongas and is one of the oldest in Olympia. Pull out your umbrella to pose under the crashing wave, or simply wave back at the massive mural.
This tour takes you by many other murals, some well-known, some more obscure. You can find out more about those murals, or some of the many other murals downtown on the City Of Olympia Murals Map. Get creative and interact with some of Olympia's amazing murals.