After eight years of working with a personal trainer, Jane Halligan was ready for something new. While her strength had grown, her balance and flexibility had not. Fortunately, just as her gym subscription ran out, her long-term physical therapist began offering regular, customized yoga and tai chi classes. Halligan has been spending five days a week at Penrose & Associates Physical Therapy in Olympia ever since and she loves the results she's getting.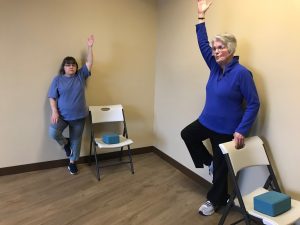 "I've been doing the classes for about six weeks now and I'm noticing that I can turn my head farther from left to right when I'm looking for cars around corners," she says. "My hips are also working better. Everything seems to be a little more fluid."
During the week, classes are limited to six people, but on weekends they can accommodate ten. Patients know they'll be pushed and encouraged while also feeling confident that the instructors are familiar with each of their individual conditions. "We designed the classes as a bridge for after physical therapy," says owner Jennifer Penrose. "People often want more tailored training but maybe their insurance has run out or they don't feel comfortable in a gym with 20 people."
The personalized nature of the training is part of what makes it so effective, according to Halligan. "You really feel as though the instructor has seen what you are and aren't doing," she says. "Both yoga and tai chi are great classes. Kudos to Jennifer for identifying a need and then plugging it into something that is fun to do."
Although she's taken tai chi classes before, Halligan says this one is different. Based on the work of a team at the Oregon Research Institute, Tai Chi: Moving for Better Balance uses eight forms out of the traditional 24 tai chi movements, which progress from easy to difficult. The program helps older adults improve their balance and reduce the likelihood of falling.
"This is nothing like any tai chi class I've ever had," says Halligan. "You actually go through the mechanics of taking a step, breathing properly, and moving your arms at the right time."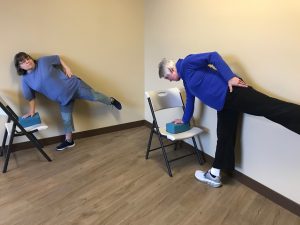 Unlike her previous workouts, the tai chi and yoga classes have also provided something she didn't expect: more energy. "I get a jolt, especially from the yoga, and it lasts all day," she explains, "whereas I would get out of the gym and be dragging because I was so tired. There must be some kind of internal mechanism with yoga that is throwing that switch for me. I've also been sleeping like a log at night."
The classes cost significantly less than her personal trainer and she is more than satisfied with the results. "I've already noticed that my balance is better," says Halligan. "It's been more than I would have expected."
For a limited time Penrose Physical Therapy is offering to new clients 3 small group training sessions for $45. Learn more by visiting the Penrose & Associates Physical Therapy website or calling 360.456.1444.
Sponsored