Two common problems arise around prom and homecoming seasons for many teens. The first hurdle is how to afford the perfect dress or suit, the second is what to do with those fancy clothes after the big night. Tami Collins, Executive Assistant to the Superintendent for Tumwater School District, has come up with a solution, Project Prom.
Project Prom, sponsored by Tumwater School District and Together! Tumwater Community Schools, accepts all styles and sizes of formal dresses, suits, shirts, pants, shoes and accessories. Volunteers set up a one-day giveaway event in March for Tumwater teens to come and pick out elegant apparel for free.
Though the original vision was to help families in need, Project Prom is open to everyone. The hope is to make it fun for students to find the perfect outfit, and also make sure that fancy formalwear is not just left in the back of a closet for the next 20 years.
"Dances are expensive, even if you don't do the full limo and fancy dinner," says Tami. If the clothing is free, then parents and teens can put that money toward something else.
Formalwear Donations
Donations are accepted all year long at Tumwater High School, Black Hills High School and the Tumwater District office. In February, they really ramp up their campaign. "We ask for all styles of dress from the most formal, fancy thing you can think of, to something that is really plain," says Tami. They want a wide variety, so there will be plenty of choices to suit all tastes in every size.
"We will take anything," Tami assures. "We want suits, and shirts, and ties and tuxes, because you never know who wants to wear what." In high demand are slim fitting pants and suits, and they would like to boost the selection of flat and low-heeled shoes.
Formalwear Giveaway Event
Each spring, the Project Prom free store is open for one day. Volunteers make sure the event is fun, festive and comfortable for teens, parents and even younger siblings who may be reluctant tag-alongs. There is seating, music and snacks.
Dressing rooms are available, so everything can be tried on. Volunteers can act as runners to bring different styles and sizes.
Students get a free raffle ticket when they arrive. Prizes can include coupons to get hair and make-up done, tickets to the dances, or corsages and boutonnieres.
"The whole thing is about having an experience," Tami explains. "Our goal is that it feels like shopping." Every outfit is bagged on the way out, just like a traditional store. No ID is required, nor proof of residency or income. "We are targeting Tumwater, but we wouldn't turn someone away," she assures.
After the event, students can give it all back. That way, the following year there will be plenty to choose from again, and they can come pick out something totally different.
The Story Behind Project Prom
Tami recalls wandering through a department store as a young girl and seeing the price of formal dresses. "I can remember so clearly thinking, 'oh my gosh, I can't ever ask my parents to buy me a dress,' and I came from a middle-class family." says Tami. She thought the only way she'd be able to attend a dance would be if somebody invented a store that gave away dresses for free.
Working at the Tumwater School District put Tami in the perfect position to realize her childhood vision. She has served as the district's Homeless and Foster Care Coordinator for many years. In that role, Tami has seen firsthand how going to the prom or any formal dance can be out of reach for a lot of teens.
The idea for a formalwear giveaway stayed at the back of Tami's mind. She mentioned her dream to the high schools' Together! Community Schools coordinators. They loved the idea and offered to help. "Luckily, I had these people who are similar minded and know the kids and know the stories," Tami shares. "When someone is helpful and buys into it, that makes it so much easier to get things done."
They held a clothing drive, and the first giveaway in 2018 took place at the district office. The next year they held the giveaway in the Tumwater High School gym. Donations and attendance doubled. They hope participation will continue to grow.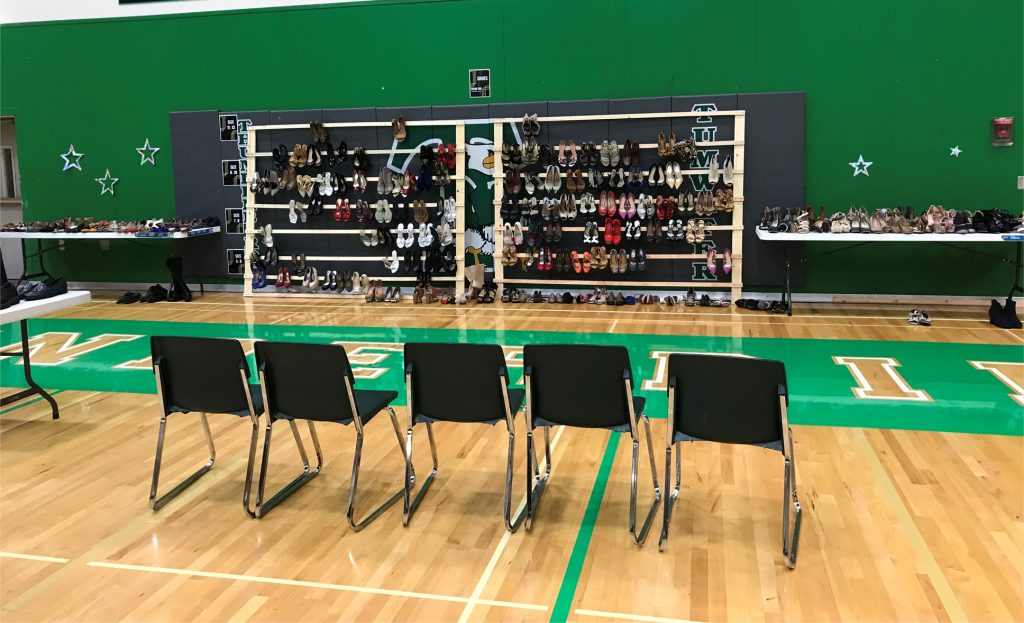 Dreaming Bigger
"It is my ultimate goal to rent space at Saint Martin's University, and cooperate with all of the local districts and offer it to everyone in the county," confides Tami. "That's my big-time dream." She plans to reach out to all the nearby school districts. "I want to coordinate it all," she states. "This is my thing since I was a kid. I'm really, really excited about it. I would love for it to be something for all students throughout Thurston County to come and feel comfortable."
Share your formalwear. Donations can be dropped off at:
Tumwater District Office, 621 Lynnwood Avenue
Tumwater High School, 700 Israel Road
Black Hills High school, 7741 Littlerock Road
2020 Giveaway Event
Saturday, March 28, 1:00 p.m. – 4:30 p.m. at the Tumwater High School Gymnasium