Whitney Holm remembers what it was like being one of a few female engineers among a sea of male colleagues. These days, as a Project Manager in SCJ Alliance's Lacey office, she's part of a decidedly co-ed team. "There are a lot more women engineers to look up to and have as colleagues now," says Holm. "It's nice not being the only girl in the room." The industry is changing, and efforts like Introduce a Girl to Engineering Day, which the Lacey-based company will celebrate on February 20, are part of that change.
Also known as Girl Day, the effort is part of a global campaign to engage girls in engineering. Worldwide, thousands of engineers, educators and volunteers act as role models, facilitate engineering activities and educate girls about how engineers change our world.
Traditionally, the engineering field has been male-dominated and although it is evolving, progress can sometimes feel like one step forward, two steps back. The number of women enrolled in engineering courses grew from 16 percent to over 20 percent between 1991 and 2001, but by 2009 it had fallen back to 17 percent. Today, 21.8 percent of undergraduate engineering students are women.
Among the female engineers at SCJ Alliance, certain common threads emerge regarding their experience. All had an early passion for science and math. Holm describes the joy she found in helping friends with their math classes. Others encouraged her to pursue engineering once she graduated, but there was one catch. "I didn't know about engineering until high school," she explains. "I went to college and said, 'I want to be an engineer.' Then I figured out what that meant."
Another commonality: the importance of mentors. "I was fortunate enough to work for some amazing female engineers early in my career who were great mentors and understood what I was experiencing being a woman in a generally male-dominated field," says SCJ Principal Amy Head.
Design Engineer Maddie Knecht agrees. "I've had support from family, coaches, professors, and peers who helped inspire me," she says. "Now, I work with engineers who are amazing mentors and help me continue to learn and grow in my career."
Some found the gender imbalance in engineering a challenge to be overcome rather than a reason to pursue a different career. "I never saw the fact that it was male-dominated as something that would hold me back," says Holm. "I thought I could bring a lot to the field from a slightly different perspective. I knew I could do everything that males could do."
Head found that a little self-assurance went a long way, particularly in the beginning of her career. "I have always tried to exude confidence in my communications, even when inside I didn't necessarily feel confident," she says. "Sometimes, as a woman in engineering, I would find that some people doubted my ability. Showing confidence helped to overcome at least some of that."
One of the messages they want to get across to girls is how much fun engineering can be. According to Holm, no two projects are ever the same. "Each one is a different type of puzzle and you have to find the best solution," she says. "You're using math and science to figure out what's the best option for the situation. I never go to work knowing exactly what I'm going to come up with."
For Design Engineer Mallory Dobbs, continuous learning keeps her role fresh and interesting. "One of the things I truly love about this field is that you never stop learning," she notes. "I come to work every day with a clear mind and an enthusiasm to tackle the next challenge."
Inspiring Future Female Engineers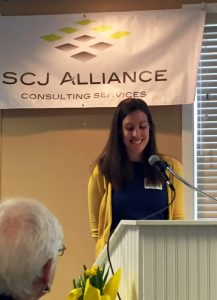 The February effort is an opportunity to share their enthusiasm with the next generation of potential engineers. Head believes it's a great time to enter the field. "My specialty of civil engineering in particular has so much opportunity," she says. "The infrastructure of America is aging and failing. Fixing that problem will lie on the shoulders of engineers. There will be such a demand that any girl with an interest and aptitude for STEM will be in a prime position to embark on an engineering career."
The field also offers enough variety to appeal to different types of problem solvers, according to Holm. "There are a lot of different aspects of engineering," she says. "You can do outdoors, indoors, medical or structural. Engineering has allowed me to not only pursue my passion but also give back to the community through a flexible schedule."
Knecht also refers to the ability to make an impact as a key to her passion for the industry. "I want all young people to know that engineering is a great career for those who love math and science," she says. "If you have technical skills and a desire to help your community, engineering is a great career choice to explore."
Learn more at the SCJ Alliance website or by calling 360.352.1465.
How to Get Kids Interested in Engineering

Students who believe engineers work to solve important problems are more likely to pursue engineering.
Students who are confident in their skills and knowledge are more likely to pursue and stay in engineering.
Students who demonstrate an interest in and positive attitude toward engineering are more likely to pursue it.

Findings from DiscoverE's Despite the Odds report that looked at common factors that motivate girls to pursue engineering careers.
Sponsored