Read around Lacey is currently underway in the local community. If you and your kids haven't started yet, the Lacey South Sound Chamber wants you to know there is still time to participate in this fun, annual tradition. Read Around Lacey is a literacy program that is part of Lacey Loves to Read Month and is open to all elementary students (K-5) within the Nor.th Thurston Public School district, including private school and home school students. To take part in Read Around Lacey, students must visit a minimum of six participating businesses listed on the Read Around Lacey Map. The students then must read a short writing sample or a page from a book to a business representative. Once done, the representative will share insight about the importance of reading and writing with the student.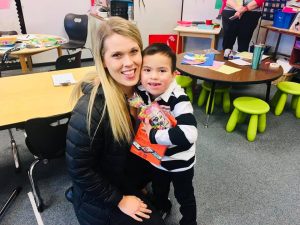 "Several members of the Lacey South Sound Chamber sponsor this event, allowing space for children to stop by their business and read from one of their chosen stories," says Shyanne Sanchez of the Lacey South Sound Chamber. "We encourage the businesses that participate to engage with the children after they read, sharing why reading is so important and how we use it in everyday life."
Many businesses like to show how reading relates to their industry. "We like to show the children our technician study guide when they come in, so they can see that even books adults read and study with can be interactive and fun with pictures of bugs and animals," says Candace Estanique of PCI Pest Control.
"Reading is important for us to function in our day to day tasks of selling and servicing insurance for our customers, says Kevin Hayward of State Farm Insurance, "but just as important, we enjoy reading as a way to relax, learn new things, and grow as people. My team and I love this event. We love seeing the next generation of children get excited about reading, and we want to encourage that. It is so important to develop good habits early on, and we want to do our part to help."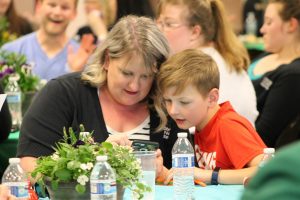 Even the banking industry, which some people think of as just math and numbers, relies heavily on reading. "We know that reading is the key to all other learning," says Ryan Betz of Olympia Federal Savings (OlyFed). "We read to learn everything else. In the banking industry, math is obviously a critical skill; however, reading is fundamental to understanding the meaning and purpose behind all the numbers. The more we can do as an organization to help students strive and thrive in their academic pursuits the better off our community will be in the long run."
"Being literate is one of the most important blocks for succeeding in life," says Gabi Trautmann, owner of Gabi's Olympic Cards and Comics. "Reading is a fundamental skill and a doorway to many universes." Research supports that family involvement is one of the most important factors in children's literacy performance. Events like Read Around Lacey are a great way for parents to get involved and show their kids how fun reading can be. "It's a really fun way for families to spend time together," Gabi adds.
Read around Lacey is a part of the greater Lacey Loves to Read Program. "Lacey Loves to Read is an annual community literacy program designed to bring multi-generational groups together as they read the works of a bestselling author, says Sanchez. "This unique partnership between North Thurston Public Schools, the City of Lacey, Timberland Regional Library Lacey, and the Lacey South Sound Chamber will celebrate its 17th year in February 2020 with multi-award winning and New York Times Best Selling author Sharon M. Draper." You can learn more about Sharon Draper's visit on February 20 and Lacey Loves to read in this recent ThurstonTalk article.
"Personally, I love being able to interact with the kids and see how they get excited to read a story to a stranger. This program does a wonderful job at building community, educating young minds, and engaging business owners," says Sanchez.
Six grand prize winners will be chosen and winners will be notified in early March.
Read around Lacey is made possible by the City of Lacey, Columbia Bank, Harborstone Credit Union, Kevin Hayward of State Farm Insurance, Lacey Timberland Library, Meridian Campus Family Dental, Olympia Federal Savings, Olympia Orthopaedic Associates, Olympic Cards and Comics, PCI Pest Control, the Port of Olympia, Swantown Marina, SCJ Alliance, Sequoia's Treehouse Children's Center, TwinStar Credit Union, and West Coast Fitness of Lacey.
Sponsored