For prospective students, South Puget Sound Community College (SPSCC) recently introduced community information sessions as a new option to learn more about college programs. These sessions are hosted off-campus and are an inclusive guide to the different academic paths available through SPSCC, including adult basic education and transfer degree programs.
Community information sessions are low pressure environments where prospective students, particularly returning adult students, can learn more about the academic options available to them through the college. Adult returning students may include students who are over 25-years-old who have never attended college, students who have attended college in the past and now wish to earn their degree, students hoping to enroll in pre-college classes or students who are learning English as a second language.
Erin Rust, an outreach and admissions specialist at SPSCC, says returning students may be cautious about enrolling due to past educational experiences. To remedy potential concerns, Rust and her colleagues strive to cultivate a supportive backdrop through these community sessions. Rust says if prospective students are outside a traditional college age, have never been to college before or are unsure of how to further pursue an education at SPSCC, admissions staff are available at these sessions not just to answer questions, but to also help direct prospective students toward potential support systems.
"If there is somebody who is an English language learner or somebody who wants to go back to college but is unsure if they would be successful in a college level course, we especially want to encourage them to come," explains Rust. "We want to talk with them about resources that would be beneficial to them and we want to encourage them. Yes, they can still attend college. They might not be able to jump directly into college level classes, but we have support to help them get there."
Community information sessions differ from typical on-campus information sessions in that the information provided is customized towards the group in attendance. There is also more dedicated time for attendees to ask specific questions. Held off campus in accessible settings like the Tumwater Timberland Regional Library, sessions tend to be more relaxed and potentially not as intimidating as a formal session on a college campus.
"We wanted to incorporate food and lots of question and answer time to build trust," says Rust. "So we could ensure attendees that, yes, we are here to support you. We have the ability to answer your questions and for them to know you're not out of place. You're not doing anything backwards. It's okay to be starting when you're going to start."
Most community information sessions are scheduled for late afternoons and evenings during weeknights, so that prospective students with daytime employment and family commitments will still have a chance to attend. Rust says adult returning students can have very different needs from traditional college-age students, especially in terms of daily schedules and that can affect a prospective student's decision to pursue higher education.
"Traditional college age students are coming directly from high school and they usually have support from family members," explains Rust. "They really don't have as many full-time, daytime commitments and tend to have a little more flexible schedule. Whereas adult returning students usually have children or spouses and/or full-time jobs. Things like that often times feel a little bit of an intimidation factor when it comes to re-approaching or approaching college."
Typical community information sessions are an hour in duration. After attendees check in, they will have the opportunity to get a plate of food and browse through reading materials provided by SPSCC. Generally, facilitators will break down the different educational pathways offered at SPSCC, including adult basic education, High School+, trade-focused degrees and certificates and transfer degree options.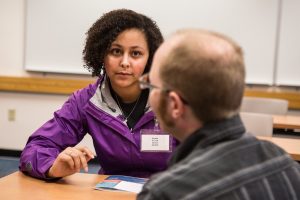 "We'll go through the enrollment steps, so what you need to do to become a student with us," says Rust. "And then we'll kind of split up a group so that we can cater to everyone's needs. So for example English language learners and pre-college folks will have a person that they will go off and talk to and then we'll have a general question and answer time for everyone else."
As each session begins, SPSCC staff facilitators will gauge the needs of the group and customize the information according to who is in attendance. Rust says the group's goals and interests are what drives the conversation. If a session has a higher concentration of students interested in pre-college courses, the discussion may lean more toward adult basic education and high school completion programs.
Community information sessions hosted in February and beginning of March will be held at the Tumwater Timberland Regional Library. For sessions taking place through the remainder of March and into July, sessions will be at the Olympia Center in downtown Olympia. Specific session dates can be found on the SPSCC outreach calendar. Prior registration is recommended, but not necessary. For more information about community information sessions or session dates and times, visit the South Puget Sound Community College website.
Sponsored