Across Thurston County, WSECU has been setting up financial Reality Fairs, helping high school students prepare for the reality of adulthood. "Reality Fairs are a fun and low-stakes way to put a teenager into the world of adulting for an hour or two," says Ann Flannigan, VP public relations for WSECU. The credit union hopes to hold a Reality Fair at every high school in Thurston and Lewis county this school year. On December 17, students at New Market Skills Center took part in a Reality Fair. The results were no less than eye-opening.
Learning to Make a Living
Each student begins their life at the Reality Fair as a 23-year-old teacher, fresh out of college, making an annual salary of $41,100, all expressed on a simple worksheet. They exit college with a little bit of credit card debt, some savings, and a student loan payment, as many young adults do these days.
Suzanne Klenk, community relations coordinator and a financial educator for WSECU, leads the Reality Fair. She asks the students to come up with a monthly savings goal, a dollar amount of their choosing that they think they can save. "It can be five dollars or five hundred," she tells them. Many students seem confident that they will meet their monthly savings goal, pay all their bills, and have some cash leftover for fun.
Reality begins immediately. Each student watches their monthly paycheck dwindle from federal tax withholding, FICA, health insurance premium, and a small retirement plan contribution. Then the students make their way around the Reality Fair.
Learning About Budgets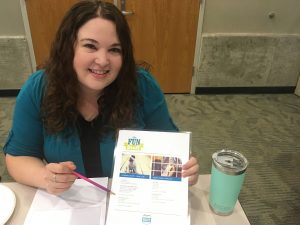 The Reality Fair is composed of a variety of stations, one for cell phones, groceries, housing, transportation, clothing and so on. Students must stop at each station, and some purchases are required like food and housing. Though there is no limit to what they can buy, students must purchase at least one thing at each station. Prices at each station are reasonable and reflective of what students would pay for goods and services around Thurston County.
Unbeknownst to the students, station volunteers are encouraged to upsell the students. "In real life, most salespeople work on commission," Suzanne says, "and they will use every trick in the book to get these kids to buy."
At the fun station, students can purchase all sorts of exciting options, from trips to Vegas, cute pets and even tattoos. At this booth, even with the mandatory one purchase per station requirement, students can come away from this station relatively unscathed, as this station also includes internet access (a requirement for their job) at a modest monthly cost. However, many students still add other fun purchases. The one-time cost of tattoos makes them popular—one student even got three. Many students think the low purchase price of pets will make them fit in their budget, but many don't factor in the monthly costs when looking at a picture of cute puppy dog eyes.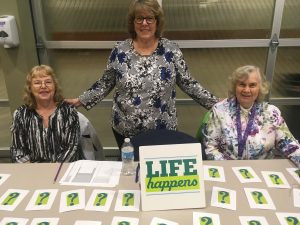 Reality hits again when students visit the Life Happens station, where they must flip a card to see what unexpected financial event will occur. Most cards contain a monetary bonus such as $50 in a birthday card from Grandma. Others can cost big time, like the $3,000 repair bill when the transmission goes out in their car.
Learning About Consequences
Then the students tally up their budgets, looking at both one-time expenses like security deposits on their apartment as well as monthly expenses like food, rent and cell phone bills. Then they discuss how they could stay within their budget, trimming down their expenses to meet their savings goals, or simply get into the black and out of the red. Some visit the optional part-time work station to add more money to their monthly income. One student says she didn't buy a car at the transportation station and opted to use public transportation. "Where was that option?" exclaims student Jasmine Laughlin, finding herself $300 over budget.
"You have to ask," her groupmate explains. "That's the way it is in real life, you have to dig and think creatively to find a cheaper option, and it will usually be a lot more work."
Many students find themselves shocked at the real cost of living.  Only a handful of students meet their savings goals. More than half the students find themselves in the red. Suzanne uses this as a learning experience.  Suzanne gathers the students into a group to discuss what they have learned. "What do you think you could have done differently?" she asks.
Students across the room volunteer ideas. "Not taking on so many loans in college," one shouts.
"More scholarships," says another.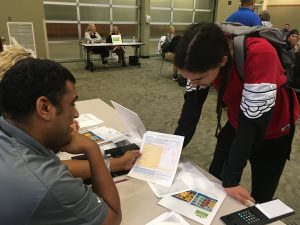 "Gotten a part-time job in college," someone else adds.
Suzanne smiles. "All great ideas," she says, pleased that they are catching on. They know that frivolous spending could be adjusted, but the nagging student debt that their fictional selves took on in college is one of their greatest expenses.
The Reality Fair gives the students a look into their own futures and a chance to correct the mistakes of their past before they even make them. Will these students make all the right choices in the coming years? Probably not. There are sure to be tattoos, fancy new phones and other splurges. But the Reality Fair has given them all a wakeup call. It has shown them how quickly those hard-earned dollars can slip away and encouraged them to plan, and think outside the box when it comes to saving money. They are thinking about their futures.
"Often there is shame associated with money management. Parents look at their own mistakes and are afraid to pass them on to their kids, so they avoid talking about money. That doesn't help, it only leaves them unprepared, doomed to make similar mistakes too," says Suzanne. She explains WSECU sees it as a responsibility to the community to help young people and adults alike to be financially stable. "A lot of people don't come in to talk to us until they are in crisis, and we have a lot of ways to help them before they end up deep in financial trouble. We want to help them," she adds.
Reality Fairs are made possible by WSECU members who want to see the values of financial responsibility encouraged in their communities. "We see it as part of our responsibility to be a community partner to help with financial education," says Suzanne.
For advice and financial services check out WSECU online or stop into one of their 21 branches across the state.
Sponsored