Aberdeen's Amanda Ransom is returning to the Thurston County area with a fun, wild concert at Lacey's family fun center, Charlie's Safari, on January 17 at 7:00 p.m. – 9:00 p.m. The 18-year-old artist has three new original songs, along with R&B hits by Aretha Franklin, Etta James and Adele.
Cover is $10 at door or $6.50 plus fees online for the all ages concert at Charlie's Safari (1401 Marvin Road NE #201 in Lacey, Washington). Purchase tickets online.
"I do music because when I look up and see the enjoyment in the people who are listening, it motivates me to write more music and spread more happiness," Ransom said. "I pick covers that people can recognize and really get into. The audience engagement is the most fun part about playing gigs!"
Though she has been touring several of the neighboring five counties, the Olympia area holds a special place in her heart and has made it a continual musical homecoming of sorts. Ransom played at Gateway Rotary's Brats, Brews, Bands festival at Lacey's Hub in September.
"The first time I played in Olympia was at the Heritage Park Fountain for the Bridge Music Project," Ransom said. "I played an original of mine, along with many other artists from around the area. I loved that the people who watched really cared about the music and could connect with it. The atmosphere was perfect for a small artist, and has made me want to return to the area for more gigs!"
Ransom's music creates a passionate fanbase, which is why Charlie's Safari thought it would be perfect to host her at Lacey's premiere family fun center, said Troy Kirby, Charlie's Safari manager.
"Our bounce house room holds a lot of energy and some of the best acoustics. We hosted a private concert on December 23, and we felt Amanda Ransom would be a great follow-up," said Kirby. "The great thing about our ticket buyers is that every ticket includes the rest of the facility. We have the ability to serve beer, wine and cider to adults, while also allowing the kiddos to play free laser tag and crawl on our play structure."
Several of Ransom's fans have left testimonials for those not convinced on why they should attend her concerts.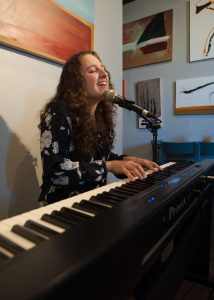 "She has a bright, soulful voice, and can take any pop song and put her own twist on it. The songs she writes are relatable and catchy, and you'll always leave humming one of her new tunes," says Tyler M.
"Amazing singer songwriter! A great piano player who writes well-crafted songs and sings them with a flawless voice," says John R.
"If you want soul-filled singing accompanied by majestic piano, this is your act! I have seen her play many times to small and large crowds. Thumbs up every time," says Justin K.
It all comes down to passion for Ransom, who wants those listening to her music to be moved by her original and cover songs.
"I've been told my songs touch a lot of people personally, whether it be hope and positivity, or a sad experience. I write from the heart, and I try to be as authentic and raw as I can, and that showed through in people's reactions," Ransom said.
Follow Ransom on Facebook at Amanda Ransom Music, or on Instagram @amandaransommusic.
Sponsored