"Consider yourself at home…consider yourself part of the family…consider yourself one of us" are familiar lyrics from the musical Oliver! that the Artful Dodger greets Oliver with when they first meet. The lyrics also very much apply to Apple Tree Productions, which is the educational theater company performing Oliver! this season. It has been a theatrical home for aspiring thespians ages 7 to 18 for the past seven seasons.
Many of the 45 cast members of Oliver!, which will be performed on December 21 and 22 at Black Hills High School Performing Arts Center, were originally cast in Apple Tree plays at their elementary or middle schools, and once they had a taste of performing and being part of the Apple Tree family, it became a magnet for them.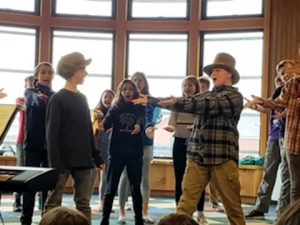 Heidi Fredericks and Colleen Powers, founders of the company, stress that for all their plays and musicals: "We want to provide a full theatrical experience that is challenging and that models good acting habits and teaches lifelong skills." However, above all they see it as a welcoming community where students feel they belong and are kind and good to each other.
Observing and chatting with cast members during breaks in the rehearsal on a recent Saturday, this same theme is echoed by the students themselves. Ivy Aijala, who plays Mrs. Sowerberry, the undertaker's wife, told me, "Everyone says that Apple Tree is like a family, and it's true. No matter what role you get, you feel included and heard. I've made life-long friends through Apple Tree." She is also rather excited to be playing a villain for the first time in this production.
Likewise, Maya Tate, explained, "This is my fourth production with Apple Tree, and it is one of the more serious plays, and everyone is taking it seriously. Playing Nancy is my first lead role, and it is such a great opportunity."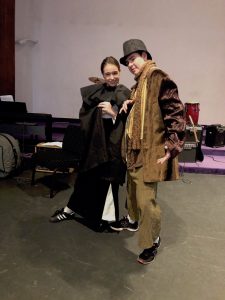 Daniel Fassnacht can trace his acting career through three productions of Oliver! At 16, he is playing Fagin in the current production, but he began as a pickpocket six years ago and then as Oliver three years ago. He calls it a reunion of sorts with his old roles performed by new players. For this season's Oliver! played by Charlie Conklin, it is a real family affair since his brother, Leo Conklin, is the Artful Dodger.
Their cousin, Jack Brotherton, is one of about 10 former performers whose holiday plans made it impossible to audition for Oliver!, but, nevertheless, they wanted to be as much a part of the experience as possible. "I know all the songs and the choreography, so I can help with rehearsals," he said, "but I also just do whatever needs to be done."
Leland Brangardt, the musical director, began participating in theater as a child performer himself, so he is drawn back to continue his work with Apple Tree. "We have only been able to rehearse on Saturdays since early October," he said, "so I give a great deal of credit to the students, who have taken so much individual responsibility for being ready for each rehearsal." His words rang true as I observed clusters of students, scripts in hand, helping each other with lines, songs or gestures. A group of freshman and sophomores from Capital and Olympia High Schools waived away any thought of school rivalry since here they are all Apple Tree!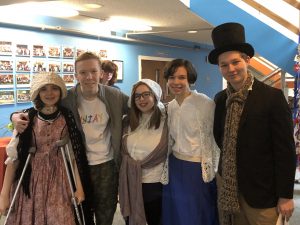 The opportunities to become a part of an educational theater group at such a young age not only builds confidence and belonging, but often prepares students for a future in the theater if that is their goal. Last year, many Apple Tree performers graduated from high school and are currently enrolled at several in state universities and as far away as Temple University in Pennsylvania. Some are hoping for a future career as working actors while others just enjoy being part of college productions.
When I asked Heidi the significance of naming the company Apple Tree Productions, she told this story: "When we started Apple Tree, we lived in a home that had a huge apple tree in the front yard that my oldest child with autism used to go outside and sing to, so it is pretty sentimental. Apple Tree sounded like something that would be growing and have life and apples always remind me of education!"
Come be "part of the family" and celebrate the holidays with Apple Tree's production of Oliver! on December 21 at 2:00 p.m. and 7:00 p.m. and December 22 at 2:00 p.m. at the Black Hills High School Performing Arts Center. Tickets are available at the door.