Many Thurston County residents walk through the streets of our towns and have noticed the rise in homeless residents. Among the homeless adults are less acknowledged youth that are living on the streets. Instead of talking about change in our community, StandUp for Kids is hitting the pavement and reaching out to those in need.
"I'm out there twice a week," explains StandUp for Kids Executive Director, Danny Burkett. "I've always wanted to work with kids. At first, I was going to have my own daycare, but I changed that plan after getting out of the military for 17 years. I was looking to volunteer and matched with homeless youth. I've worked at 10 other youth programs in Thurston County, but this has been the best by far. This is all about being hands-on and engaged with the youth in the street. You can't just talk about change – you have to go out there and do it."
StandUp for Kids has lofty goals to end the cycle of youth homelessness. Their core programs focus on going out on the street to talk to the homeless, set up outreach centers, mentoring and providing housing support. Their team is made up entirely of volunteers that donate their time to the cause. Many of these volunteers run programs that bring much-needed skills to the youth served. Supplying necessities to survive is also a big part of their mission, including warm clothes and snacks to get between meals. These gestures of enrichment are the start of a lasting relationship between the volunteers and the youth living on the streets of Thurston County.
Serving Thurston County has become an increasingly difficult task as the numbers of homeless youth grows in our area. "Downtown Olympia and Yelm are where the majority of our served youth live," explains Burkett. "We try to reach out to all corners of the county. We have events where we collaborate with other groups like Mama Dee which provides meals for the homeless every Saturday. At these events, we really take the time to talk to people and see what they need. They give us feedback so we can go out and find the resources. Our goal is to give out a lot of resources at this time and connect with those people that need us most."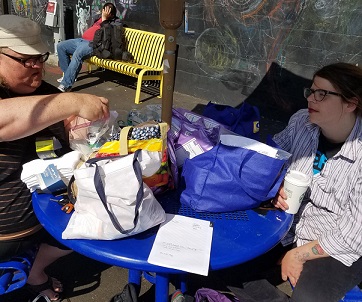 While giving physical resources is an important aspect of the work StandUp for Kids does, the biggest donation made by volunteers is their time and encouragement they give the homeless youth on a regular basis. "These kids are most importantly in need of love, support, encouragement and inspiration," says Burkett. "That support leads to building trust between the kids and our volunteers. If they trust us, we can help them get off the streets. Yes, we provide a lot of necessities, but the physical things go away. Showing you care is a lifelong investment."
With a growing homeless population in our community, it seems StandUp for Kids is more necessary than ever. "We want people to be aware of what homelessness really is," explains Burkett. "We always need volunteers. We have a lot of programs within the chapter. When someone asks if we have a program and we don't have it yet, I'm asking volunteers to bring it in. Music, art and anything else you can name, we want to have it available to our kids. The youth are often invisible. They don't want to be seen. It's our job to find them and give them the support they need."
If you are interested in volunteering or donating to the Thurston County StandUp for Kids chapter, visit this link.