For more than three years, Dee Hampton, affectionately known as Mama Dee, has stood at the corner of State Avenue and Franklin Street in downtown Olympia. Her lips are curled into a radiant smile, while her hands are diligently serving food to help feed the hungry. When asked why she started a street feed, Dee humbly replied that she is simply carrying on the legacy of her daughter, Sara.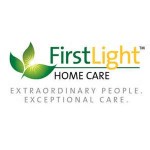 Typically legacies are passed down from one generation to the next, but sometimes they're inspired from one person to another. And that's exactly what happened to create Joyful Hands Ministries. Sara had spent many years on the streets of Olympia, both going through times of homelessness, as well as serving other homeless persons. At the time, Dee did not understand Sara's life choices.
Then, during the twilight hours of November 21, 2005, Dee received a phone call that would change her world forever – Sara had passed away in a car crash.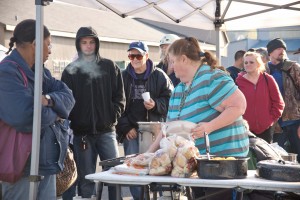 Some long hours later, a young man called Dee to inquire if Sara was gone. At 11:00 a.m., a Community Youth Services worker called saying there was a kid who wanted to love on Dee since her daughter, whom they called "Gypsy" had passed. Dee reluctantly went down to meet with Sara's friends. She was blown away by the love, compassion, and stories they shared with her. Telling of Sara's kindness, how she would hold hair for sick friends, giving kids a safe place to stay, and encouraging others to change their lives for the better.
The more Dee learned of Sara's empathy and impact on the community, the more she felt called to do the same. One of the first things Dee did was to advocate for the release of the driver from Sara's fatal crash. He, like everyone else in the car including Sara, had fallen asleep. Dee testified at his trial, and he received probation.
From there, Dee sought out ways to serve the community at large. She became involved in other street feeds, bringing dessert to her first feed. One day someone handed Dee a $50 check for her ministry. Dee cracked the best laugh at this point in her story recollecting, "What ministry?!" Talking with fellow volunteers someone suggested she buy a tent and start her own street feed.
October 2016 will mark the fourth anniversary of Dee's ministry, although Dee denies it is hers, and instead insists it's Sara's ministry. In the winter they feed somewhere between 100 and 150 people a week. But in the summer they can feed anywhere from 300 – 500 people every Saturday.
Dee recounted that there have been numerous times when they have almost run out of food when they are suddenly blessed with, "…more and more, over and over again." She told of one time where they were scraping the bottoms of pans, with a line still wrapped around the block. Contemplating what to do, someone showed up from an Applebee's fundraiser. They apparently had plenty of leftover food that they wanted to donate. When that was almost gone, someone else showed up with cheese burgers. And when that nearly ran out, still someone else showed up with coffee. She attributes these blessings to God's provision through the kindness of people in our community.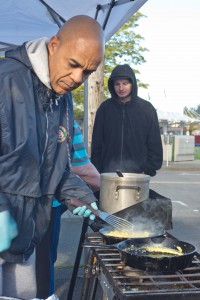 When there are no donations, Dee will dip into her rent money. She fervently believes she needs to do this every week, rain or shine, warm or cold, donations or not. Dee's conviction and dedication is impressive. She deeply wants to "wash the City of Olympia over with love – promoting unity in Olympia, unity between people, between businesses, between churches, and between each other."
One of the core ideas Dee tries to instill in Joyful Hands Ministries' volunteers is not to "just throw food at people. Smile and be happy to be there. Talk and love." She believes, "…feeding people is a bonus. It's making the connections and building relationships with them," that is important.
More than just making breakfast on Saturdays, Joyful Hands Ministries also does a Cookie Walk. On Tuesday mornings, volunteer walk around downtown Olympia passing out cookies, talking and praying with people. They've given people rides and visited with them in the hospital. It is Dee's vision for Joyful Hands Ministries to one day open a shelter with a restaurant where they can teach people how to cook, helping the homeless earn a little money, but more importantly so they can learn job skills to help them get off of the street.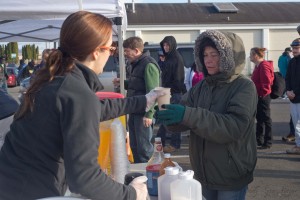 Joyful Hands Ministries gratefully accepts food donations of all kinds. (There were both donuts and pot roast donations the morning I visited with them.) Financial donations are always helpful, as are contributions of plates, utensils, trash bags, socks, foot powder, hygiene products, back packs, tarps, bus passes, and tents. But Dee also mentioned that they really need volunteers. Set up starts at 8:00 a.m. and usually ends around 11:00 a.m. every Saturday.
To learn more, please visit the Joyful Hands Ministries website and Facebook page.