There is a new little hidden coffee stand in Lacey, and it's called Café Elite. It is owned by Terry Myers, and run by manager Jennifer Denton. Cafe Elite serves up delicious coffee, tasty treats, fresh fruit smoothies and even a Rockstar mimosa that is worth the caffeine rush. It was once a burger spot that Myers flipped to his coffee stand. Although it is hidden in the same parking lot as QFC, it is certainly not overshadowed either.
Before Myers made the leap into the rich world of coffee, he was working for Bally Fitness as a sales manager. It was back in 1991 when Myers realized that coffee was on the rise, and he knew he had to jump in. He grew up in Tacoma, and spent about five years in Olympia before returning back to Tacoma to open up his first stand. Myers has strong links to many of the communities within Tacoma, Yelm and has now extended his reach back into the greater Olympia area.
"The coffee community has been more than generous with me," Terry says, "so, I'd like to give back also." To do so, Myers gives back to local charities through Café Elite. Every year, the cafe chooses to work with the local food banks by collecting food donations, working with Toys for Tots, and also adopting a local family for Christmas.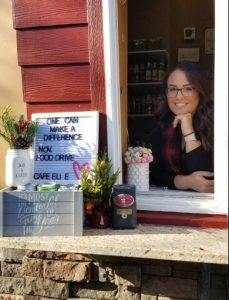 Since having a stand out in Yelm, he has also chosen to support Yelm High School by sponsoring both their wrestling team and football team. His stand is featured on the high school's local discount card, and he provides gift baskets for school auctions, as well as other donations for fundraisers that the school puts on.
"A cause very close to our hearts in Yelm is raising awareness and support to a child in need of chemotherapy," Myers says "We are collecting tabs from our cans, and each tab collected helps provide chemotherapy treatments".
"Over the years, we have seen our customers grow from children to adults. We have literally watched our customers grow from a car seat in their parent's car, to an adult coming through with their own children. It's been a fantastic and memorable journey that I look to continue to grow and pass onto my own son someday," Myers mentions.
Over all of the locations and communities Myers has spent time in, it is clear to see that he really does want to make a difference in all of them. He just recently created an "Employee Resource Group" that allows his employees to get involved in local charities and causes, which is accompanied with the new #CafeEliteCommunity social media tag. Now that he has created a coffee stand here in Lacey, he is interested in seeing what his team will come up with in lending a helping hand.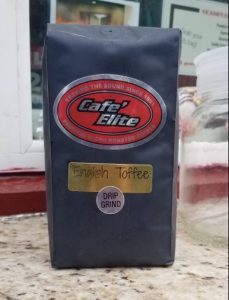 Terry doesn't just own Café Elite, he owns the roaster, Endicott Coffee Roasters, which provides his stands with a rich variety of beans to make blends that are full and flavorful. The beans he receives come from different corners of the world. Ranging from Central and South America, to Africa, Arabia and Indonesia and all have different rich flavors. Should you need a good stocking stuffer or birthday present, you can also purchase his coffee on his website or at one of his stands. He also has a variety of different seasonal flavored coffees to purchase.
Like to get your caffeine fix another way? Try a Rockstar Mimosa: one of Café Elite's famous drinks.
Whatever you choose to drink, pair it with one of their tasty snacks, including cookies, scones, donut holes, bagels and lunch items.
When you stop at Café Elite's Lacey stand, you will be greeted cheerfully by one of the baristas and, if you're lucky, maybe you'll run into his manager Jennifer. She has been working with Terry for many years, and knows her stuff about coffee. She is always happy and welcoming to new customers. If you're having a hard time on deciding what to drink, she can make a drink tailored to your taste based on what you're interested in at that moment.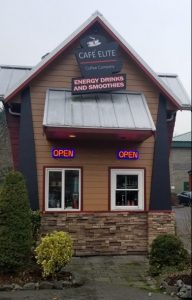 When I stopped by for my first drink, I wasn't sure what to have. Jennifer made me a delicious drink that had me on a caffeine rush for the entire day. Filled with white coffee, regular coffee, and tasty Irish cream, I was happy the entire day, which made writing this article even more exciting.
All of Myers's locations provide daily and weekly specials, and your coffee will always be served with a smile. With many options to choose from, and over 60 different flavors, you're sure to find something delectable at Café Elite.
Café Elite is located at 4663 Whitman Lane SE, Olympia.