The holidays are just around the corner. Families and friends are poised to spend some quality time together. One of the best places to reflect and share stories is around the dining table. Food is the key to bringing all walks of life together to break bread. This year, give the reins over to Bayview Catering so you can be at the table making memories with the people you love most, instead of slaving in the kitchen.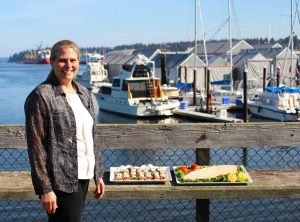 "It can be a lot of work doing it yourself," explains Bayview Catering Director, Kelly Young. "You really can't enjoy the party if you have to make all the food and do the dishes. That's where we come in! We can arrive before your party starts, prep, serve, and clean up the mess. It makes what can be a very stressful time much more relaxing."
Bayview Catering offers a delectable menu specially designed with the best holiday comfort foods. Turkey breast, ham, and the always impressive prime rib, make the cut for entree options. The sides are served piping hot and include mashed potatoes and gravy, stuffing, green beans almondine, Waldorf salad, and seasonal vegetables. All holiday menus come with relish trays and the traditional baked rolls with butter.
If the standard menu doesn't suit the tastes of your family, customization is always an option. "We have clients that use us every year so they want something different," explains Young. "You can go all out with prime rib and mashed potatoes or stick to traditional comfort foods you know will be a hit. We are always willing to work together to make it work. Dietary needs are not an issue. We can do gluten free, vegan, vegetarian, etc. We are very flexible to the client's needs. We just want to make it a great event!"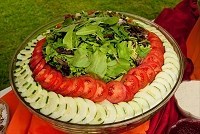 Location is key for this catering company to make customizable menus work for any client. "We are located inside the grocery store so we have a lot of options at our fingertips," describes Young. "We have fresh produce available at any moment. We can change a menu any way we want to because of this. We have a specialty meat department and the ability to special order anything through the grocery store. It makes our job a lot easier and allows for clients to get exactly what they want on their special day."
Being a local business for more than 40 years, Bayview Catering is able to work with other local vendors to bring the party to life. "We are a full service caterer and we collaborate with multiple businesses," says Young. "We work closely with Celebrations in Lacey. They can put together linens, dishes and equipment rentals needed for a holiday party. We also use Finishing Touch Florist & Gifts, located in Ralph's Thriftway, for flowers. These partnerships really allows us to put on the entire holiday party so everyone can enjoy the gathering."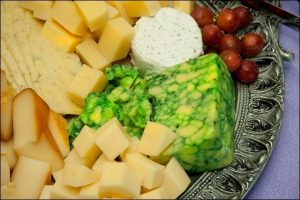 As the holidays quickly approach, the schedule for Bayview Catering fills up with past, present, and future customers. "People that use our service keep coming back," explains Young. "We've been catering for holiday parties for businesses all over the Puget Sound year after year. We are reliable and always serve a quality product. It really makes a difference to work with a local business to serve the community."
For more information and to schedule an appointment contact Bayview Catering.
Sponsored