Submitted by TOGETHER!
TOGETHER! will participate in Give Local again this year. Give Local South Puget Sound is a two-week online giving campaign to support nonprofits across Thurston, Mason, and Lewis Counties. The campaign will run Wednesday, November 6, through Thursday November 21, 2019. Give Local is generously hosted by the Community Foundation of South Puget Sound.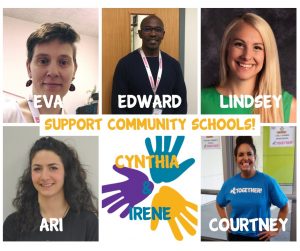 This year our Give Local campaign focuses on our Community Schools program. Community Schools is a successful model of bringing community resources into schools to advance the health, wellbeing and academic success of all students. We accomplish this by removing barriers for vulnerable students at risk of dropping out,  leveraging research, relationships and resources to drive results, and keeping kids connected to their schools and on the path to graduation. TOGETHER!'s six Community Schools Managers and one support staff serve nine schools in Yelm and Tumwater school districts.
Our school-based Community Schools Managers collaborate with school district and building staff, coordinate community partner offerings and case-manage the needs of children and families. They open doors for families and students to access and stable housing and other basic needs such as food, mental and physical health care and other supports. They meet families where they are at – in school, in their homes or in the community – making services accessible to them when they need them so kids can stay in school.
How do we keep kids in school? One big way is to keep families in homes! Earlier this year, Community Schools Managers mobilized Tumwater families affected by housing insecurity to share their stories in the presence of decision makers. This resulted in TOGETHER! being asked to support the city to address the homelessness crisis for Tumwater families, distributing funding to help families avoid eviction, stay housed or be quickly rehoused. Community Schools Managers tripled this funding by leveraging community resources, supporting 35 youth and their families with their housing needs. And all 35 of these families are still housed today!
Your donation to our Give Local campaign supports our Community Schools team to offer the direct services and support youth and families need, like housing. By partnering with schools and local organizations to leverage already existing programs and community resources, we can expand each family's capacity to meet their basic needs so their youth can stay in school. Please support Community Schools today!
Here are some additional benefits of giving during Give Local 2019:
Donors who make a gift on Wednesdays, starting November 6, are entered into a drawing to donate $100 to any participating nonprofit. Drawings are held live every Thursday on Facebook.
Every organization receiving Give Local donations will also receive a percentage of the $100,000 bonus fund. For example, if TOGETHER! receives 3% of all donations, we will receive $3,000 from the Incentive Fund!
The Community Foundation of South Puget Sound is covering all credit card fees (3% of the donated amount) so all proceeds go to TOGETHER!.
Looking for other ways to support our Community Schools program? Save the date for our annual TOGETHER! "Fore!" Kids! Golf Tournament. This fun and engaging event will take place on Thursday, August 27, 2020 at the Tumwater Valley Golf Club and all proceeds from the event will support the youth and families with whom we work. See you there!